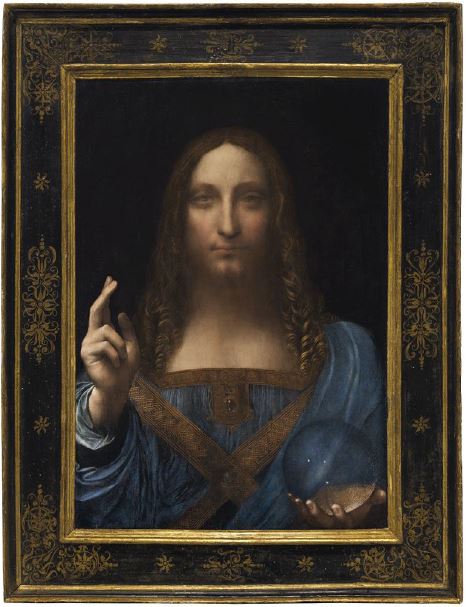 Christie's will present for sale this fall the greatest artistic rediscovery of the 21st century: Leonardo da Vinci's Salvator Mundi. Painted by one of history's greatest and most renowned artists, Salvator Mundi is one of fewer than 20 known paintings by Leonardo, and the only one in private hands. When it re-emerged in 2005, this exquisite work, depicting Jesus Christ as the savior of the world, became the first discovery of a painting by Leonardo da Vinci since 1909. Christie's will have the great privilege of presenting Salvator Mundi in upcoming exhibitions in Hong Kong, San Francisco, London and New York, marking the first opportunities for the public in Asia and the Americas to see this exceptional and iconic work of art. The painting will be offered in Christie's Evening Sale of Post-War and Contemporary Art on November 15, 2017 in Rockefeller Plaza. The estimate is in the region of $100 million US.
Dating from around 1500, the haunting oil on panel painting depicts a half-length figure of Christ as Savior of the World, facing frontally and dressed in flowing robes of lapis and crimson. He holds a crystal orb in his left hand as he raises his right hand in benediction. Leonardo's painting of Salvator Mundi was long believed to have existed but was generally presumed to have been destroyed until it was rediscovered in 2005.
Loic Gouzer, Chairman, Post-War and Contemporary Art, New York, remarked: "Salvator Mundi is a painting of the most iconic figure in the world by the most important artist of all time. The opportunity to bring this masterpiece to the market is an honor that comes around once in a lifetime. Despite being created approximately 500 years ago, the work of Leonardo is just as influential to the art that is being created today as it was in the 15th and 16th centuries. We felt that offering this painting within the context of our Post-War and Contemporary Evening Sale is a testament to the enduring relevance of this picture."
Gouzer continued, "Salvator Mundi was painted in the same timeframe as the Mona Lisa, and they bear a patent compositional likeness. Leonardo was an unparalleled creative force, and a master of the enigmatic. Standing in front of his paintings, it becomes impossible for one's mind to fully unravel or comprehend the mystery radiating from them – both the Mona Lisa and Salvator Mundi are perfect examples of this. No one will ever be able to fully grasp the wonder of Leonardo's paintings, just as no one will ever be able to fully know the origins of the universe."
PROVENANCE AND RE-DISCOVERY
The painting was first recorded in the Royal collection of King Charles I (1600-1649), and thought to have hung in the private chambers of Henrietta Maria – the wife of King Charles I – in her palace in Greenwich, and was later in the collection of Charles II. Salvator Mundi is next recorded in a 1763 sale by Charles Herbert Sheffield, the illegitimate son of the Duke of Buckingham, who put it into auction following the sale of what is now Buckingham Palace to the king.
It then disappeared until 1900 when it was acquired by Sir Charles Robinson as a work by Leonardo's follower, Bernardino Luini, for the Cook Collection, Doughty House, Richmond. By this time, its authorship by Leonardo, origins and illustrious royal history had been forgotten, and Christ's face and hair were overpainted. In the dispersal of the Cook Collection, it was ultimately consigned to a sale at Sotheby's in 1958 where it sold for £45. It disappeared once again for nearly 50 years, emerging in 2005 when it was purchased from an American estate at a small regional auction house. Its rediscovery was followed by six years of painstaking research and inquiry to document its authenticity with the world's leading authorities on the works and career of da Vinci.
In 2011, the dramatic public unveiling of Salvator Mundi ('Savior of the World') in the exhibition Leonardo da Vinci: Painter at the Court of Milan at The National Gallery, London, caused a worldwide media sensation.
Alan Wintermute, Senior Specialist, Old Master Paintings at Christie's commented:
"The Salvator Mundi is the Holy Grail of old master paintings. Long-known to have existed, and long-sought after, it seemed just a tantalizingly unobtainable dream until now. To see a fully finished, late masterpiece by Leonardo, made at the peak of his genius, appear for sale in 2017 is as close as I've come to an Art World Miracle. It has been more than a century since the last such painting turned up and this opportunity will not come again in our lifetime. I can hardly convey how exciting it is for those of us directly involved in its sale. The word 'masterpiece' barely begins to convey the rarity, importance and sublime beauty of Leonardo's painting.'
Francois de Poortere, Head of Old Master Paintings, added: "It is an honor to be entrusted with the sale of this mystical masterpiece. After centuries of hiding, da Vinci's Christ as Salvator Mundi stirred unmatched sensation in the art world when it was unveiled on the walls of London's National Gallery in 2011. We look forward to creating a similar sensation at Christie's sites worldwide over the next month, as we share what many call the 'Male Mona Lisa' – with our global community of collectors, art historians and the public."
Post-War and Contemporary Evening Sale at Christie's New York
Christie's has been entrusted with The Defining Gesture: Modern Masters from a Remarkable Private Collection, which will be sold in a single owner section beginning with the November Evening Sales in New York. Comprising works by many of the 20th Century's leading artists, the collection encompasses the most comprehensive representation of Abstract Expressionism to be offered at auction in half a decade. Among the highlights, are foremost examples by Franz Kline, Lee Krasner, Robert Motherwell, Arshile Gorky, Alexander Calder and Pablo Picasso among others. In total, the collection is expected to exceed $60 million. Highlights will be on view in Hong Kong and London on September 28 and September 30 respectively.
Sara Friedlander, Head of Department, Post-War and Contemporary Art: remarked "We have not seen a comprehensive collection of American Abstract Expressionism come to market since 2012 and are particularly excited about a collection formed so thoughtfully with an eye toward the revolutionary spirit of art in the 20th century. The collection is led by Franz Kline's Light Mechanic, an unequivocal masterpiece by one of the most emblematic artists of the Abstract Expressionist Movements. Additionally, we are particularly excited to offer examples by William Baziotes, Louise Nevelson and Milton Avery, artists historically not featured in the context of the Post-War and Contemporary Art Evening Sale."
The sale will feature works from the private collection of Heinz and Ruthe Eppler. As the couple began to purchase works of art in the 1980s, they formed a friendship with the Cleveland Museum of Art's Chief Curator of Modern Art, Edward B. Henning. The couple thoughtfully assembled the collection with Henning's wise counsel.
Henning became a trusted advisor, relating his enthusiasm or hesitation on potential acquisitions. The couple, for their part, was inquisitive and deliberate in their purchases. What motivated them was the thrill of finding works of visual and intellectual resonance. Henning offered the collectors friendship and guidance throughout the 1980s. Of Robert Motherwell's Je t'aime No. III with Loaf of Bread – pictured left, he noted, "My feeling is that it is very important as well as being beautiful." He lauded the collectors for having chosen a "superb" painting by William Baziotes – pictured right. Henning went to great lengths to commend the art historical significance of Abstract Expressionists. Upon hearing that the couple had purchased Kline's Light Mechanic – pictured page 1, right, in 1985 – a work Henning had suggested some two years earlier—the curator wrote to express his congratulations. "You now have an excellent, representative collection of American Abstract Expressionist art," he enthused, "and that is the most important art of the twentieth century and the most important of all American art."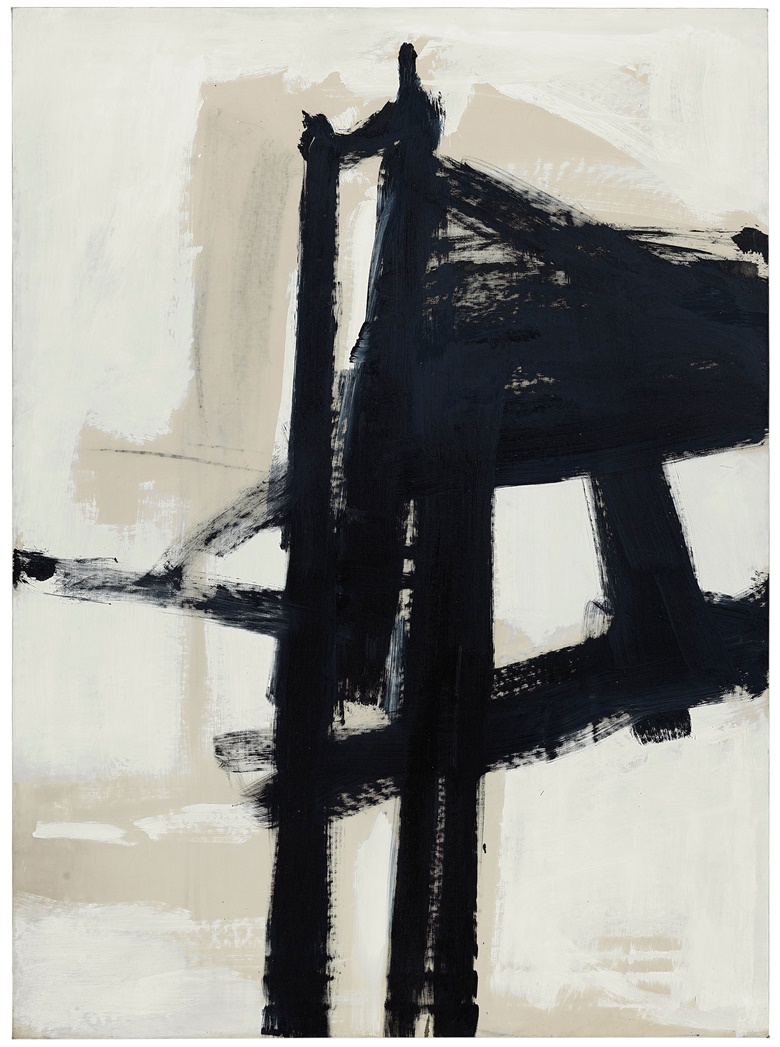 Franz Kline, Light Mechanic, 1960. Oil on canvas. 92 x 67⅝ in (233.6 x 171.7 cm). Estimate on request. This work is offered in the Post-War and Contemporary Art Evening Sale on 15 November at Christie's in New York © 2017 The Franz Kline Estate / Artists Rights Society (ARS), New York
The collectors' connection with Henning is indicative of their personal, heartfelt approach toward art — one that culminated in an inspired collection of works extending across the twentieth century.
Leading the collection is Franz Kline's Light Mechanic, 1960 – , a consummate canvas by the artist, whose paintings have come to be regarded as the embodiment of Abstract Expressionism. His broad sweeps of dramatic black-and-white gesture combine to produce enigmatic forms that evoke the energy and aggressive dynamism of the New York City. At nearly eight feet tall, Light Mechanic belongs to a group of monumental canvases that Kline painted between 1950 and the early 1960s. Deliberate imperfections, irregularities and imbalances within its composition give life to the architectural geometry of the intersecting forms. The striking beauty and intense excitement of this canvas strike a sense of awe within the viewer. In both its physical size and artistic scope Light Mechanic captures the masculine energy that epitomized Abstract Expressionism.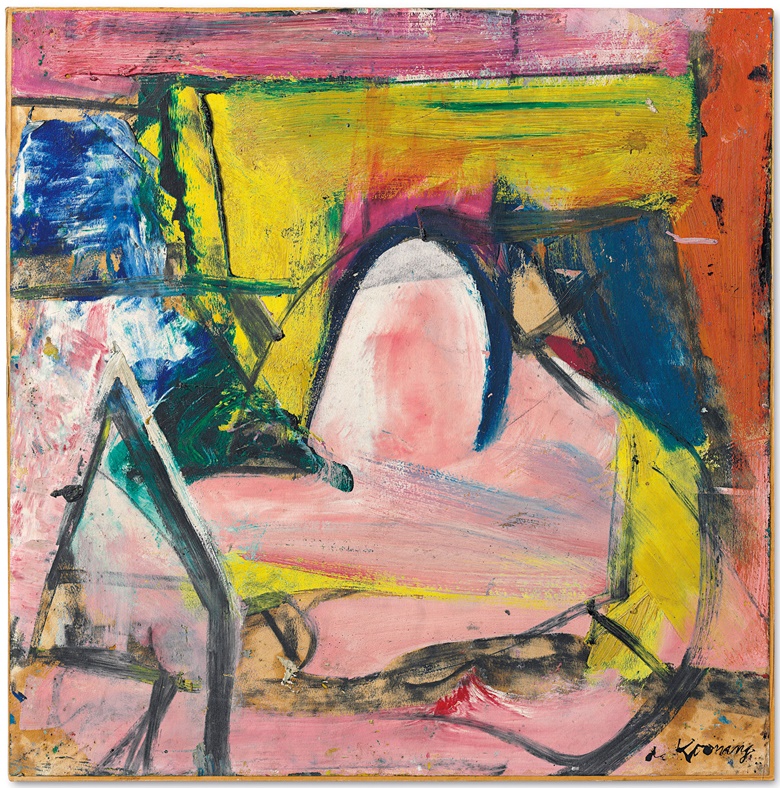 Willem de Kooning, Composition I, 1955. Oil on paper laid down on board. 23 x 22¾ in (58.4 x 57.7 cm). Estimate: $4,000,000-6,000,000. This work is offered in the Post-War and Contemporary Art Evening Sale on 15 November at Christie's in New York
William de Kooning's Composition I, 1955 – is an incredibly important transitional work for the artist. Already heralded, along with Jackson Pollock, as one of the leaders of the Abstract Expressionist movement, de Kooning did not merely re-create his successes, but continued to push himself to innovate, transform, and adapt his artistic practice throughout his lifetime. Composition I serves as a snapshot into the artist's constant striving for a new vision - in it de Kooning is mid-process in navigating from his bold, frenetic Woman paintings to a style that more closely resembles the genre of landscape. The fleshy pinks interplay with sinewy, supple blues and delicate yellows, create a dynamic painting that is at once wholly abstract and yet curiously representational. Its sublimity is echoed in the masterwork from this period, Easter Monday, which de Kooning began in 1955 and completed in 1956. Easter Monday now hangs in permanent place at the Metropolitan Museum of Art, steps away from Jackson Pollock's masterpiece Autumn Rhythm (Number 30), 1950.
Lee Krasner's Shattered Light from 1954 is a milestone in the development of both painting and collage. Vibrant energy pulses throughout as colorful shreds of paper and quick strokes of oil paint push and pull the composition, creating a spatial tension so skillful that it could have only come from Kasner's hand. Nature was a primary subject matter for Krasner throughout the course of her career, beginning as early as her student days, and Shattered Light maintains that proclivity. With this canvas, paint and collage coalesce to produce poetic naturalistic forms that recall the feeling of sweeping wind barreling through the air.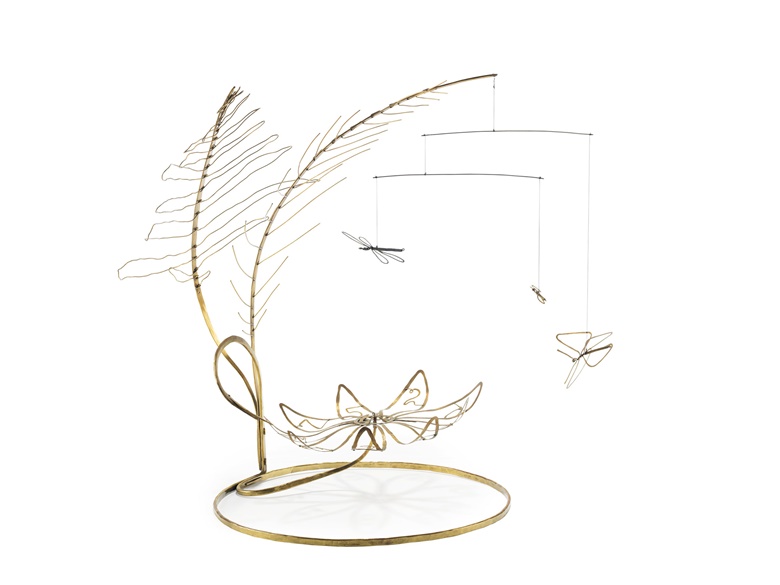 Alexander Calder (1898-1976), Calderoulette, circa 1941. Standing mobile — brass, wire and nylon thread. 20¾ x 27 x 17 in (52.7 x 68.5 x 43 cm). Estimate: $3,200,000-3,800,000. This work is offered in the Post-War and Contemporary Art Evening Sale on 15 November at Christie's in New York © 2017 Calder Foundation, New York / Artists Rights Society (ARS), New York

Alexander Calder's Calderoulette, executed 1940-1945 is a stunning example of of magical and imaginative creations that distinguished the artist's oeuvre. Calderoulette's composition is formed by what appears to be an open water lily, below a floating butterfly, a small buzzing insect, and a large dragonfly. As is often the case with Calder's work, there is more to Calderoulette than initially meets the eye. As the name suggests, Calder's open lily flower also mimics the design of a roulette wheel. In each of the open flower petals Calder has placed a numerical digit, which invites the viewer to join Calder in playing a round of nature based roulette, guessing which petal an insect will land on first. Encompassing many of the qualities that make Calder's work so iconic and desirable, Cadleroulette is a delightful standing mobile that combines the magical suspension of the artist's mobiles with the stability and balance of the later stabiles.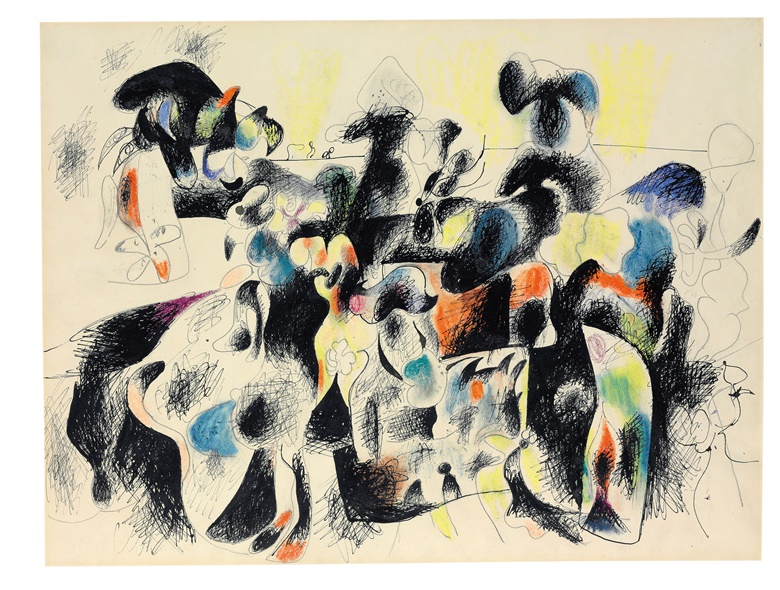 Arshile Gorky (1904-1948), Composition I, 1943. Ink, wax crayon and graphite on paper. Estimate: $2,000,000-3,000,000. 19 x 24⅞ in (48.2 x 63.1 cm). This work is offered in the Post-War and Contemporary Art Evening Sale on 15 November at Christie's in New York
On November 15, Christie's will offer Andy Warhol's Sixty Last Suppers, 1986 (estimate: in the region of $50 million)
Andy Warhol, Sixty Last Suppers, 1986.
as a highlight of its Evening Sale of Post-War and Contemporary Art. Sixty Last Suppers is an outstanding example from the artist's great final painting series. Executed just a year before Warhol's death in February 1987, this monumental canvas poignantly illustrates the themes of religion and loss that were so instrumental to his work. This canvas is being offered for its first time at auction.
Alex Rotter, Chairman of Post-War and Contemporary Art, New York, remarked: "Christie's Sixty Last Suppers is the unequivocal masterpiece from Warhol's late period. Standing in front of this momentous canvas, the viewer is fully immersed by Leonardo's vision, but seen through the eyes of Andy Warhol. Many paintings are described as a tour-de-force, this is Warhol's."
The idea for a group of works based on Leonardo's Renaissance masterpiece was proposed to Warhol in 1984 by Milan-based gallerist Alexander Iolas. Warhol leapt at the idea of putting his own stamp on one of the best-known images in the world, and produced an exhaustive series of variations — some freehand, some showing outlines, some, as in this example, using a photostat of the oil painting as the source image for a silkscreen. In all, Warhol would make over 100 different renditions of the Last Supper, 22 of which were displayed in 1986 in a space opposite the Santa Maria delle Grazie church, home of Leonardo's original. Viewed by an estimated 30,000 people, the works took Milan by storm.
At the same time, and underscoring the Pop process of manufacture, the doubled image was a reminder that Warhol's works were not originals in the traditional sense. This interrogation of originality versus reproduction had come up again and again in his art. The 'Dollar Bills' were not dollar bills. The 'Brillo Boxes' were not Brillo boxes, exactly. By 1986, of course, Leonardo's Last Supper had become not only part of the art historical canon, but part of popular culture.
As a deeply religious man, the image of The Last Supper had featured prominently in the background of Warhol's life: his mother's Bible featured a reproduction of the image; another copy apparently hung in the family's kitchen. It is perhaps no coincidence that in creating this particular Last Supper variation, Warhol worked from a print of an old oil copy of the Renaissance painting — a source already removed from the original, and already a proto-Pop artefact.
In the early 1980s, religious iconography would feature more prominently in Warhol's art as he began to confront his mortality. Sixty Last Suppers marked the culmination of a process of acceptance: the final image of communion and forgiveness. To some critics, Warhol's artistic appropriation of the iconography of advertising and pop culture represented the substitution, in the modern age, of capitalism for religion. But in Sixty Last Suppers, Warhol both celebrated Christianity and injected new life into religious art, charging it with contemporary currency.