A first in Paris.

Sotheby's is presenting a new sale

on 19 October dedicated to

works by artists who left a powerful mark on modern times, from the emergence of the avant - garde to the present day.
The many works on sale include a magisterial piece by René Magritte – one of the artist's very first Surrealist paintings; a magnificent picture by Claude Monet , whose radical modernity already foreshadows 20
th
century

abstraction ; a view of

Fernand Léger 's studio, and various iconic works by

Man Ray from a private

Italian collection. Abstraction and the French post - war school are also represented, with a major painting by
Nicolas de Staël from the celebrated Mellon collection.
RENE MAGRITTE
Dating from 1926,

Le Toit du monde ( estimate:

€ 1,5 00,0 00 - 2 ,0 00,0 00) belongs to

Magritte 's first cycle of

S urrealist paintings .

F or the first time at auction, this enigmatic painting with

little trace of

any

human figure was the first

of his painting to employ

the

image

of the

human circulatory

system, a stylistic figure found

in some of his most iconic

pieces of the

next few years. With a

remarkable provenance ( including

Eugene Flagey, Carlo Ponti

and Sophia Loren,

and

Franco Russoli),

this painting draws the viewer

right into

the poetic enigma of

Magritte 's work ,

for whom "art

should evoke the mystery without which the world would not exist."
FRANCIS PICABIA
Painted in 1929,

Artémis ( estimate: € 500, 000 - 700,000 ) is a remarkable example of the iconic series of Transparences

Picabia

began

i n 1927. These were an immediate success with both collectors and the

Surrealist circle.

Here, superimposing several motifs and images, the artist draws viewers into a work where different

levels of interpretation are discernible . This complex, magisterial work,

making its first - ever

appearance

on the market, immerses us in the very

heart of Picabia 's artistic explorations .
ROBERTO MATTA
Les Séparés vivants ( estimate:

€ 30 ,000 - 500,000 ),

painted at the end of the war,

reflect s the artist's aim

to create a new representation of humanity, a "new

image of mankind" , whose sources

lay

in primitive art

and the psyche. Deeply marked by the events of the

war, Matta 's art at this time

took on a mor e incisive

line, echoing the suffering and fear experienced by

humanity .

A t the same time,

his

work

evinced a

new

kind of freedom in gestural and chromatic terms, and

expressed his aspirations after this sombre time . This

painting is one of the most accomp lished pieces in this

highly sought - after period of his work .
NICOLAS DE STAËL
In May1952 Nicolas de Staël rediscovered the South

of France and its dazzling light. The Mediterranean left an indelible mark on him, and his palette changed, taking on brighter, more intense colours.

Méditerranée

( estimate:

€ 700,000 - 1,000,000 ) shows

how brilliantly the painter evokes the atmosphere of

the South and alternates our perception of colours

and volumes.

Powerful, simplified forms now

structure the painting's c omposition , just as the coloured contrasts structured Monet's Marine , inspired by

the sea in

Normand y .
MAN RAY
The sale ends with

a remarkable group of fifteen works by Man Ray, which come from the Sergio Tomasinelli collection These were all bought from Luciano Anselmino, who was not only

Man Ray 's dealer at the end of his life

but also a close friend. They provide a magnificent overview of Man Ray's art

in all its diversity.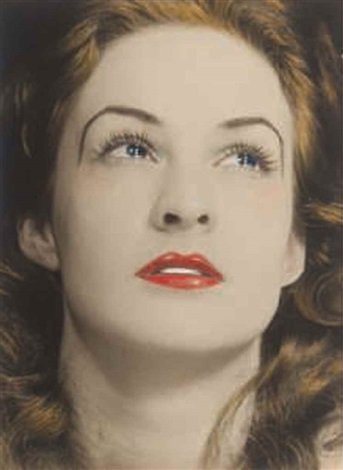 Among them is the

touching Tearful Woman

(estimate:

€ 300,000 - 400, 00 , a black and white photographic print

hand - coloured

by Man Ray. The

only other extant

copy of this sensual and captivating image was sold a few months ago for over $2 million.
Other notable works include Orchestra

(

estimate:

€ 180,000 - 250 ,000 )
and Decanter

( estimate:

€ 18

0

,000 - 250,000 ) , which form part of Man Ray 's revolutionary Revolving Doors series, together with a whole range of the Surrealist

objects that made the artist famous and popular .
.
IMPRESSIONIST AND MODERN ART AUCTION ON 22 OCTOBER 2017
On

22 October, the sale of Impressionist and modern art of Paris, from

the dawn of Impressionism

to the

early 1950s,

provides a select overview of art within and outside France, with great modern artists like Fernand Léger, Raoul Dufy and Marc Chagall. The latter will be represented by a fine group of works

including
Le Bouquet Blanc

(estimate:

€ 800,0 00 - 1, 200,0 00 ),

a magnificent synthesis of the most fundamental motifs in his work.
A drawing by Egon Schiele (Femme debout, estimate:

€ 200,000 - 250,000 ) will be on offer.