The Frick Art & Historical Center, Pittsburgh, Pennsylvania, March 17–July 8, 2018
Frist Center for the Visual Arts, Nashville, Tennessee, January 26–May 5, 2019
Oklahoma City Museum of Art, Oklahoma, June 22­­­­–September 22, 2019
Van Gogh, Monet, Degas: The Mellon Collection of French Art from the Virginia Museum of Fine Arts is an exhibition featuring more than 70 masterpieces collected by Pittsburgh - born collector and philanthropist, Paul Mellon (1907 – 1999), beginning in spring 2018 .
The Frick will be the first of a select group of museums to present this touring exhibition, which includes three works by Vincent Van Gogh (1853 – 1890):
The Laundry Boat on the Seine at Asnières (1887);
Daisies, Arles (1888);
and The Wheat Field behind St. Paul's Hospital, St. Rémy (1889).
Claude Monet Field of Poppies, Giverny
Claude Monet - Irises by the Pond, 1917 at the Virginia Museum of Fine Arts
Claude Monet (1840 – 1926) is represented by four works in the show, including a large, late work capturing the dazzling irises in his garden at Giverny,
Edgar Degas French, 1834 – 1917 At the Milliner ca. 1882 – 1885

Oil on canvas

Collection of Mr. and Mrs. Paul Mellon

2001.27
and 10 works by Degas (1834 – 1917) are featured — including the artist's most famous sculpture, The Little Dancer .
Covering more than 150 years of French art, the exhibition includes a beautiful and intimate group of Impressionist paintings by Édouard Manet (1882 – 1883), Pierre August Renoir (1841 – 1919), Henri de Toulouse - Lautrec ( 1864 – 1901), Alfred Sisley (1839 – 1899), and Camille Pissarro (1830 – 1903), as well as iconic works by Romantic masters Théodore Géricault (1791 – 1824) and Eugène Delacroix ( 1798 – 1863 ) and the Post - Impressionist and modernist work of Henri Matisse ( 1869 – 1954), Pablo Picasso (1881 – 1973) and Pierre Bonnard (1867 – 1947 .
In addition to the aforementioned artists, nearly all of the great names associated with French art of the 19
th
- and early 20
th
-century are represented in this exhibition, including Paul Cézanne (1839 – 1906), Gustave Courbet (1819 – 1877),
Paul Gauguin (1848 – 1903), Berthe Morisot (1841 – 1895 ), and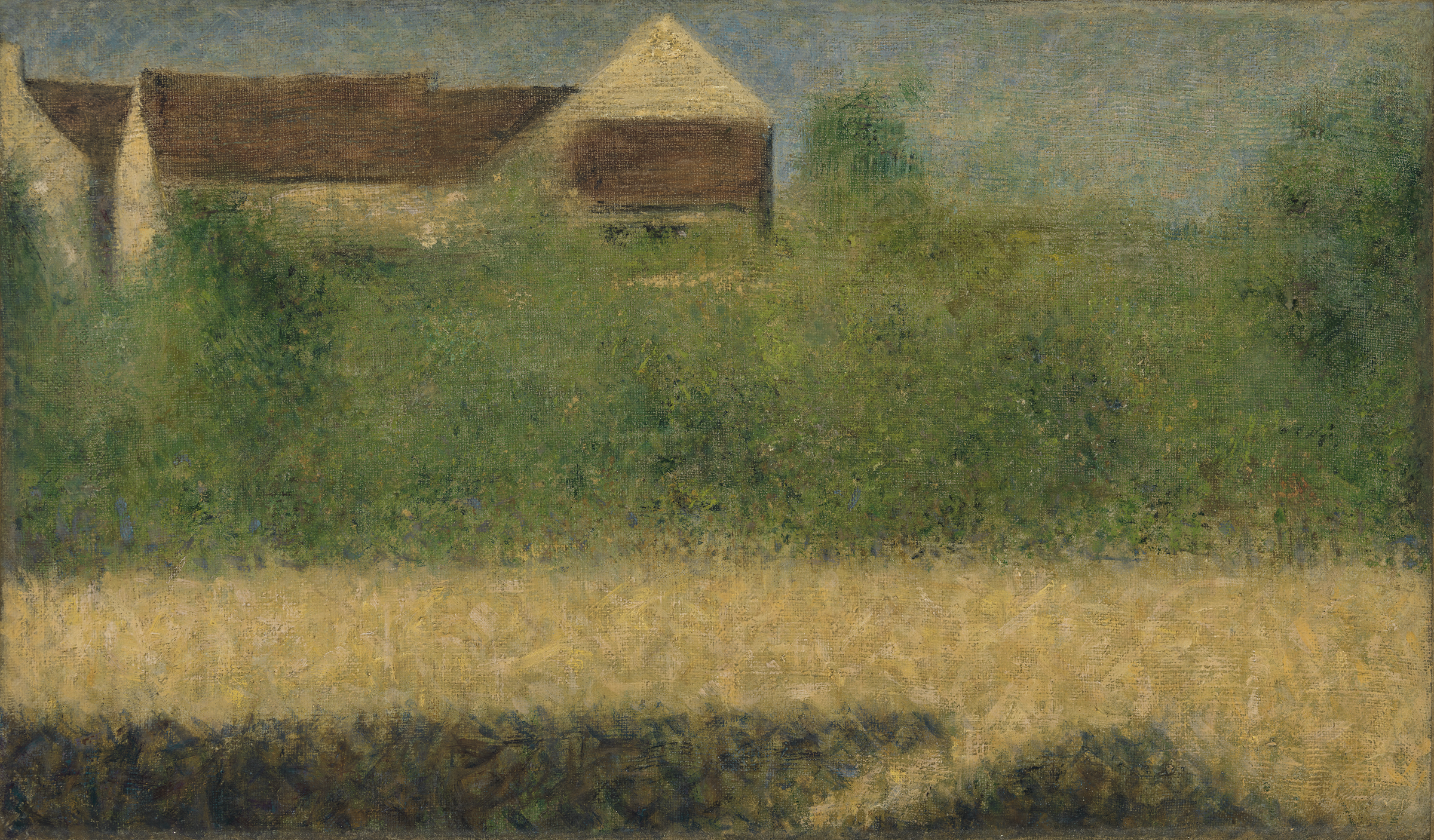 Georges Seurat (French, 1859–1891) Houses and Garden, ca. 1882, oil on canvas. Collection of Mr. and Mrs. Paul Mellon.
Georges Seurat (1859 – 1891), among many others.
While the permanent display at Virginia Museum of Fine Arts is presented chronologically, the traveling exhibition is designed for visitors to experience the works through eight themes, including Views of Paris, Flowers, Water, and Interiors.
The exhibition will open with Cyphers of Modernity, which introduces two of its most characteristic paintings:
Berthe Morisot's Young Woman Watering a Shrub,
and Théodore Géricault's Mounted Jockey;
these paintings are emblematic of the collection in their commitment to modernism, as well as their subject matter, which appealed to Mrs. Mellon's love of gardening and Mr. Mellon's passion for horses and horse racing.
Paul Mellon began to collect 19th-century French art in the 1940s with his second wife, Rachel Lambert Mellon. The exhibition reproduces the invigorating experience of the Mellons' collection, in which each work resonates with and gains greater strength from its lovingly created context.