National Gallery , London
28 February – 19 May 2019
Exhibition organised by the National Gallery and the National Gallery of Ireland
Paintings from a British private collection, never previously displayed or published, will be shown at the National Gallery in spring 2019, in the first exhibition in the UK devoted to
Louis-Léopold Boilly
, one of the most important artists of revolutionary France.
Forming the core of the exhibition, these 20 works represent the highlights of Boilly's long career in Paris, from 1785 to the 1830s, where he witnessed the French Revolution, the rise and fall of Napoleon, and the Restoration of the French Monarchy.
Boilly, Louis-Léopold: Gathering of Artists in the Studio of Isabey
The exhibition will show, through meticulously executed, detail-rich paintings and drawings, Boilly's daring responses to the changing political environment and art market and his acute powers of observation and wry sense of humour.
Boilly, Louis-Léopold:
Passey Payez, c 1803
Having painted intimate and controversially seductive interior scenes for an elite audience which saw the artist get into trouble with the authorities, Boilly's art changed considerably with the Revolution. The interior views for private patrons, with simple compositions containing one or two figures, gave way to pieces intended for public exhibition, including ambitious urban vistas.
In these street scenes, Boilly became the first French artist to paint views of everyday life on Paris's streets and boulevards.
The exhibition will include drawn and painted portraits, both of private clients and of his own family, and will look at Boilly's engaging contribution to
trompe l'oeil
(a term that he himself invented for his submission to the
Salon
of 1800 where he used the art technique to "deceive the eye" through realistic imagery that creates the illusion that depicted objects exist in three dimensions). These works emphasise the revolutionary aspect of Boilly's work: that he was not only working in a politically turbulent period, but also that he was actively involved in turning representation – and especially the relationship between different media – on its head.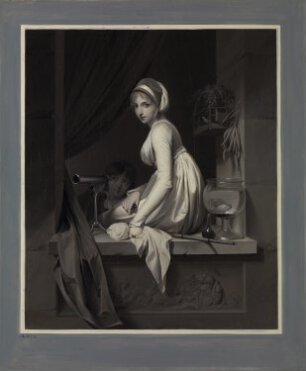 The exhibition will introduce an artist who is little known in Britain, and will provide unparalleled context for the
one painting
by Boilly in the National Gallery's Collection.