Christie's Old Master s Evening Sale on 5 July 2018
Christie's will offer Portrait of Clara Serena , the Artist's Daughter by Peter Paul Rubens in the London Old Masters Evening Sale on 5 July, during Classic Week (estimate: £3 - 5 million ).
Never intended for public display , this seminal work offers a rare glimpse into the private life of the greatest artist of the Northern Baroque. The portrait is on public view in New York until 5 May, later going on view in Hong Kong from 24 to 28 May, before being exhibited in London in the lead up to the sale .
Henry Pettifer, Head of Old Master Paintings, Christie's London:
"Rubens' paintings of his family members, freer and bolder than those of his wealthy clientele, count amongst his greate st achievements in portraiture. This spontaneous likeness of Clara Serena, his only daughter with his wife Isabella Brant , painted around the time of her untimely death at the age of twelve, is extraordinary for its intimacy and timeless appeal. Its appearance on the market this summer comes after the picture has featured in recent high profile exhibitions at the Rubenshuis in Antwerp and the Scottish National Gallery, Edinburgh, and it is the first major work by Rubens to appear at Christie's in London since the record breaking sale of
Lot and his Daughters in July 2016"



The Portrait of Clara Serena belongs with the collection of personal portraits rendered by Rubens of his children.
Clara Serena was the beloved first child and only daughter of the artist, with his wife Isabella Brant. Little is known about her life, beyond the few intimately rendered portraits painted by Rubens, before she passed away at the age of just twelve and a half. The identification of the present portrait stems from the sitter's resemblance to Rubens's drawing of her mother at the British Museum and painting of Clara Serena at a younger age, in the Liechtenstein Princely Collection .
In 2013, the Portrait of Clara Serena was deaccessioned by the Metropolitan Museum of Art having been considered as by a follower of Rubens. It was only after a subsequent transformative restoration that i t was recognized again as a dazzling autograph work by Rubens, leading to its inclusion in the Rubens in Private exhibition at the Rubenshuis in 2015. More recently, the picture has been the focus of a dedicated exhibition at the Scottish National Gallery in Edinburgh and it will be included in the forthcoming volume of the Corpus Rubenianum Ludwig Burchard by Katlijne Van der Stighelen, due for publication in 2019.
Given the highly personal nature and unique character of this picture , it holds a special place in Rubens's oeuvre . Unlike any other portrait by the artist , the picture is painted with the intimacy of his preparatory sketches, while the face is more focused and drawn in greater detail, emitting the great psychological compl exity of his finished portraits. The disarming directness with which Clara Serena looks at the viewer was also not typical of contemporary portrait painting, reflecting both the intimacy of the moment shared between father and daughter, and displaying the deep affection with whi ch she was seen through Rubens' eyes. Though this picture was never intended for public display, Clara Serena's likeness now lives on as the private memory of the most public artist of the Flemish Baroque.
Sotheby's MASTER PAINTINGS EVENING SALE 25 January 2017
Furthermore, the sale will offer a newly-discovered work by the celebrated Flemish painter Sir Peter Paul Rubens. Study of a Horse with a Rider (estimate $1/1.5 million) is a rare example of a large-scale animal study by the artist. Until recently the painting had been described as by a follower of Sir Anthony Van Dyck, however the authorship had been difficult to discern due to overpaint and background added later that dominated the original scene. With the removal of these later additions, the canvas has been revealed as a work of high quality, and a typical example of the spirited and rapidly painted oil sketches for which Rubens is celebrated. A similar composition and pose is evident in the foreground of Rubens'
Henry IV at the Siege of Amiens
, at the Gothenburg Museum of Art.

CHRISTIE'S OLD MASTER & BRITISH PAINTINGS EVENING SALE LONDON, 7 JULY 2016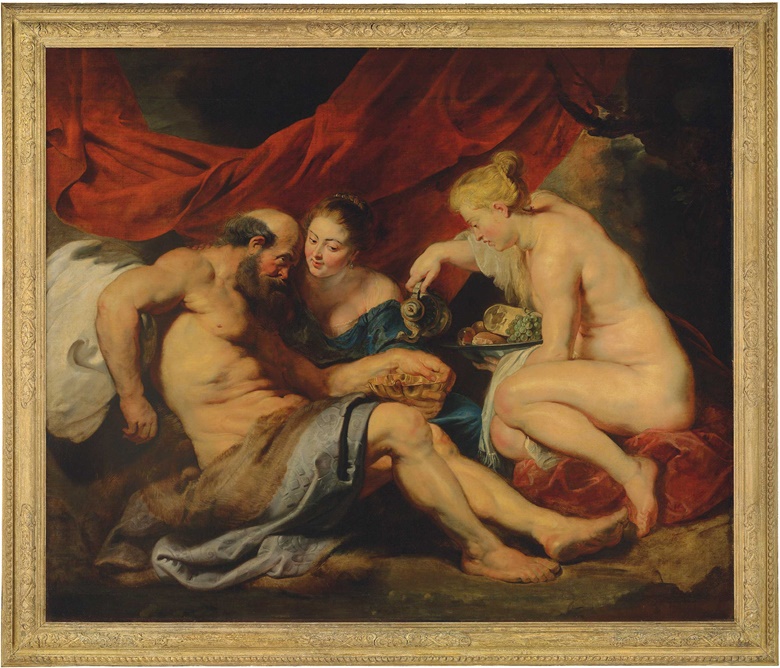 Sir Peter Paul Rubens's masterpiece, Lot and his Daughters (circa 1613-1614) will be sold by Christie's as the centerpiece of a curated week of sales, Classic Week*, in London this July. An outstanding example of Rubens's early maturity and one of the most important paintings by the artist to have remained in private hands. The work has been hidden from public view for over a century and will be exhibited during Christie's New York Classic Week (8 – 12 April 2016) and in Hong Kong (26 - 30 May 2016), before being offered in London Classic Week, leading the Old Master & British Paintings Evening Sale on 7 July.

Lot and his Daughters boasts a distinguished provenance, once forming part of the collections of wealthy Antwerp merchants; a Governor-General of the Spanish Netherlands; Joseph I Holy Roman Emperor; and the Dukes of Marlborough. It was included in the first volume of The English Connoisseur from 1766 and has since been listed in all the major publications on Rubens's work. The sale of this painting by the quintessential artist of the Northern Baroque presents a rare opportunity for both international collectors and institutions.

At the time that Rubens painted Lot and his Daughters, his reputation as the most important and fashionable artist in Antwerp had already put him at the centre of the European artistic stage. Having worked in Rome at the court of Vincenzo I Gonzaga, Duke of Mantua, he was appointed court painter in Brussels to the Archdukes Albert and Isabella in 1609. During this period, Rubens produced some of the most well-known works of his œuvre, including two monumental altarpieces, The Raising of the Cross, commissioned in 1610 for the church of St Walburga, and The Descent from the Cross, painted in 1611–1614 for Antwerp Cathedral. In addition to these public works, Rubens carried out a number of private commissions, instilling traditional religious subjects, such as Lot and his Daughters, with an exciting new energy.

Exceptional Provenance

The recorded provenance of Lot and his Daughters begins with the first known owner Balthazar Courtois, an Antwerp merchant who died in 1668. Listed in the inventory of his estate, the painting was described as a 'schouwstuck' (chimneypiece). It has not been established whether Courtois commissioned the painting from Rubens, but the description of it in his Antwerp house accords with the almost certain appearance of this picture in an Interior Scene (circa 1625-1630), Frans Francken II (1581-1642) and attributed to Cornelis de Vos (1584/85–1651).

This magnificent painting has changed hands on only a few occasions. In 1668 it was inherited by Courtois's son Jan Baptist, it then passed to the wealthy Antwerp merchant Ghisbert van Colen. In 1698 it was bought from van Colen by the military commander and avid collector Governor-General of the Spanish Netherlands, Maximilian II Emanuel (1662–1726), the Wittelsbach Elector of the Holy Roman Empire until his exile. The painting was then given to John Churchill, 1st Duke of Marlborough (1650–1722) in 1706 by Joseph I, Holy Roman Emperor (1678–1711), as a trophy in gratitude for the victories at Blenheim and Ramillies.

Marlborough's collection included at least 10 other pictures by Rubens and placed Lot and his Daughters in the Great Room at Marlborough House in 1740 until eventually being moved to England's greatest early 18th-century country house, Blenheim Palace, where it was hung in the Library in 1766 and in the Dining Room by 1810, paired with Rubens's Venus and Adonis (also from the collection of Maximilian II Emanuel). Around 1710-1720 the canvas was slightly extended at the top and bottom edges and the fine Blenheim frame in which it still hangs was added to complement the furniture of Blenheim Palace, designed by James Moore. The work remained in the Marlborough collection for at least a century until acquired by the entrepreneur, philanthropist and collector Baron Maurice de Hirsch de Gereuth (1831–1896) from whom it has been passed by descent.

Lot and his Daughters

The Old Testament tale, Lot and his Daughters (Genesis XIX: 30–38), had been a favoured subject with Northern European artists since the Renaissance with notable examples portrayed by Lucas van Leyden, Jan Massys, Joachim Wtewael and Hendrick Goltzius. Exploring the themes of vice and virtue, Lot and his Daughters is a cautionary story, which Rubens returned to throughout his career. Pulsating with life, this canvas illustrates the events after Lot and his family have fled the immoral city of Sodom having escaped to the desolate mountain town of Zoar. His two chaste daughters, fuelled by the desire to continue their lineage following the destruction of Sodom and Gomorrah, conspired to seduce their father and from who, according to the Bible, Jesus Christ was directly related through David's great-grandmother Ruth, who was descended from Moab.
Sotheby's Old Master sales (4–5 July)

Sir Peter Paul Rubens, Portrait of a bearded Venetian nobleman, bust length, Oil on oak panel, 60 by 48 .6 cm. Estimated in the region of £3 million

Unseen on the market for 60 years, this remarkable depiction of a Venetian Nobleman was almost certainly cherished by the artist who kept it until his death in 1640. A cquired by the great Dutch co llector Hans Wetzlar in the early 1950s , it has remained in the possession of his descendants ever since . One of only a few portraits by the artist to come on the market in recent years , it is estimated in the region of £3 million.

George Gordon, Worldwide Co - Chairman of Sotheby's Old Master Paintings Department , said:


" Rubens is known as the "Prince of the painters" and his legacy is far reaching. His timeless modernity and immediacy is evident in this painting which encapsulates several strands of his creative, emotional and intellectual life. With its bravura brushwork which shows no hint of hesitancy, this is a portrait of a man as real to us as he was in the artist's mind. Almost 400 years after being created , this is a painting that gives the viewer immense pleasure, and one in which we can feel Rubens' own joy in creating it. "

The Master behind the Subject

Painted in the 1620s, at the height of Rubens' career, the work depicts an imposing and evidently po werful man in the prime of life fixing the viewer in his penetrating gaze. Although Rubens almost certainly based this study on a Venetian prototype, quite probably by Tintoretto, his subject is largely the product of his own immensely creative imagination . Far away from Tintoretto's portrayals of men who almost seem to be wilfully obscure, the work is testament to Rubens' idea of a forceful Italian nobleman, a Renaissance man who is accustomed to power and leadership. As in his best pictures , the Flemish Master has imbued this portrait with much of his own personality. While not a self - portrait, it is a study of a man in whom Rubens recognises himself – another successful man of his own times, and perhaps too, like Rubens, something of a polymath.

Rubens' Fascination for Italy

Painter, designer , print - maker, sculptor, architect , diplomat, peace - treaty broker, at the helm of the largest studio of his time, Rubens was the first great artist - collector in Northern Europe and the fact that he almost certainly owned the present portrait until his death is testament to its importance. This work also reflects Rubens' love of Italy, which once discovered, remained an essential part of his artistic and cultural influence. During his eight years in Italy, be tween 1600 and 1608, the artist, then in his twenties, worked for important patrons, including the Duke of Mantua. In Venice he found inspiration in the work of his predecessors Titian, Veronese and Tintoretto. In Rome, the art of classical Antiquity made a great impression on him. He studied it avid ly, creating a number of drawings, which he would regularly go back to later in his career. In Rome, he also experienced the direct influence of his contemporary, Caravaggio. However closely he is identified with Flemish art, Rubens never ceased to be in part an Italian artist, as this exceptional portrait shows us.
Christie's July 9th 2015

The works being offered are led by two superb studies by Sir Peter Paul Rubens, one of the greatest geniuses of the Baroque. Executed with exceptional verve and sensitivity, the Head of a bearded man, in three-quarter-profile, is an outstanding example of Rubens's ad vivum portraits (estimate: £2-3 million, illustrated above). Painted circa 1620 on a composite panel, which was typical for studies of this type, it shows the artist's remarkable skill in modelling features and expressing character with a singular spontaneity and bravura.
The second of the studies, painted on a similar scale but completed at a slightly earlier date, is a beautiful modello for Venus and Jupiter, demonstrating Rubens's masterful delicacy of touch and fluency in execution (estimate: £1.2-1.8 million, illustrated above). Illustrating a story from the first book of the Aeneid, it forms part of a series on the story of Aeneas that Rubens began at some point after 1602. The picture has a particularly distinguished provenance prior to entering the Beit Collection: it formed part of the collection of Sir Joshua Reynolds, before being sold in the Reynolds sale at Christie's in March 1795, and later passing to the Earls of Darnley at Cobham Hall, who owned masterpieces by Titian and Veronese.