"
An Impressionist Sensibility: The Halff Collection
," on view from Nov. 3, 2006 through Feb. 4, 2007 at the Smithsonian American Art Museum, presented iconic works by some of America's most talented and cherished artists. These selected paintings were from Marie and Hugh Halff's collection, one of the finest private collections of late 19th- and early 20th-century American art.
"An Impressionist Sensibility" featured 26 paintings by William Merritt Chase, Childe Hassam, Winslow Homer, John Singer Sargent and John Twachtman, among other internationally known artists.
The works range from Ernest Lawson's celebration of modern urbanism in his
Flatiron Building (1906-07),
to the exoticism of
Harry Siddons Mowbray's Two Women (1893-96),
and the harmonious plein-air geometry of
Theodore Robinson's The Anchorage,Cos Cob(1894).
The Halff's collection spans the period in American art known as 'The Gilded Age', when Ruskin's credo of 'truth to nature' gave way to Whistler's rallying cry of 'art for art's sake.'
Marie and Hugh Halff, who live in San Antonio, acquired these masterpieces during the past 20 years. In addition to reflecting the Halff's keen eye for the finest artworks from this period, the collection also is noteworthy for illustrating the consistency of their vision. The paintings in the collection are linked through a shared sensibility about American cultural aspirations at the turn of the century.
"An Impressionist Sensibility" charted the development of a generation of artists, how they helped shape the aesthetic taste of the nation and how they responded to the beginnings of modernist impulses in art and society. The exhibition showcased the artists' distinctly American interpretations of impressionism, which began in France in the early 1870s. Every one of the artists in the Halffs' collection studied in France between the 1870s and the 1920s. Chase, Sargent and others crossed paths in Paris, London and Venice, drawn by a shared desire to learn from both old and new masters.
Impressionism as part of a modernist strategy is exemplified in
"The New York Bouquet" by Childe Hassam. He was fascinated with modern transportation, skyscrapers and a sense of innovation. This painting presents the modern face of a city embracing its new position in international commerce.
Similarly,
Hassam's "Clearing Sunset (Corner of Berkeley Street and Columbus Avenue)"
shows a city under construction, bustling with new growth and full of promise.
John Singer Sargent's Venetian paintings, such as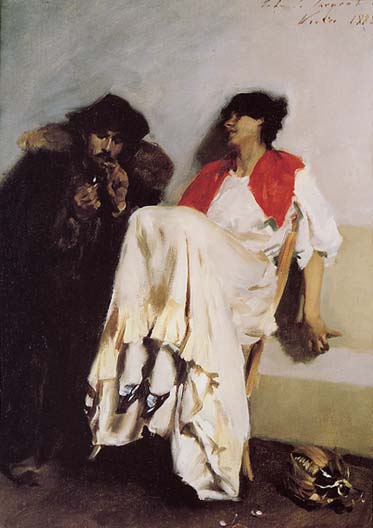 "The Sulfur Match"
and "Sortie de l'église,"
also touch upon these new modernist tendencies, both in the subject matter he paints and in his technique. Sargent explores the working-class street life of Venice in scenes that he captures with rapid brushstrokes that have the immediacy of plein-air paintings.
From
Glasstire
(images added but article best read in its entirety):
While many of the paintings are light and colorful, three of the best have a dark, Velazquez-like moodiness. Sargent evokes Velazquez with his image of three women emerging from a church. Sortie de l'eglise, Campo San Canciano, Venice, (above) dramatically blends midnight blacks, vivid touches of reds and stone-washed whites. Sargent's The Sulphur Match (above) is also dark and romantic, featuring the almost obscured face of a man bending to light a match while a woman in a white dress and red shawl leans back in a chair, two lovers lounging in a bar.

In the case of Chase, the artist was directly influenced by an iconic Velazquez work. He painted



Ring Toss, featuring three of his young daughters playing the game in his studio, after a trip to Spain where he made a copy of Velazquez's



Las Meninas. The rich brown tones of the floor's wood grain are contrasted with the murky black shadows of the background, almost forming a stage, with the girls pitching toward the viewer.

Chase, however, is primarily known as a landscape painter. His



Shinnecock Landscape with Figures

is a more characteristically sunny work. The scene is from Long Island, where Chas taught his famous summer classes.

Theodore Robinson's ragged brushstrokes evoke a blustery New York cold spell in



Union Square, Winter.

He and Hassam were among several artists who took advantage of cheap rents in apartments near the square. Another New York winter scene is Ernest Lawson's The Flatiron Building,(above) with its distinctive jutting, prow-like visage seen through snow-laden tree branches.

Two of the most interesting landscapes are by Twachtman,who painted the river views from the porch of the Holley House in Cos Cob, Connecticut,during the winter and spring. Fog hangs heavy over a snow-shrouded landscape in Bridge in Winter, with only a few straggly wisps of bare tree branches. But spring is clearly underway in



From the Holley House,

with blue water running in the river and leaves beginning to sprout from the tree branches.

Images of women reflect the turn-of-the-20th-century fascination with Japan, or "japonisme," and the Middle and Far East, or "orientalism." A woman wears a kimono in Charles Sprague Pearce's



Lady with a Fan,

while the subjects of Harry Siddons Mowbray's Two Women (Above)lounge like fantasies of a Near Eastern harem. Edmund Tarbell painted an American woman sitting on the floor, Japanese-style, while she cuts out kirigami patterns. Whistler began incorporating Japanesque elements into his work during the early 1860s, probably inspired by an exhibit of ukiyo-e prints by Hokusai at the London Exhibition of 1862.

William McGregor Paxton's Vermeer-influenced portrait of a woman reading a newspaper is one of the most contemporary-looking paintings. But other female portraits reflect the influence of the romantic, soft-focus photography of the era known aspictorialism. In Robert Reid's



Woman on a Porch with Flowers,

the woman's dress seems to merge with the cut flowers and wildflowers in the scene.

Other paintings in the Halffs' collection embrace the late 19th-century fascination with Japanese art and culture. A wave of Japanese influence swept across America and Europe in the 1860s with the rising popularity of mass-marketed decorative goods and exhibitions of prints in London, Paris and Boston. The impact of these works on American artists was fueled by James McNeill Whistler's revolutionary approach to painting with his Asian-inspired subjects and compositions. Paintings by William McGregor Paxton, Charles Sprague Pearce and Edmund C. Tarbell embody this blending of elements from the East and the West often referred to as "japonisme."
Works in the Halff collection were painted during a period of great change when American artists strove to create works that would be considered worthy of what would come to be called the "American Century." These artists engaged in a conversation between old and new, tradition and innovation, and East and West, and their work served as a springboard for the next generation of American artists. The Halff collection is a powerful and intimate view into this transformative time.

An Impressionist Sensibility: The Halff Collection
, was also on view from February 3-May 9, 2010 at The McNay Art Museum in San Antonio, TX.
Frank Weston Benson's Elisabeth and Anna,
Catalogue: