Building on the success of the Victorian & British Impressionist Art auctions in 2012, Christie's London has announced full details of the sale which will take place on 11 July 2013. Offered in two parts the sale features 123 lots and is expected to realise in the region of £12 million, making it the biggest auction of the category to be held at Christie's in over a decade. The sale presents the opportunity for both established and new collectors alike to acquire works at a wide range of price points with estimates ranging from £3,000 to £5 million. Leading the sale is the long unseen masterpiece by Sir Edward Coley Burne-Jones Bt., A.R.A., R.W.S. (1833-1898),
Love among the Ruins
(estimate: £3 million - £5 million).
Love among the Ruins
is the most important work by the artist to come to auction since Laus Veneris was sold to the Laing Art Gallery in Newcastle in 1971, and the painting has not been seen in public for over fifty years. A highly-significant work in the artist's oeuvre, it has been much celebrated since it was first exhibited in 1873, at the Dudley Gallery in London. It went on to be shown at the Exposition Universelle in Paris in 1878, where it established the artist's international reputation, and was also shown at the exhibition which inaugurated the Birmingham Art Gallery in 1885-6 (the artist's hometown), the Royal Jubilee Exhibition at Manchester in 1887, an annual loan exhibition at the Guildhall, London, in 1892, and in the Burne-Jones's retrospective exhibition at the New Gallery, London later that year.
Dating from 1873, this picture, whose title is taken from the Robert Browning poem of the same name, was created during perhaps the most fertile and inventive phase of his entire career. This was also the moment when his work was at its most Italianate and in Love Among the Ruins the Renaissance character of the architecture and the brilliant blue of the girl's dress clearly betray a vivid awareness of the Italian old masters.
This meditation on the eternal nature of love features Burne-Jones' mistress, Maria Zambaco. She was married to Demetrius Zambaco, a doctor practising among the Greek community in Paris, in 1861, and had two children; in 1866 she left him and returned to London, where, at the age of twenty-three, she was introduced to Burne-Jones, her senior by ten years. Never before in his rather sheltered life had Burne-Jones encountered such a passionate and elemental creature, nor could the contrast with his quakerish and high-minded wife have been more complete. The emotional turmoil undermined his health, which at the best of times was never robust; and in January 1869 matters took a tragic turn when his bid to end the affair led to Maria attempting suicide in the Regent's Canal. Maria posed frequently for Burne-Jones during these years, and her features, unlike those of many of his models, are easily recognizable in paintings and drawings. The nature of the subjects for which she modelled creates a strong impression that Burne-Jones was deliberately using his art to celebrate and immortalize their love.
Love among the Ruins
, which was last bought in 1958 for 480 guineas (£500), is now, well over a century since it was created, re-emerging to claim recognition as a work of unparalleled romantic intensity and true art-historical significance.
A portrait by Sir John Everett Millais, P.R.A. (1829-1896) of the artist's three daughters,
Sisters
is his most important picture to appear at auction in many years (estimate: £2 million – 3 million).
Sisters
was Millais' prime contribution to the important Royal Academy of Arts exhibition of 1868 in which the nascent Aestheticist movement cemented its presence on the London art scene. Sisters and several works offered in Part 2 come from the collection of the late Baron Matthews who was elevated to the peerage in 1980. Victor Matthews (1919-1995) was Chief Executive Officer of Trafalgar House plc., which owned both the Cunard Steam Ship Company and the Ritz Hotel in London.
A portrait of Lady Campbell
(1861-1933) was one of three pictures Millais exhibited in 1884 at the Grosvenor Gallery, along with his portrait of the Marquess of Lorne, Queen Victoria's son-in-law, and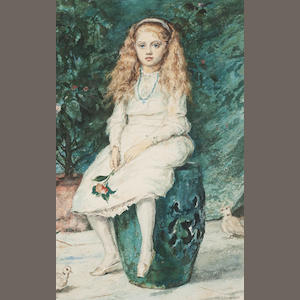 a portrait of Lady Campbell when she was a child, from fifteen years earlier (estimate: £400,000 – 600,000). It was characteristic of Millais to exhibit society portraits or images of politicians at the Grosvenor, where many of his patrons were frequent visitors. The work was painted in the month leading up to Nina Lehmann's marriage, to Guy Theophilus Campbell, 3rd Baronet, of Thames Ditton. The opulence of this portrait and the interest in fashion and elegant environs was a later and more modern manifestation of the Georgian revival that Millais had spearheaded in the 1860s with portraits such as
Sisters
.
An important rediscovery will which will be unveiled in public for the first time in 50 years is a sketch for A Mermaid by John William Waterhouse, R.A. (1848-1917) (estimate: £100,000 – 150,000). In 1900 Waterhouse completed the large A Mermaid as his Diploma Work for the Royal Academy's permanent collection. Perfectionistic and chronically tardy, Waterhouse must have agonised over this work because he knew that it would represent him forever. Through poetry like Tennyson's The Mermaid and stories such as Hans Christian Andersen's The Little Mermaid (1855), the Victorians fantasized that water-women sought to experience human love and secure a soul by luring sailors. This notion was further reinforced by the best-known water-woman in search of love, Ophelia, whom Shakespeare compared to a mermaid as she drowned.
John Singer Sargent (1856-1925) was widely thought to be the leading portrait painter of his time. His
Portrait of Lady Cynthia Blanche Mosley (née Curzon)
(1898-1933), shows Cimmie, the second of the three daughters of George Nathaniel Curzon, later 1st Marquess Curzon of Kedleston (1859-1925) and Viceroy of India, and Mary Leiter, daughter of Levi Leiter, a Chicago real estate magnate (estimate: £60,000 – 100,000). Cynthia followed her husband, Sir Oswald Mosley, M.P. (1896-1980), into politics, joining the Labour party with him in 1924. Tall, attractive and glamorous, she stood out and became an easy target for the Conservatives and for the press. She initially campaigned for her husband, but was quickly sought as a candidate in her own right, standing for Stoke-on-Trent. During the 1929 election she won her seat with one of the largest majorities of any female inter-war MP. She believed strongly in championing the underdog and in parliament spoke on women's unemployment and widows' pensions.
An important and rare sculpture by Frederic, Lord Leighton, P.R.A. , R.W.S. (1830-1896), An Athlete Wrestling with a Python, was the artist's first and most celebrated sculpture (estimate: £250,000-350,000, illustrated left). From its debut it has been revered as a major work of art. Leighton's paintings far outnumber his sculptures; apart from a handful of maquettes made to aid his painting, and designs for funerary monuments, Leighton produced only three distinct fine-art sculptures. Bronze reductions of the original such as the present lot were published in two sizes and this lot is a very rare example of the large version, measuring three feet in height.
VICTORIAN & BRITISH IMPRESSIONIST ART - PART 2
Part 2 of the sale will be held directly after Part 1 and will feature works by many of the greatest Victorian and British Impressionist artists. Highlights include Henley Regatta, a work traditionally attributed to James Jacques Tissot (1836-1906), which has now been credited to Frederick Vezin (1859-1933), an American-born artist who trained in Dusseldorf, Germany from 1876 until 1883 (estimate: £60,000 – 80,000). The misattribution appears to have been based upon an inscription on the painting's stretcher which reads 'J.J. Tissot à Mrs. Gebhard'. This has been taken to be the record of a work by Tissot himself, but Tissot owned many works by other artists and is known to have given some away as well as selling some, for example works by Degas, Manet and Pissaro.
A selection of works from the Eric Holder Will Trust will also be on offer. Eric Holder was one of the founders of Abbott & Holder, the much-loved firm of picture dealers known to generations of collectors. This company is still extant and follows many of the same traditions, although it no longer occupies the premises where he established it, and it operates in a market the shape and dynamics of which he would scarcely recognise. Highlights of the works on offer include a fragment of an unfinished canvas by Burne-Jones representing the death of the gorgon Medusa (estimate: £20,000 – 30,000) and The Grass of the Field by John William North, A.R.A., R.W.S. (1842-1924) (estimate: £50,000 – 70,000). Having first visited Algeria in 1873 North spent several months there annually, and many of his paintings from this period have Algerian themes.
'God save the Queen': Queen Victoria arriving at St Paul's Cathedral on the Occasion of the Diamond Jubilee Thanksgiving Service, 22 June 1897, by John Charlton (1849-1917), captures the culmination of the celebrations for Queen Victoria's Diamond Jubilee was a brief Service of Thanksgiving, conducted on the steps of St Paul's. As she recorded in her Journal 'No one ever, I believe, has met with such an ovation as was given to me, passing through those six miles of streets, including Constitution Hill'.
The fine selection of works on paper in Part 2 of the sale is led by The Altar of Hymen by Sir Edward Coley Burne-Jones, Bt., A.R.A., R.W.S. (1833-1898) (estimate: £60,000 – 100,000). The composition is based on one of the illustrations of William Morris's poem 'Pygmalion and the Image' that Burne-Jones made in 1867. The present work is a version of one that Burne-Jones painted as a wedding present when Amy Graham, one of the six daughters of his patron William Graham, married Kenneth Muir-Mackenzie in 1874. It is being sold by a descendant of Sir Henry Tate (1819 – 1899) and is presented in its original tabernacle frame.