Jean-Honoré Fragonard's (1732–1806) brilliant accomplishments as a draftsman in the context of eighteenth-century French art were the subject of an exhibition,
Fragonard and the French Tradition,
at The Morgan Library & Museum. The show, which marked the two-hundredth anniversary of Fragonard's death, was on view from October 13, 2006, through January 7, 2007.
Through a selection of approximately forty drawings, taken almost entirely from the Morgan's collection, by the artist and his compatriots, Fragonard and the French Tradition chronicled how Fragonard emerged from the academic tradition of his mentors François Boucher (1703–1770) and Charles-Joseph Natoire (1700–1777) to establish himself as an artist with a distinct style. Fragonard emerged from their academic tradition with a vigorous approach of his own that helped set the tone of the rococo aesthetic in the last half of the 18th century. The play of water was an important theme in his work, from foamy fountains to flowing streams, and he loved to depict the frothy but intricate foliage that appears often in his scenery.
His expert command of the brush yielded some of the most masterful and painterly drawings of the century.
From the New York Times
(images added:)
Orlando Leaves Paris in Disguise




Orlando Returns Bireno to Olimpia
Among the most celebrated of Fragonard's works are his illustrations for Ludovico Ariosto's 1516 love poem, "Orlando Furioso," done in the revolutionary climate of the 1780's. On display are six of these drawings, worked in an ebulliently sketchy manner to match the adventures of the Christian knight Orlando, who goes mad when he finds that his love, the Oriental enchantress Angelica, has married a poor infidel. His cousin Astolpho embarks on a journey to recover Orlando's lost wits, which he finds on the moon, and Fragonard's drawings, light, fluid and in some cases verging on abstraction, keep pace with the frenetic plot.

Images in the exhibition included:

1. Jean-Honoré Fragonard, 1732–1806
Interior of a Park: The Gardens of the Villa d'Este
Gouache on vellum
7 3/4 x 9 1/2 in. (197 x 242 mm)
Thaw Collection; 1997.85




2. Jean-Honoré Fragonard, 1732–1806
Landscape with Flocks and Trees
Brush and brown wash, over graphite
13 9/16 x 18 3/8 in. (344 x 466 mm)
Purchased by Pierpont Morgan in 1907;
III, 114




3. Jean Honoré Fragonard, 1732–1806
Portrait of a Neapolitan Girl, 1774
Brush and brown wash over traces of
black chalk
14 7/16 x 11 1/8 in. (367 x 282 mm)
Thaw Collection; 2001.60




4. Jean-Honoré Fragonard, 1732–1806
A Young Woman Seated in a Garden
Red chalk, with slight indications in
graphite
8 3/4 x 11 1/16 in. (222 x 281 mm)
Purchased by Pierpont Morgan in 1907;
I, 289a





5. Jean-Honoré Fragonard, 1732–1806
The Sacrifice of Coresus
Black chalk, brush and brown wash
13 3/4 x 18 1/8 in. (347 x 465 mm)
Purchased by Pierpont Morgan in 1909;
I, 288




6. Jean-Honoré Fragonard, 1732–1806
La Récompense
Black chalk, brush and gray wash; incised
with stylus
16 7/8 x 13 1/2 in. 429 x 342 mm
Purchased as the gift of the Fellows with the
special assistance of Walter Baker, Mme.
Renée de Becker, Francis Kettaneh, Mrs.
Paul Moore, John S. Newberry, Jr., Mr. and
Mrs. Carl Stern, Mrs. Herbert N. Straus, and
Forsyth Wickes; 1955.5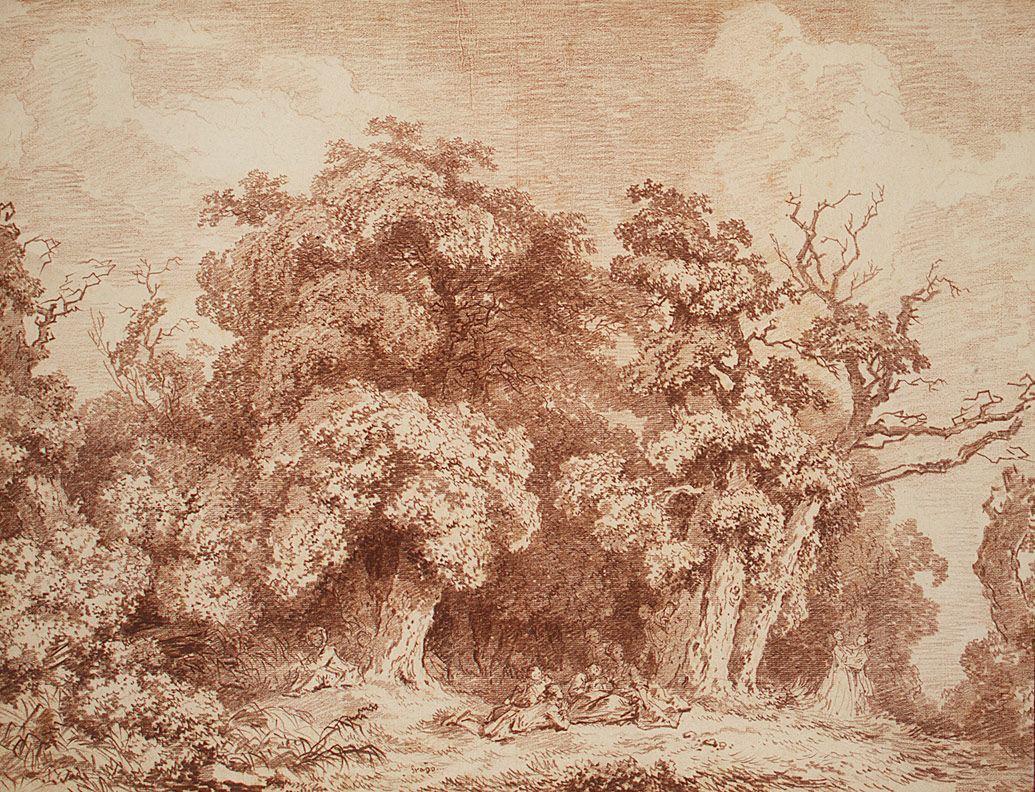 7. "A Gathering at Woods' Edge" (1760),

More Fragonard:
A Young Woman Seated with a Dog and a Watering Can in a Garden
A Young Girl Reading