Picasso and Braque: The Cubist Experiment, 1910–1912
, the first exhibition to unite many of the paintings and nearly all of the prints created by Pablo Picasso and Georges Braque during these two exhilarating years of their artistic dialogue, was on view at the Santa Barbara Museum of Art (SBMA) September 17, 2011 – January 8, 2012.

Pablo Picasso, Spanish (1881-1973)
Man with a Pipe, 1911, Oil on canvas
35-3/4 x 27-7/8 in. (oval) (90.7 x 71.0 cm)
Collection of the Kimbell Art Museum, Fort Worth Texas
© 2011 Estate of Pablo Picasso / Artists Rights Society (ARS), New York
The international loan exhibition, featuring 16 paintings and 20 etchings and drypoints, was organized by the Santa Barbara Museum of Art and the Kimbell Art Museum, with its debut in Fort Worth, TX May 29 – August 21, 2011.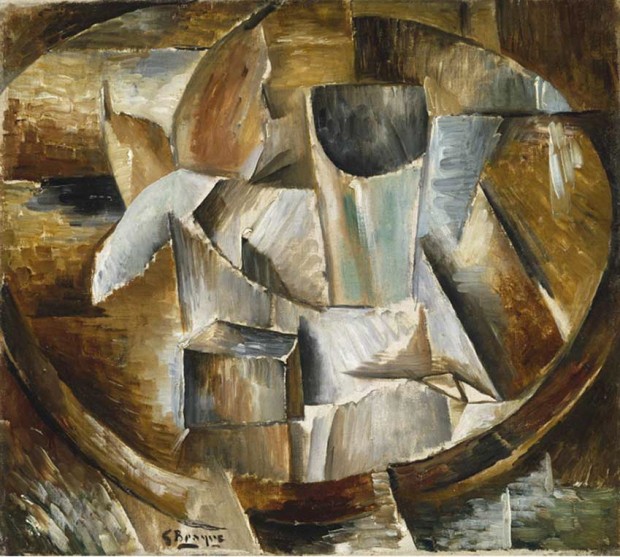 Georges Braque, Glass on a Table, 1909–10, oil on canvas. Tate, London. © 2011 Artists Rights Society (ARS), New York / ADAGP, Paris
During the years 1910 through 1912, Picasso and Braque invented a new style that took the basics of traditional European art—modeling in light and shade to suggest roundedness, perspective lines to suggest space, indeed the very idea of making a recognizable description of the real world—and toyed with them irreverently.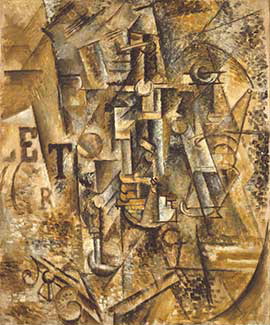 Pablo Picasso, Still Life with a Bottle of Rum, summer 1911, oil on canvas. The Metropolitan Museum of Art, New York. Jacques and Natasha Gelman Collection, 1998. © 2011 Estate of Pablo Picasso / Artists Rights Society (ARS), New York
From
Glasstire:
If there is one realm where Picasso takes command of the experiment and distinguishes himself from his friend, it is the Cubism-ization of persons, specifically but not surprisingly, the female nude. Though dark browns and bronzes dominate all of the paintings, black smoke-like currents surrounding the subject of one of Picasso's nudes suggests a darkness of mind as well as palette, prompting one of his friends to say the artist "had gone mad."



Pablo Picasso, Portrait of a Woman, 1910, oil on canvas. Museum of Fine Arts, Boston. © 2011 Estate of Pablo Picasso / Artists Rights Society (ARS), New York
Eik Kahng, organizing curator and SBMA Chief Curator notes, "The works that these two artists produced during this two year period remain some of the most difficult and enigmatic in all of the history of art. In this exhibition, we hope to recover the excitement and sense of the unknown that we know they both felt. It is not an exaggeration to say that Picasso's and Braque's experiment would clear the way for an entirely new definition of the work of art, now freed from the task of imitation in the conventional sense. All of the greatest art to follow in the 20th century is in one way or another indebted to their achievement."
Following up on hints they found in the work of Paul Cézanne, and brimming with youthful bravado, Picasso and Braque created pictorial puzzles, comprehensible to a point but full of false leads and contradictions. Viewers pick up a few clues—a figure, a pipe, a moustache, a bottle, a glass, a musical instrument, a newspaper, a playing card— and these start to suggest a reality in three dimensions. The impression is that of a fast, modern world, with glimpses of models, friends, and the paraphernalia of drinking and smoking. But things never fully add up, either in detail or as a whole—and deliberately so. Teasingly elusive, the image is a construction of forms and signs that the artist has put together in a spirit of parody and play. The pleasure for the viewer is to let go of all normal expectations and enter into the game, which is an endlessly intriguing one.
More than any avant-garde artists before them, Picasso and Braque called into question conventional ideas about art as the imitation of reality. They collaborated so closely and like-mindedly ("roped together like mountain climbers," in Braque's own phrase) that their works of this period are sometimes difficult to tell apart. Their radical experiment in picture-making, which came to be known as Analytic Cubism, has been as far-reaching in its implications for art as the theories of Einstein for science.
Not surprisingly in light of its importance in the history of art, Cubism has been the subject of numerous museum exhibitions. Some of them have been dauntingly large, especially given the amount of time each of these highly complicated works demands of the viewer. The guiding principle of this exhibition was that less can be more. It offered the kind of small, carefully calibrated selection that invites the viewer to spend time exploring each work in detail.
From the
Los Angeles Times: (image added)
Among this modest selection, however, are some of the finest Cubist paintings either artist made. They start with Picasso's fresh -- and decidedly strange --



"Man With a Clarinet," loaned from Madrid's Thyssen-Bornemisza Museum and prominently installed on the center wall. Tall and narrow, like the enigmatic figure and his musical instrument, it translates rhythm and doleful sound into fleeting pictorial terms. The picture is constructed on a scaffolding of mostly diagonal lines interrupted by curves and arcs that allude to the musician's rounded, air-filled cheeks and the curved flare at the end of his reed-instrument. On this gangly scaffolding Picasso hung a flickering array of mostly short, horizontal brushstrokes of muted color, like laundry hanging out to dry in the Mediterranean sun.

"Man With a Clarinet" was painted in Paris after the two artists spent a productive summer in Céret, a rural French town in the foothills of the Pyrénées near the Spanish border. The painterly technique derives from Post-Impressionism. With a limited palette dominated by ochres and grays, the prismatic image appears shot through with rays of silvery light. The musician exudes all the tactile solidity of drifting smoke.
Picasso, Still Life with Bottle of Marc
Paintings in the exhibition came from a number of distinguished collections, including the Metropolitan Museum of Art and the Museum of Modern Art in New York, the Museum of Fine Arts in Boston, the Philadelphia Museum of Art, the Cleveland Museum of Art, the Dallas Museum of Art, the Menil Collection and the Museum of Fine Arts in Houston, the Tate in London, the Museo Thyssen-Bornemisza in Madrid, and the Robert B. and Mercedes H. Eichholz Collection. The etchings and drypoints were selected from several sources, most notably the extraordinary holdings of Cubist prints in the Melamed Family Collection.
The
exhibition catalogue
includes essays by some of today's most talented scholars in the field: Eik Kahng, Charles Palermo, Harry Cooper, Annie Bourneuf, Christine Poggi, Claire Barry, and Bart Devolder. It is distributed by Yale University Press, New Haven and London. Tangerine from EAD.