Cincinnati Art Museum presents
Edward Henry Potthast. Eternal Summer
an exhibition on view June 08, 2013 to September 08, 2013.
Edward H. Potthast (1857-1927) was an American Impressionist from Cincinnati, most famous for his beach scenes of New York and New England. The exhibition will include lesser known subjects in the collection, such as
Man and Child on an Ox Cart(1900).
From
artdaily.org:
Viewers can expect to see Potthast's explorations of figure studies; humble Dutch and Brittany peasants; farmer laborers and cattle; landscapes; coastal views and fishermen; parks, often with frolicking children; and the public beaches of New England and the mid-Atlantic. All ages will enjoy programs and interactive learning stations, such as computer terminals at which visitors may explore the two-hundred drawings in the Art Museum's sketchbooks. Eternal Summer looks at the social and historical context of Potthast's subjects, including the popularity of simple peasant themes during the Industrial Revolution, the "Dutch craze," and the rise of middle-class leisure time and tourism. Bathing costumes, produced in response to the growing popularity of beach-going in Potthast's day, will appear alongside his paintings. The exhibition builds on the Cincinnati Art Museum's long-standing tradition of presenting significant scholarship on American art with the fully illustrated catalogue that accompanies the exhibition.
From
Cincinnati.com: (images, link added)
Starting with 1889's "Breton Girl"



and "Young Breton Girl – Study (Sunshine),"

Potthast showed an affinity for the free-seeming brushstrokes and love of vivid colors and outdoor light that marked French Impressionism. And in the 1910s and 1920s, he found his great subject – bathers on the beaches of metropolitan New York and New England... Potthast's beach paintings succeed because they did reflect modern times – the changes in lifestyle and social customs brought on by the 20th Century. Those were the gloriously colorful, airy beach paintings like 1924's "Blonde and Brunette,"



1915's "A Holiday"



or 1921-27's "Beach Scene (Couple on the Beach)".
From
Fine Art Connoisseur:
For the Midwesterner Potthast, a significant trip to France in 1889 brought him into contact with artists like American Robert Vonnoh and Irishman Roderic O'Conor, from whom he learned his distinctly impressionistic style. Upon his return to Cincinnati in 1894, Potthast was a great critical success, acting as the vanguard of Impressionism in the city. Later, Potthast would move to New York, where he developed his famed light-filled beach scenes, painted with a bright and lively palette.
More Paintings of an "Eternal Summer" at the Cincinnati Art Museum: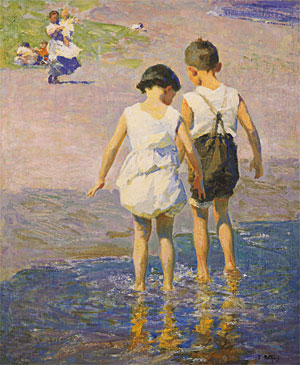 Edward Henry Potthast, "Brother and Sister," ca. 1915, oil on canvas, 24 1/8 x 20 1/8 in. Cincinnati Art Museum, Bequest of Mr. and Mrs. Walter J. Wichgar, 1978.333




Edward Henry Potthast (1857–1927), "Wild Surf," oil on canvas board, 12 x 16 inches. Questroyal Fine Art, LLC, New York.




Edward Henry Potthast (1857–1927), Figures at a Fountain ca. 1900





Edward Henry Potthast (1857–1927), Dutch Interior, 1890, oil on canvas, 19 3/4 x 25 1/2 in. (50.1 x 64.8 cm), Cincinnati Art Museum, Gift of A. Howard Hinkle, Theodore Hallam, Frederick H. Alms, Ault & Wiborg, C. H. Krippendorf, F. A. Bradley, Bellamy Storer and Alexander McDonald, 1894.9





Edward Henry Potthast, "A Sailing Party," ca. 1924, oil on canvas, 30 3/16 x 40 1/16 in. Cincinnati Art Museum, Gift of Henry M. Goodyear, M.D., 1984.218






Edward Henry Potthast (1857–1927) Summertime
Catalogue: