Biography
Gilbert Stuart was the preeminent portraitist in Federal America. He combined a talent for recording likeness with an ability to interpret a sitter's personality or character in the choice of pose, color and style of clothing, and setting. He introduced to America the loose, brushy style used by many of the leading artists of late eighteenth century London. He recorded likenesses of lawyers, politicians, diplomats, native Americans, their wives and children. His sitters included many prominent Americans, among them the first five presidents, their advisors, families, and admirers. He is known especially for his numerous portraits of George Washington.
Born in 1755 in North Kingston, Rhode Island, Stuart was baptized with his name spelled "Stewart". His father, an immigrant Scot, built and operated a snuff mill that may have led to the artist's addiction to snuff. He grew up in the trading city of Newport, where itinerant Scottish portraitist Cosmo Alexander (1724-1772) gave him his earliest training in painting. He accompanied Alexander to Scotland in 1771, returning home at the older artist's death. Three years later in 1775, on the eve of the American Revolution, he went to London, where he worked for five years (1777-1782) as assistant to the Anglo-American painter Benjamin West. He exhibited at the Royal Academy from 1777 to 1785, using the name Gilbert Charles Stuart the first year. The success of
The Skater
(NGA 1950.18.1), painted in 1782, enabled him to establish his own business as a portrait painter. In 1786 Stuart married Charlotte Coates, and the following year they went to Dublin, where Stuart painted portraits of the Protestant ruling minority for over five years.
Stuart returned to the United States in 1793, planning to paint a portrait of George Washington that would establish his reputation in America. After about a year in New York City, he went to Philadelphia, the capital of the United States, with a letter of introduction to Washington from John Jay. He painted the president in the winter or early spring of 1795. He was not satisfied with his first life portrait of Washington, but others were. Martha Washington commissioned a second and Mrs. William Bingham commissioned two full-lengths. His success led immediately to many other commissions. His sitters were politically prominent and wealthy, from the merchant and landed classes. After Washington, D.C. became the new national capital, Stuart moved there in December of 1803, and this group continued as his patrons. There he painted the Madisons, Jefferson, the Thorntons, and others from Jefferson's administration.
In the summer of 1805 Stuart settled in Boston. In his Roxbury studio he continued to paint politically and socially prominent sitters and, on request, to make replicas of his second "Athenaeum" portrait of George Washington. Throughout his life younger artists, including John Trumbull, Thomas Sully, Rembrandt Peale, and John Vanderlyn, sought his advice and imitated his work. Among his students were his children Charles Gilbert (1787-1813) and Jane (1812-1888). One indication of Stuart's popularity is the number of portraits he painted, over a thousand during his long career, excluding copies of the portraits of Washington. Another indication is the number of copies of his work that other artists made. His sitters indicated their fascination for his talent and personality by recording lengthy anecdotes and descriptions of their sittings, producing an unusually rich written record about an American portraitist. Stuart died in Boston in 1828.
Gilbert Stuart's George Washington (The Constable-Hamilton Portrait), commissioned as a gift for Alexander Hamilton by New York merchant and landowner William Kerin Constable was estimated to sell for $10/15 million. The Revolutionary War hero and Chief Executive is shown half-length, seated and wearinga black velvet suit, in his hands isa document bearing his signature and a sword rests acrossh is lap. This portrait was painted in Philadelphia in 1797 during Washington's final year in office and depicts the President's commanding stature. The seascape is unprecedented in Stuart's portraits of Washington and refers to Hamilton's political accomplishments regarding trade and commerce during his term as Secretary of the Treasury and his role in creating the United States Navy. The portrait descended in Hamilton's family until 1896, when Hamilton's grandson, a trustee of the Astor Library, willed it to the institution.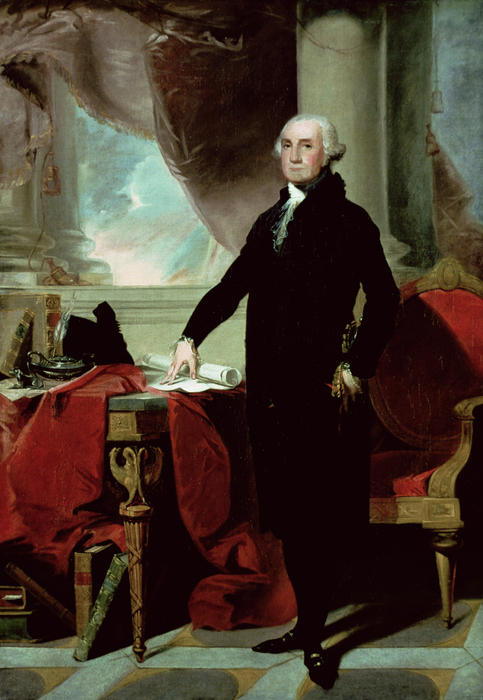 A second portrait by Gilbert Stuart, George Washington (The Munro-Lenox Portrait) was purchased by New York lawyer Peter Jay Monro by 1817 and has been known since the 1930s by the names of its two 19
th
century owners, Peter Jay Munro and James Lenox. Estimated to bring $6/8million this work deviates slightly yet deliberately from the Lansdowne portrait, with Washington's gaze directed to the viewer, his stance more erect and his hand is shown resting on a cop yof the Constitution. This work remained in Monro's family until it was purchased by James Lenox. After Lenox's death, his library merged with the Astor Library and later the Tilden Trust to become theNew York Public Library in 1895.
Sotheby's 2014
LOT SOLD.
4,114,500 GBP
Sotheby's 2013
Lotto. Venduto
27,500 USD
Sotheby's 2012
LOT SOLD.
40,625 USD
Sotheby's 2011
LOT SOLD.
40,625 USD
Museum of Fine Arts, Boston

Gilbert Stuart
(American, 1755–1828)
Tate Museum
Gilbert Stuart 1755–1828
William Woollett
Exhibited 1783
Oil paint on canvas
902 x 705 mm