Biography
John Singleton Copley was born in Boston in 1738, and grew up there, training in the visual arts under his step-father Peter Pelham (c. 1697-1751), an English engraver who had immigrated in 1727 and married Copley's widowed mother in 1748. Copley's earliest paintings, from the mid-1750s, reveal the influence of English mezzotint portraits as well as the work of local and itinerant artists. He experimented with many media: oil on canvas, miniatures on copper or ivory, pastel, and printmaking. By the late 1750s he was established as a portrait painter.

Copley worked in Boston until 1774 with the exception of a six month painting trip to New York City in 1771. By the mid-1760s he wanted to compare his works with those by contemporaries in England, and in 1765 he sent a portrait of his half-brother Henry Pelham,





Boy with a Squirrel, to the annual exhibition of the Society of Artists of Great Britain. Encouraged by Benjamin West and Joshua Reynolds, Copley left Boston for study in Europe. He left for London in 1774 and went almost immediately to Italy, where he spent more than a year, studying and painting. He returned to London in 1775, settling there with his wife and three of his children, who had come from Boston.

1776 marked the beginning of the second half of Copley's career. As his first work at the Royal Academy he exhibited



The Copley Family, painted in 1777, followed by




Watson and the Shark the next year.


The success of these paintings brought him the praise of reviewers and earned him full membership in the academy. His ambition was to paint large history paintings of contemporary events, like those of Benjamin West, and he exhibited independently, charging admission,



The Death of the Earl of Chatham (Tate Gallery),



The Death of Major Pierson (Tate Gallery),



and the Siege of Gibraltar (Guildhall Art Gallery, London).

He also continued to paint portraits, many on a much larger scale than his American work. Copley died in London in 1815.
Auctions
Sotheby's
NOVEMBER 30, 2005
John Singleton Copley's Mrs. Theodore Atkinson, Jr. (Francis Deering Wentworth) which was estimated to sell for$3.5/4.5 million. It was painted in 1765 and depicts the elegant young woman seated at a table playing witha pet squirrel on a chain. The motif of the squirrel, used by Copley in apo rtrait of his half-brother, Henry Pelham, painted in the same year, won Copley acclaim when it was exhibited at the Society of Artists in London. Thought to be one of the artist's most beautiful America n subjects, Mrs. Atkinson is depicted at age 19 opulently dressed n folds of satin and velvet. The portrait embodies the social sophistication and fashionable elegance to which many of Copley's sitters aspired, but also presents an astute portrayal of a young woman in full command ofher obvious charms.
Also by Copley is Mrs. Robert Hooper (Hannah White Cowell), painted circa1767. Estimated to sell for $1/1.5 million, this work depicts the wife of a wealthy Marblehead merchant known as "King Hooper. "Here, Mrs. Hooper is seated at a marble deskand is dressed in luxurious and opulent fabrics, a clear indication of her prominent position in society.
-
Sotheby's 2013
LOT SOLD.
75,000 USD
Christie's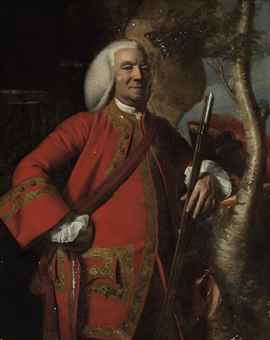 Portrait of Colonel Jacob Fowle (1704-78), three-quarter length, with a musket
PRICE REALIZED
Drapery studies for The Death of Major Peirson; and The Baptism of Saint
PRICE REALIZED
Brooklyn Museum
John Singleton Copley (British American, 1738-1815). Mrs. Sylvester (Abigail Pickman) Gardiner, circa 1772. Oil on canvas, 128 x 101.6 cm. Brooklyn Museum, Dick S. Ramsay Fund, 65.6