Maxfield Parrish, Edison Mazda Lamp Works Calendar featuring Dawn, 1918. Lithographic reproduction of original oil painting, printed by Forbes Lithography Co. Private collection. Photograph: David Putnam.
Maxfield Parrish was one of the most popular American artists of the early 20th century. Known for his unique artistic style blending realism and fantasy, Parrish created images that were enjoyed by both elite collectors and the American public. His paintings and illustrations were often distributed as high quality color lithographic reproductions, and included on advertisements, posters and calendars. More than fifty prints of Parrish's most famous work, as well as a number of original oil paintings, will be on view in
Maxfield Parrish: The Power of the Print,
a focus exhibition at the Currier Museum of Art, October 9, 2015 through January 10, 2016.
Maxfield Parrish, (Philadelphia, PA, 1870-1966, Windsor, VT), Edison Mazda Lamp Works Calendar featuring Lamp Seller of Bagdad, 1923. Lithographic reproduction of original oil painting (1922) printed by Forbes Lithography Co.36 x 17 inches. Private Collection. Photo by David Putnam.
"Maxfield Parrish combined the creativity and virtuosity of a fine artist with the keen business sense of a commercial artist," said Samantha Cataldo, exhibition curator. "His figural and landscape paintings were masterfully rendered and greatly appealing, but it was his engagement with the emerging printing technology of the time that catapulted him to fame. His images became staples in homes and business across America."
Parrish's work appeared in magazines and books since the 1890s and his paintings were distributed as prints as early as 1904. It was between the 1910s and the early 1930s that Parrish created some of his most enduring images, which were disseminated in various forms. His most famous artwork,
Daybreak
(1922)
was a painting that Parrish created specifically to be reproduced using high-quality color lithography.
Daybreak
's popularity was so great that within just a few years some estimates claimed that 1 in 4 American homes owned a copy of this print.
Prometheus
Between 1917 and 1932, Parrish created art calendars for General Electric's Edison Mazda Lamp division that featured figural, fantastic scenes—more than 20 million of these calendars were produced. These calendar prints are often considered the best print examples of Parrish's work, and all of these stunning images will be on view in the exhibition.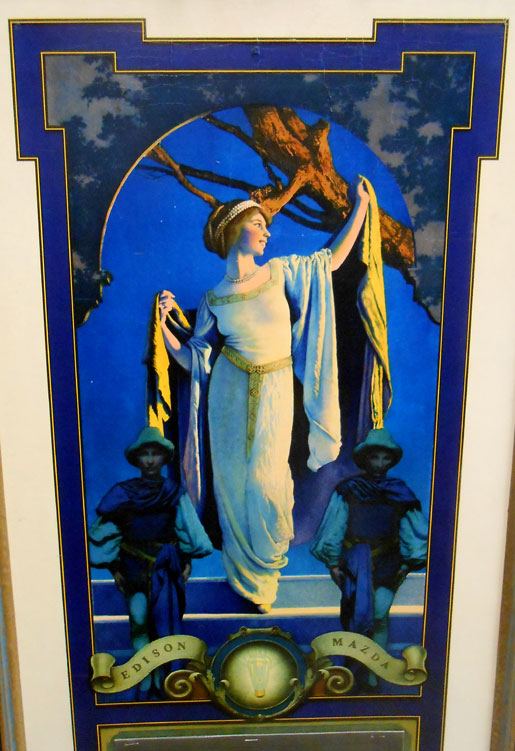 Spirit of the Night
While the public consumed his prints, private collectors purchased his paintings. In a move that was ahead of its time, Parrish wisely maintained the copyright on all of his images, allowing him to collect royalties for reproductions and making him one of America's most financially successful artists.
Egyptian Night
Today, Parrish's popularity remains strong, particularly here in New Hampshire, the artist's adopted home of more than 60 years. In 1999, the Currier presented
Maxfield Parrish: 1870-1966
, a traveling retrospective organized by the Pennsylvania Academy of the Fine Arts. It remains one of the highest-attended shows in the Museum's 85-year history. A more focused exhibition,
The Power of the Print
aims to explore how and why Parrish became, and remains, such a popular American artist.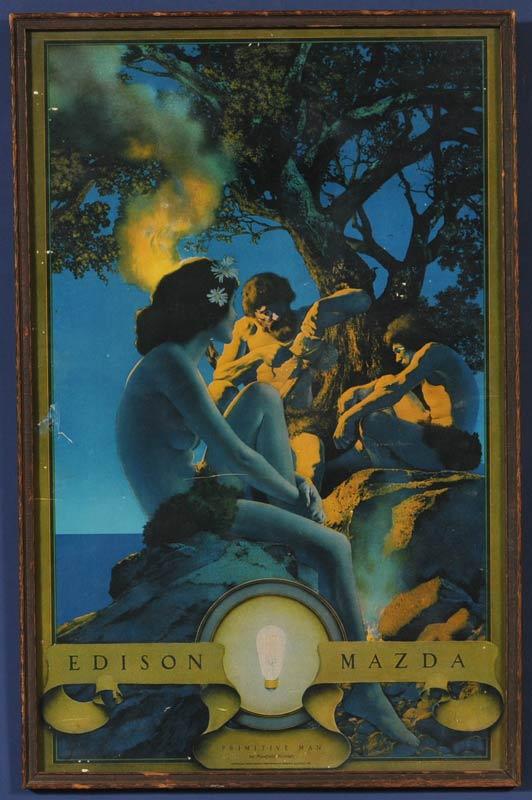 Primitive Man
About the Exhibition
This focus exhibition features vintage lithographic prints, ads, posters, magazines, books, greeting cards and calendars that feature Parrish's works. The exhibition is largely drawn from private collections, but also includes work from the Currier's collection, as well as from the Hood Museum of Art at Dartmouth College. It also features several Parrish paintings, including the Currier's visitor favorite,
Freeman Farm: Winter (1935).
About Maxfield Parrish
Maxfield Parrish was born Frederick Parrish in Philadelphia, Pennsylvania in 1870 to Elizabeth Bancroft Parrish and Steven Parrish, a noted engraver and painter. He studied architecture at Haverford College, and art at the Pennsylvania Academy of the Fine Arts as well as at Drexel Institute, where he audited courses with famed illustrator Howard Pyle (1853–1911). In 1898, Parrish moved to Plainfield, New Hampshire, near Cornish, where he built his home and studio, which he named "The Oaks" after the distinguishing trees on the land. He lived there until his death in 1966.