15 October 2015–10 January 2016
Ashmolean Museum
This ground breaking exhibition, in collaboration with the Uffizi in Florence, traces the role of drawing in Venice and its importance over three centuries, dispelling the myth that Venetian artists, including their greatest painter, Titian, had no interest in drawing.
Titian to Canaletto: Drawing in Venice is now open. The first major exhibition of Venetian drawings in the UK, it includes more than 100 magnificent works from the Uffizi, the Ashmolean, and Christ Church, Oxford, by artists such as Titian, Tintoretto and Canaletto.
Giovanni Antonio Canal, known as Canaletto (1697‒1768), An Island in the Lagoon
Giambattista Piazzetta (1682–1754)

Head of a Youth

© Ashmolean Museum, University of Oxford
The idea that Venetian artists did not use or value drawing was articulated in Florence, in Giorgio Vasari's
Lives of the Artists
of 1568. Vasari's influential statements were repeated and elaborated by later writers, so that in 1770s London, Joshua
Reynolds confidently asserted that artists in Venice did not care about drawing with all of its virtues of discrimination and judgement, and that they went straight to working with brushes on canvas. This potent literary tradition had a major impact on the survival of drawings.
Titian to Canaletto presents new research which traces continuities in Venetian drawing over
three centuries, from around 1500 to the foundation of the first academy of art in Venice in 1750. The exhibition emphasizes the role of drawing from sculpture and from life in the education and identities of Venetian artists, and it reveals tensions between theory and practice in the activities of artists and of collectors. Venetian artists used drawing for innovating and experimenting, or as a tool for research and observation; a variety of drawings were made and admired as works of art in their own right. The exhibition poses questions about the survival and value of drawings: does the fact that we have so few by Titian mean that he did not draw? Why were many Venetian drawings thought unworthy of collecting?
Ironically, while the story that Venetian artists did not respect drawing was first told in Florence, one
of the world's great collections of Venetian drawings is held at the Uffizi where many drawings were acquired in the mid-seventeenth century for Leopoldo de'Medici. Not only are there masterpieces by Carpaccio, Bassano, Titian and Tintoretto, and high-quality works by lesser-known seventeenth- century artists, there are also drawings that reveal early attitudes to collecting and connoisseurship. The Uffizi will also lend drawings by Tiepolo that have never been shown before, to be grouped with the Ashmolean's own superb collection.
Pioneering collectors in England owned Venetian drawings, and loans of important works by Veronese and Tintoretto will come from the intact early eighteenth-century collection at Christ Church, Oxford, together with the extraordinary
Portrait of a man,
by Giovanni Bellini.
Dr Catherine Whistler, Keeper of the Department of Western Art, Ashmolean Museum, and curator of the exhibition, says:
'The beauty and visual impact of these drawings speak eloquently of the importance of drawing in Venice. We hope this exhibition will challenge traditional views of Venetian art and provoke new thinking on some of the greatest names in Italian art from the Renaissance to the eighteenth century'
Dr Alexander Sturgis, Director of the Ashmolean, says:
'The Ashmolean is bringing to a close
its year of drawings exhibitions with this landmark show. Titian to Canaletto includes some of
the Ashmolean's greatest treasures, brought together with examples from two of the world's finest collections of Old Master drawings – that of the Uffizi and the Christ Church Picture Gallery. Many of the works in the exhibition have not been displayed in public since the 1950s.
'The captivating beauty of these drawings is evident in the response they have elicited from one of this country's most distinguished contemporary artists, Jenny Saville, who has produced a new body of work inspired by pieces in the exhibition and her enduring love of Venetian art.'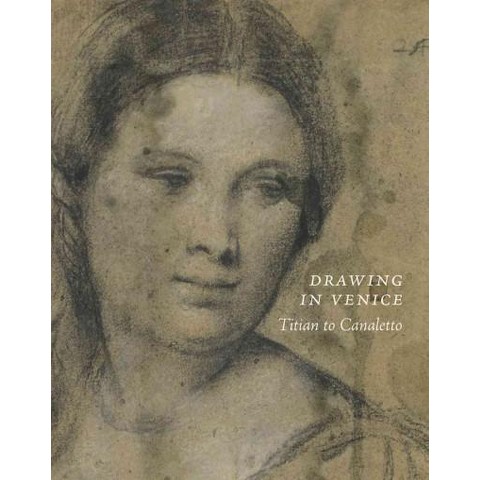 A fully illustrated catalogue accompanies the exhibition.
More images:
Titian, Portrait of a young woman, © Gabinetto Disegni e Stampe degli Uffizi, Florence

Jacopo Bassano, Angel of Annunciation, by Permission of the Governing Body of Christ Church, Oxford

Pordenone, The Martyrdom of St Peter, © Gabinetto Disegni e Stampe degli Uffizi, Florence

Vittore Carpaccio, Head of a Woman, © Ashmolean Museum

Giovanni Battista Tiepolo, Life study as Hercules with club and lionskin, © Gabinetto Disegni e Stampe degli Uffizi, Florence
Francesco Guardi, Garden of the Palazzo Surian Bellotto, Venice

© Ashmolean Museum, University of Oxford
Vittore Carpaccio, Triumph of St George

© Gabinetto Disegni e Stampe degli Uffizi, Florence

Jacopo Robusti, called Tintoretto, Study for Eve