National Gallery of Canada
Friday, May 24, 2019

to

Sunday, September 8, 2019

7 October 2019 – 26 January 2020
The National Gallery of Canada is the sole North American venue for a dazzling presentation by one of the 19th century's most influential and complex artists – Paul Gauguin.
Inspired by Gauguin's impressive sculpture of his friend
Meijer de Haan
, from the Gallery collection, this landmark investigation focuses on the mature years of the French artist's career, when he moved away from Impressionism and toward more symbolist representations in his art.
Paul Gauguin, Portrait of Madame Roulin, 1888 (detail). Oil on canvas, 50.5 × 63.5 cm. Saint Louis Art Museum. Funds given by Mrs. Mark C. Steinberg (5:1959).
Paul Gauguin, Self-Portrait with Idol, c. 1893, oil on canvas, 43.8 × 32.7 cm. McNay Art Museum, San Antonio, Texas. Bequest of Marion Koogler McNay (1950.46)
Through imaginative self-portraits – in which the artist assumes various roles – as well as his unconventional depictions of friends, family, and women in France and Polynesia, the exhibition showcases Gauguin's extraordinary creativity in the field of portraiture.


Spanning the later years of his life and focusing solely on his portraits, this exhibition follows Gauguin's move away from Impressionism towards Symbolism.
By adding carefully selected attributes or placing the sitter into a suggestive context Gauguin was able to make portraits that expressed meaning beyond their personalities. A group of self-portraits, for example, reveals how Gauguin created a range of personifications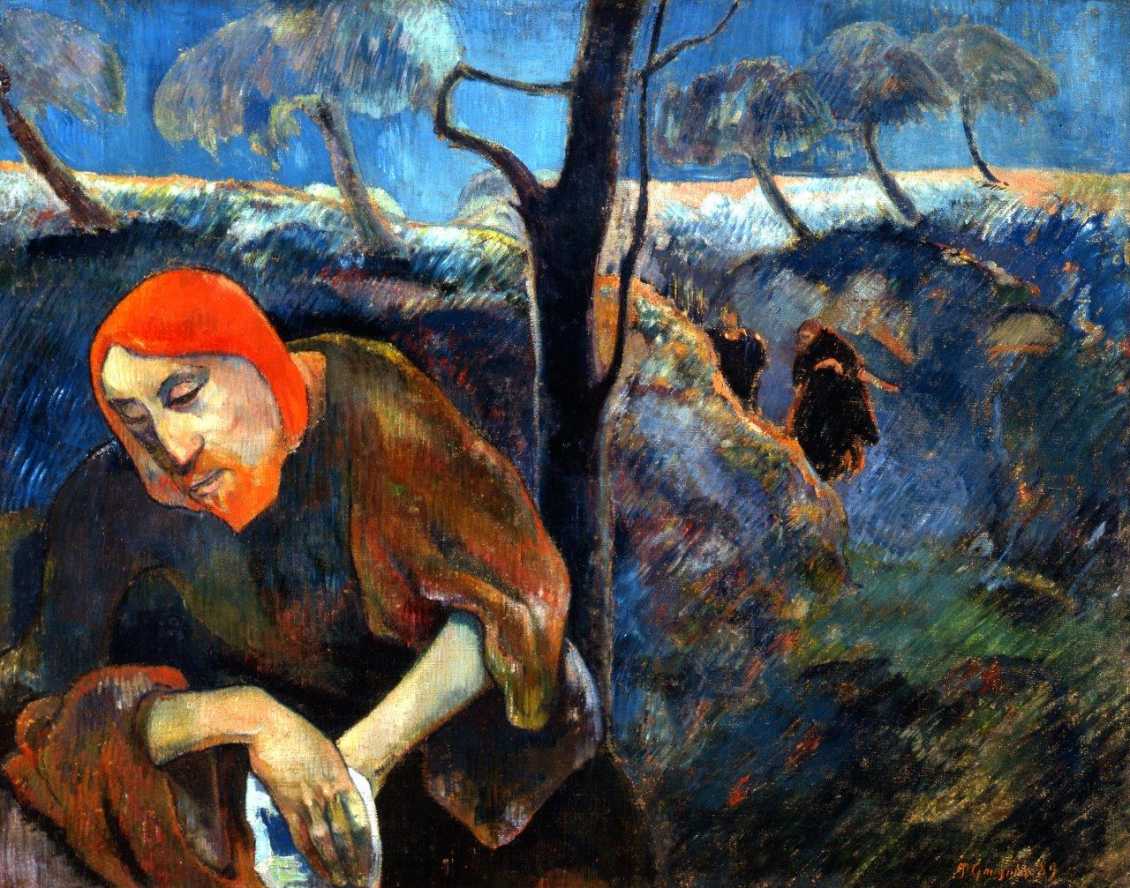 including his self-image as 'Christ in the Garden of Olives', 1889 (Norton Gallery of Art, West Palm Beach).
Featuring paintings, works on paper and sculptures,
Gauguin: Portraits
brings together a unique and unforgettable selection of works from public and private collections around the world.
Organized by the National Gallery of Canada and the National Gallery, London.
More Images
About the Artist
Paul Gauguin (1848–1903) spent part of his early childhood living in Peru, sailed the world in the French merchant marine and navy, and worked as a stockbroker. Starting out as an amateur painter, he became a full-time artist in the early 1880s and exhibited with the Impressionists. Increasingly dissatisfied with the limits of naturalism, Gauguin defied conventions of representation and experimented in different media, pushing colour and form into novel expressive capacities. He created a Symbolist form of visual art concerned with the realms of dreams, imagination and spirituality.
From 1886 onward he repeatedly spent time in rural Brittany and travelled to the French colonies Martinique (1887) and then Polynesia, seeking what he called "primitive" and "exotic" environments and subject matter. After an extended stay in Tahiti (1891–93) he returned to Paris where he aimed to confirm his role as an avant-garde leader. He left again for the islands of Polynesia in 1895 to live in self-imposed exile, cultivating his identity as an outsider seeking social and artistic liberation. Gauguin's innovations and legacy became crucial for generations of artists both during his lifetime and well into the twentieth century.