Sotheby's unveiled highlights from their Evening Sale of Impressionist & Modern Art on 12 November in New York. Distinguished by a diverse range of works on offer from private collections and with exceptional provenance exhibited throughout, the 53 lots on offer are on public view in Sotheby's York Avenue galleries.
Paul Signac, La Corne d'Or (Constantinople), 1907 (detail). Estimate $14/18 million. Courtesy Sotheby's.
Likely the greatest post-1900 work by Paul Signac ever to come on the market, La Corne d'Or (Constantinople) from 1907 is the largest and most striking canvas that the artist painted during his first visit to Istanbul in the spring of that year (estimate $14/18 million). Depicting a lush, textural surface comprised of rectangular brushstrokes, the present work captures the grandeur, history and unique quality of light and color that filled the ancient city.
This historic meeting place of East and West had captivated Signac's imagination for some time before he finally discovered it for himself while sailing between Naples and Greece. The location inspired twelve paintings, all of which take as their subject the historically significant Golden Horn — a flooded estuary of the Bosphorus near the port of Istanbul. When he painted the current work in 1907, Signac was further developing his artistic style beyond the strict tenets of Divisionism that he had adopted from Georges Seurat in the 1880s. He liberated his color palette, daring to blend the pure pigments seen in earlier works, and broadened his approach while retaining the main characteristics of the style through his pointed application of brushstrokes. This mature style was characterized by a subtle exploration of the nuances of light combined with a chromatic richness that is a key quality of this dazzling canvas.

Gustave Caillebotte, Richard Gallo et son chien Dick, au Petit Gennevilliers. Estimate $14/18 million. Courtesy Sotheby's.


Gustave Caillebotte's Richard Gallo et son chien Dick, au Petit Gennevilliers leads an ensemble of ten works entitled Property of a Gentleman. Gifted by the artist to Gallo, the present work from 1884 is Caillebotte's final and most impressive portrait of his dear friend and most frequently painted figural subject, Richard Gallo (estimate $14/18 million).

Appearing in Caillebotte's work in four large-scale paintings from as early as 1878, Gallo was the Egyptian-born son of a French banker who settled in Paris in 1869 and befriended the artist at school. Gallo would go on to become the editor of the newspaper Le Constitutionnel and maintain his friendship with Caillebotte and his brother Martial for years to follow. While little more is known about Gallo, the frequency with which he is portrayed in Caillebotte's oeuvre stands as a testament to the pair's lasting friendship. Richard Gallo et son chien Dick, au Petit Gennevilliers remained in Gallo's collection until his death, at which time his nephew Maurice Rolland inherited the work. This resplendent and touching portrayal was on extended loan to the National Gallery in London in the early 1990s, as well as on loan to The Metropolitan Museum of Art in New York from 2000-02, and has appeared in numerous international exhibitions since its creation.

The work also presents one of the finest syntheses of Impressionist techniques and portraiture, capturing the revolutionary artistic spirit of the Impressionists. A seamless blend of the traditional academic genre of landscape and portraiture, the painting embodies the Impressionist exaltation of light, leisure and the fleeting moment, while recalling the Parisian cityscapes of Caillebotte's earlier career.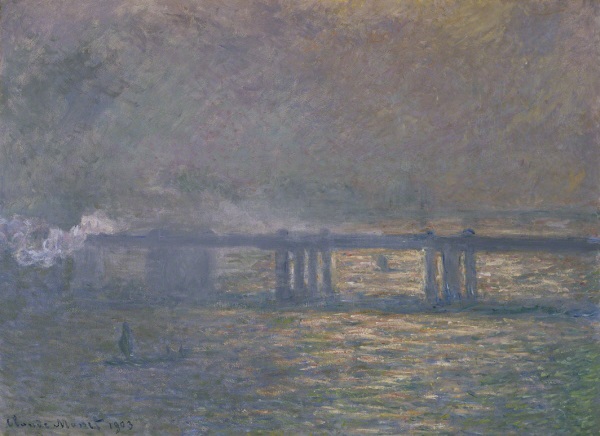 The November Evening Sale is led by Claude Monet's Charing Cross Bridge from 1903 (estimate $20/30 million). Painted during a series of three trips to London from 1899-1901, the canvas is a luminous example from the French painter's seminal London series and one of the finest pictures from this prolific group ever to appear to auction.

Throughout these works, Monet captured the juxtaposition of the beauty of natural phenomena, such as fog rolling over the Thames, with the industrial development booming in London at the time, epitomized by smoke stacks and steam powered railways. Composed from the vantage point of his room at the Savoy Hotel, Monet found the view particularly advantageous in observing the London landscape and onset of the city's fog. The mutability of the fog, he discovered, proved to be an apt vehicle for capturing scenes of the same subject matter repeatedly, but with differences in color, touch and lighting.

Having remained in the same family for more than 40 years, the painting leads a group of 16 works from the Klepetar-Fallek Colleciton, to be offered across Sotheby's Evening and Day Sales of Impressionist & Modern Art this November. The collection was assembled primarily in the 1970s and 1980s by Andrea Klepetar-Fallek and her then-husband Fred Fallek. Ms. Klepetar-Fallek's extraordinary life story is one of incomparable resilience, independence and optimism – including an escape from Nazi-occupied Vienna, liberation from an Italian concentration camp, and flight from Peronist Argentina.

Charing Cross Bridge comes to auction during a sensational time for Monet's series pictures: Sotheby's established a new auction record for the artist when
Meules from 1890 sold for an astounding $110.7 million during our May Evening Sale of Impressionist & Modern Art in New York. The stunning canvas from Monet's famed Haystacks series also became both the first work of Impressionist art to exceed $100 million at auction and the 9th most expensive work ever sold at auction. In addition, Sotheby's offering of Charing Cross Bridge coincides with an exhaustive exhibition of Monet's paintings, Claude Monet: The Truth of Nature, now on view at the Denver Art Museum through February 2020. Separate release available

The November Sale will offer five works by Pablo Picasso that span 63 years of his prolific career.
The selection is led by Nus from 1934 – a crowning achievement of motion, energy and manipulation of the human form that synthesizes the artist's groundbreaking achievements of the late 1920s and early 1930 into one colorful, dynamic canvas (estimate $12/18 million).

Here, in the seclusion of his new country home of Boisgeloup, three nude figures leap, dance and intertwine in a semi-abstracted landscape, their biomorphic shapes imbued with fertility, sexuality and grace. The country house, the shape of the nudes, and their light, airy movements are all direct reflections of the developments in Picasso's work since his first meeting with Marie-Thérèse Walter in 1927, while married to his first wife, Olga Khokhlova. The late 1920s and early 1930s were moments of rapid change in Picasso's ever-evolving style. Firmly in mid-life, he reinvented himself once again, changing his daily life, his studio setting and his family. Nus is both a perfect example of this defining period and an outlier in the artist's production. The figures are related to his lover Marie-Thérèse but are also embodiments of acrobats and myths – perhaps a nod to the artist's fascination with circus performers. Nus captures Picasso at the height of his powers in the 1930s and creates a dazzling allegory of these tumultuous and productive years.

The present work was last offered at auction during Sotheby's sale of the Evelyn Sharp Collection in November 1997, where it sold for $5.5 million. The painting appears at auction this November on the heels of the celebrated Tate Modern exhibition dedicated to Picasso's annus mirabilis, The EY Exhibition: Picasso 1932 – Love, Fame, Tragedy, which was on view from March to September 2018.

A rare example from Picasso's coveted Blue period, Portrait de Lola, soeur de l'artiste is a hauntingly elegant portrayal of the artist's younger sister, Maria Dolores Ruiz "Lola" Picasso, who was also one of his most favored early subjects (estimate $4/6 million).

Painted in Barcelona in 1901, Portrait de Lola, soeur de l'artiste comes from a period of great transition for the nineteen-year old Picasso and was likely exhibited in the historic and career-defining Vollard exhibition of that same year. The work also documents a time of crisis in the artist's personal life. A few months prior to the exhibition, Picasso learned about the suicide of his closest friend Carles Casagemas while away in Madrid. Awash in grief but still obligated to create works for the upcoming exhibition, Picasso headed back to Paris, stopping in Barcelona for about ten days along the way. It is from this dolorous interim that Portrait de Lola, soeur de l'artiste emerges. The tragic loss of Casagemas at this time likely recalled an earlier watershed moment for the artist, the death of Picasso's youngest sister Conchita in 1895. The successive losses provoked in Picasso a period of deep reflection and resulted in the empathetic and lugubrious works that would define the artist's iconic Blue Period in the following years.

Portrait de Lola, soeur de l'artist can be traced to a number of prestigious collections. Olivier Sainsère, a prominent politician and patron of the arts, likely acquired the painting from Picasso soon after its creation. Many works owned by Sainsère now enrich the collections of some of the world's greatest museums, including The Metropolitan Museum of Art, the Louvre Museum and the Musée d'Orsay. Portrait de Lola, soeur de l'artiste later belonged to Mr. & Mrs. Paul Mellon, who are best remembered for their generous philanthropy and acclaimed art collection.
Sotheby's has announced that they will present Pablo Picasso's Nature morte à la tête classique et au bouquet de fleurs as a highlight of their Impressionist & Modern Art Evening Sale on 12 November 2019 in New York. Having remained in the same family collection for more than 35 years, this lyrical work on paper from 1933 is among the finest of a small group of highly-worked watercolors and gouaches on this subject that the artist created while on holiday in Cannes with his wife Olga and his young son Paolo.

Held for decades in the collection of the famed Surrealist poet and patron Edward James, the present work eloquently speaks to James' keen eye for the most ethereal and dreamlike compositions of the avant garde, and beautifully illustrates this tumultuous yet highly prolific period in Picasso's oeuvre. Sotheby's had the privilege of offering the present work in December 1982, when it sold for $179,135 during the London sale of Impressionist and Modern Drawings and Watercolours, on offer from the Edward James Foundation.
Pablo Picasso, Nature morte à la tête classique et au bouquet de fleurs (detail). Estimate: $5/7 million. Courtesy Sotheby's.
Estimated to sell for $5/7 million in the November Evening Sale, Nature morte à la tête classique et au bouquet de fleurs comes to auction on the heels of the celebrated 2018 Tate Modern exhibition, Picasso 1932 – Love, Fame, Tragedy.

Julian Dawes, Head of Sotheby's Impressionist & Modern Art Evening Sale in New York, commented: "We are thrilled to present one of the most exquisite watercolors by Pablo Picasso ever to come on the market. This magnificent work represents the pinnacle of Picasso's artistic powers: the color is remarkably vibrant and saturated; it exemplifies one of his most celebrated periods, in the 1930s during his entanglement with Marie-Thérèse Walter and the trajectory that she inspired in his art; and is a wondrous encapsulation of his Surrealist period. In addition, the work's exceptional quality is underscored by its provenance, having once resided in the collection of Edward James – a renowned patron of many Surrealist artists. With many outstanding paintings by Picasso appearing at auction over the past few seasons, it is refreshing to offer an example of his mastery in this intimate medium. It not only speaks to his remarkable prowess and limitless versatility as an artist, but also his capacity to surprise and delight across myriad forms."

This stunning work will be on view in Sotheby's York Avenue galleries beginning this Friday, 1 November, alongside the marquee auctions of Impressionist & Modern and Contemporary Art. The exhibition marks the first public viewing of the work in the US.

In the spring of 1932, Picasso had retired to the Château de Boisgeloup, his studio-retreat in Normandy, in the company of his new mistress and principal muse, Marie-Thérèse Walter. It was his time spent at Boisgeloup that provided the inspiration for the present work.

During his sojourn in Cannes in the summer of 1933, Picasso did not create a single painting. Instead, his energy focused almost entirely on one of the most accomplished groups of gouaches and watercolors of his entire artistic production. The artist's personal life was in disarray — his wife Olga was distraught about both his blossoming relationship with Marie-Thérèse and the publication of his former lover, Fernande Olivier's memoirs which cast Picasso in an unfavorable light— while his professional life, after his first large-scale museum exhibition in 1932, was reaching new heights. Such an unending amount of change, both personal and professional, found its escape with this series of works that live in a dreamlike plane, evoking influences of ethereal classicism and Greek legends such as that of Pygmalion and Persephone.

In the present work, Picasso has subverted the traditional embodied interaction of artist and model— a theme that came to symbolize his own life and work most evocatively — and replaced these lead roles with sculpted avatars. In place of the artist is a large, bearded neoclassical head, while the model is substituted by a bas-relief sculpture affixed to the wall above a bouquet of flowers, echoing the graceful profile of Marie-Thérèse. Haunted by the absence of his mistress who had remained in Paris, Picasso re-created her image from memory.

Picasso's work of the spring and summer of 1933 is dominated by two male characters, who appear to represent the artist's alter-ego: the sculptor and the minotaur. Both are central images in the Vollard Suite etchings, commissioned by art dealer Ambroise Vollard in 1927, and published in 1937. The bearded man, as sculptor, appears in a number of these etchings and closely resembles the sculpted male head in the present watercolor. To the right hangs a relief of Marie-Thérèse in profile, which directly related to a relief Picasso had executed in plaster in 1931.

Edward James, a poet and a lifelong collector of art, is particularly remembered for his patronage of Surrealist painters including Salvador Dalí, René Magritte, Pavel Tchelitchew, Leonor Fini and Leonora Carrington. James provided studio space for his artist friends to develop their craft during their extended stays at his homes at West Dean and in London. Most importantly, he supported them further through commissions and collaborations, building one of the finest collections of Surrealist art in the world. James owned several notable works by Picasso including other languidly beautiful portrayals of Marie-Thérèse, such as Femme endormie.

Sotheby's is presenting five works by René Magritte in the November Evening Sale, underscoring the recent marked demand for the artist's works, as well as a renewed interest in Surrealism among collectors. In November 2018, Sotheby's established a new auction record for Magritte,
when Le Principe du Plaisir from 1937 sold for $28.6 million. The work had once resided in the collection Surrealist patron, Edward James.


The group is led by Cosmogonie élémentaire from 1949 – a triumphant example of the artist's mature oeuvre that combines myriad visual motifs amassed over the course of his career (estimate $6/8 million). Against the recurrent backgrounds of a cubed sky and mountain range, the reclining bilboquet – a chess-like figure frequently depicted in Magritte's body of work – breathes fire while holding aloft a single leaf, which in itself was the subject of a number of Magritte's compositions.

The present work first belonged to gallerist Alexander Iolas, who championed the late works of Magritte, Max Ernst and Pablo Picasso among many other artists, and who was instrumental in bringing Surrealism to America. Iolas later sold the work to renowned collector Christophe de Menil, daughter of John and Dominque de Menil who mounted the then-largest exhibition of Magritte's work in the United States in 1964. The canvas also hung in the de Menil home.


Having remained in the same family collection for nearly 70 years, La Légende des siècles establishes a dialogue between a monumental stone-age chair, presented as a natural phenomenon within a desolate landscape, and a tiny human-made version seated upon it (estimate $4/6 million). A frequent element in Magritte's iconography, the rock often appears as a giant boulder suspended in mid-air, or as an ordinary element, such as a figure, a landscape or a still-life, fossilized into stone.
In La Légende des siècles, the gigantic stone chair and the rocks scattered around it imbue the work with a primeval, timeless quality, in stark contrast to the temporary character of the clouds moving across the sky, and in juxtaposing this imagery Magritte subverts the viewer's perception of the continuity of time and space. Acquired from Magritte in 1951 by Jean Debernardi, a friend of the artist's brother Raymond Magritte, the work is the third and most complex oil version on this theme that Magritte painted in 1950; the largest of the three versions is in the collection of the Scottish National Gallery of Modern Art in Edinburgh.




Depicting one of Tamara de Lempicka's most famed muses and lovers, Rafaëla, La Tunique rose from 1927 presents a rare example of the artist's full-length figures (estimate $6/8 million).

An alluring representation of Lempicka's multifaceted work, La Tunique rose presents a rich tableau balanced by piercing lines and sumptuous curves, her radiant figure accentuated by dramatic chiaroscuro and the pop of silky color against swells of sensuous skin. Beyond her fastidious attention to line and composition, Lempicka possessed a talent for portraying women in a sexualized yet empowering way. The artist's appreciation of the female form and its power also recalls the once-scandalous nudes of Modigliani, whose works presented women in full possession of their sexuality, often with knowing and solicitous gazes that shocked audiences and authorities at the time.


On loan to The Metropolitan Museum of Art for the last decade, Tristan Bernard au Vélodrome Buffalo is an exquisite example of Henri de Toulouse-Lautrec's insightful Parisian scenes and captures a crucial moment in the history of French Modernism (estimate $4/6 million). Painted in 1895, the present work situates the eponymous Tristan Bernard at the helm of the cycling track which he operated from 1892. Bernard first introduced Lautrec to the world of cycling, though the artist was less interested in the sporting aspect than he was in capturing the spirit of the crowd and movement of the riders. Among his myriad careers as a lawyer, journalist and industrialist, Bernard was perhaps most gratified by his role as director during the triumphant early days of cycling in Paris.

The canvas bears all of the hallmarks of Lautrec's most defining works: radical touches of color and energetic brushwork; the attuned psychological nuances of his subjects as attested by Bernard's fast gaze and self-assured posture; and the artist's quintessential encapsulation of the precise time and place in which the work was created. Once in the collection of Bernard himself, the work comes to market for the first time in more than 70 years from an illustrious family collection.