On November 5, an exquisite painting by acclaimed British female artist, Eleanor Fortescue-Brickdale, will feature among the highlights of the 19th Century European Paintings auction at Bonhams. Botticelli's studio:
The first visit of Simonetta presented by Giulio and Lorenzo de Medici is estimated to fetch $200,000-300,000.
Painted in 1922, Botticelli's studio is a rare find given that Fortescue-Brickdale was known to work mostly in watercolor. The painting depicts Renaissance master Sandro Botticelli in his studio, upright and reverent in the presence of noblewoman Simonetta, who is introduced by notable patrons of the arts, Giulio and Lorenzo de Medici. The superb brushwork used to portray the elegant details in the clothing, furniture, drapery, and landscape visible through the window is a testament to Fortescue-Brickdale's skill as an artist, illustrator and colorist.
Eleanor Fortescue-Brickdale enjoyed early commercial success and later became known for her commemorative stained-glass windows dedicated to the victims of the Great War, as well as for altarpieces for various churches in northern England.
"Botticelli's Studio is an important sequel to
The Forerunner, which is a celebration of the unparalleled Leonardo Da Vinci, now in the Lady Lever Art Gallery in Liverpool. Both paintings echo Fortescue-Brickdale's love for early Italian art," says Madalina Lazen, Senior Specialist of European Paintings at Bonhams New York.
Also featured is a work by one of the most successful German Orientalist painters of the 19th century,
Adolf Schreyer. Bedouins Taking Aim (est. $80,000-120,000)
is an exceptional demonstration of Schreyer's technical skill and fascination with Algeria, where he spent time traveling and riding with Bedouin horsemen. His rendering of armed horseback riders galloping towards the viewer demonstrates his deftness at capturing perspective, movement and intensity in paint. This superb composition is one of Schreyer's best works to appear on the market in recent years.
Another masterpiece in the Orientalist theme is an exotic portrait of a harem beauty holding a pink fan by famed artist Leon Francois Comerre (est. $150,000-200,000):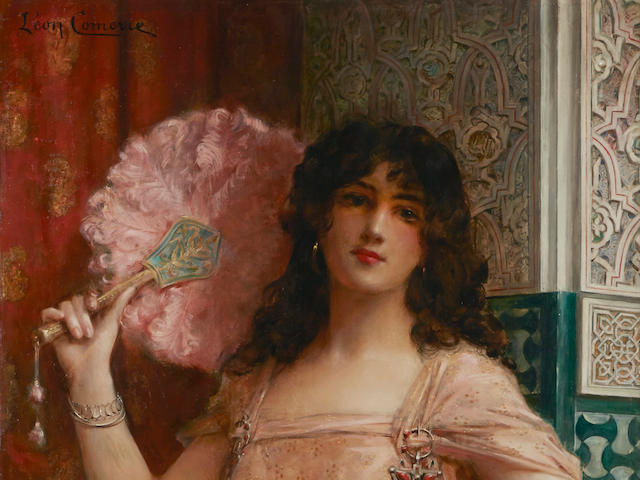 Comerre's masterful treatment of intricate texture, fabric and jewelry made him a highly sought after artist throughout Europe during the late 19th century.
Another spectacular oil is A Grecian Lady (est. $200,000 - 300,000) created circa 1899 by Orientalist artist Frederick Arthur Bridgman.
Bridgman was one of the most accomplished American painters of this genre, however, this painting is unusual in that it portrays a European subject; it was around the turn of the century that Bridgman began to experiment with neo-classical themes and thin layers of paint. Iridescent, delicate colors infuse the serene view of a young woman, draped in cascading folds of white, as she pensively stares into the distance, with the rays of the setting sun lending the entire composition a warm glow.
Other notable lots include
Dosmare Pool, an oil on canvas by Harold Knight (est. $20,000 – 30,000)
that uses an eerie, soft, minimal palette, lending the work a Surrealist intensity;
and
A Game of Billiards by Francesco Beda (est. $40,000 – 60,000), which is a delightful portrayal of the 18th century world, depicting a group of gentlemen playing a game of billiards under the intent gaze of their female admirers.