From September 8th 2014 to January 4th 2016 the Domaine de Chantilly is honoring the prized collections of the Condé Museum with an exceptional exhibition of 14th and 15th century Italian paintings : "Fra Angelico, Botticelli…Rediscovered Masterpieces".
Florentine and Sienese painters of the Quattrocentro, formally known as the Italian Primitives, make up a significant part of the legacy of the Duke d'Aumale, conserved exclusively at the Domaine de Chantilly since his death. For this exhibition, the first retrospective that the Condé Museum has dedicated to this movement… thirty major works from its collections – including paintings and drawings by Fra Angelico, Lippi, Botticelli, Leonardo da Vinci – will be presented in the reception hall of the Jeu de Paume, next to nine paintings on loan from leading international institutions.
In this vast space measuring 300m2, a free-flowing itinerary offers visitors a panorama of the history of 14th and 15th century Tuscan paintings. The scenography brings together original works by means of life-size, video-projected virtual reconstructions.


This exhibition brings certain works back together for the first time since the 15
th
century : the
Thebaide by Fra Angelico
, is thus presented in Chantilly thanks to loans
by museums in Anvers, Cherbourg, Philadelphia and a private collection.
Two cassoni by Filippino Lippi and Sandro Botticelli
illustrating
Scenes from the Story of Esther
and whose principal panels will be exhibited thanks to a loan by
the Louvre Museum
, are also at the heart of the exhibition. "Fra Angelico, Botticelli…Rediscovered Masterpieces" equally presents
masterpieces of Italian painting and drawing
from the turn of the 15
th
and 16
th
centuries, such as the graphic works by
Leonardo da Vinci
and
Michelangelo
, as well as
Portrait of Simonetta Vespucci
by Piero di Cosimo,
restored this year thanks to the support of the American Friends of Chantilly.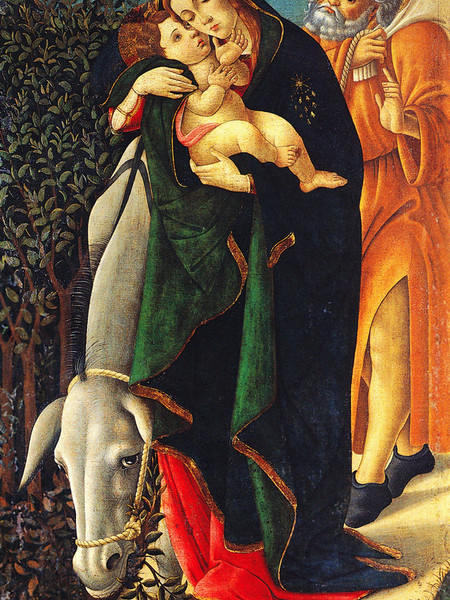 Sandro Botticelli's "La fuga in Egitto"
From
ANSAmed
(images added)
Other works include San Marco

and San Matteo by Beato Angelico;
a panel painted by the Sienese master Giovanni di Consolo (1400, about 1450), called Sassetta, for the altar of the Borgo San Sepolcro;
the work 'Five angels dance around the Sun '(1436), by Giovanni di Paolo (1398-1482)...
A scientific catalog created under the direction of Michel Laclotte and Nathalie Volle with the participation of Nicole Garnier will be published by the Editions Cercle d'Art.