Childe Hassam (1859-1935), The Outer Harbour, 1909 oil on canvas, 28 x 26 3/16 in., Collection of the Westmoreland Museum of American Art,
Mary Marchand Woods Memorial Fund, 1964.1
Picturing America
represents two hundred years of American art, from colonial times to the mid-twentieth century, as America came into its own as the cultural capital of the world. Seen through the subject areas of portraiture, still life, landscape, and narrative painting, the artists represented in this exhibition serve as a survey of American art.
Dixon Gallery and Gardens
Memphis, TN
hrough October 6. 2013
Vero Beach Museum of Art
February 15 - May 25, 2014
Georgia Museum of Ar
June 14, 2014 - August 24, 2014
Hyde Museum,

Glens Falls, N.Y.,

September 28, 2014 - January 4, 2015

From the 1758 Portrait of John Gardiner by John Singleton Copley to Milton Avery's Arrangement with Plants of 1948, the exhibition presents 57 paintings and sculptures that describe the American experience from the Colonial period to early Modernism.
Gifford Beal,
Sea Bass Fisherman,
1940, Oil on canvas, Westmoreland Museum of American Art, Anonymous Gift through the Westmoreland Society, 1995.51
Magnificent scenes of the early American landscape painted by Hudson River School artists Alfred Thompson Bricher, George Inness, and Worthington Whittredge recall the emergence of the Hudson River School during the nineteenth century, a period when our young nation was struggling to define its identity. The period of growth and development that ensued at the turn of the century coincided with a national shift in aesthetic—audiences will recognize this transition through impressionist pieces by Mary Cassatt, Childe Hassam, and Paul Cornoyer, and examples of urban Realism by Robert Henri and Everett Shinn. Moving into the twentieth century, Modernism and the move towards abstraction can be seen in scenes by Milton Avery and Guy Pène du Bois.
Other renowned artists from the two hundred year span represented in this selection include William Merritt Chase, Susan MacDowell Eakins, Childe Hassam, Robert Henri, Paul Manship, John Singer Sargent and Benjamin West as well as Charles Willson Peale and his children Rembrandt, Rubens and Mary Jane. The rich variety of expressive means represented by the works in the exhibition, including still-life, portraiture, narrative and abstraction, provides a visual embodiment of such national ideals as freedom, diversity and opportunity.
Portraits, America's earliest and most dominant form of pictorial expression, were most often commissioned to record a person's affluence, as a means of attaining immortality and as memento mori pieces for remembering the dead.
The collection offers a spectrum, ranging from objective portraits like Westmoreland's first painting acquisition,
"Portrait of George Washington" by

Rembrandt Peale

,
to more subjective, narrative paintings like
"Death of Elaine" by

Thomas Hovenden

,
which depicts King Arthur, Queen Guenivere and Sir Lancelot mourning over the body of Elaine, who has died from a broken heart.
Though still-life paintings continued to thrive into the 20th Century, their focus generally shifted away from recording organic materials to creating arrangements of abstract forms. This contrast can be seen between trompe l'oeil master
Severin Roesen
's
"Still Life with Fruit,"
(ABOVE Is another
Severin Roesen
's
"Still Life with Fruit,"
)
a brilliantly hued oil painting epitomizing the country's physical bounty, and American Abstract Artists founding member
Balcomb Greene

's "Organic Forms,"

1939 Oil on canvas, 24 x 36 inches Collection: Westmoreland Museum of American Art, Anonymous gift with additional funding from the William Jamison Art Acquisition Fun

d
a geometric work playing with shape and space.
Reflecting the transformation of American society from primarily agrarian to industrial, the exhibition's landscape paintings range from pristine natural settings to city scenes. Lush waterfall painting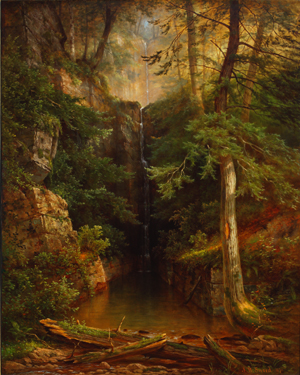 "Silver Thread Falls, Pennsylvania" by Hudson River School painter

James Brade Sword

and
"The Outer Harbor"
by foremost Impressionist painter
Frederick Childe Hassam (above)
contrast greatly with the paintings of
"Pittsburgh's Painter Laureate"
Samuel Rosenberg
, who documented socioeconomic life of the urban poor during the Depression.
(An
example
of Rosenberg's work)
Picturing America is organized and toured by the Westmoreland Museum of American Art, Greensburg, Pennsylvania, which is currently under renovation and expansion.
"Portrait of Helen Gallagher (Black and Green)," (ca. 1928) by Malcolm Parcell (1896-1987). Oil on canvas mounted on board, 44 1/2 x 40 inches. Gift of the Estate of Malcolm Parcell (1896-1987). Oil on canvas mounted on board, 44 1/2 x 40 inches. Gift of the Estate of Malcolm Purcell, Westmoreland Museum of American Art.
(Photo: COURTESY of The Hyde Collection Art Museum & Historic House)