By Amy Spencer
Charles Ephraim Burchfield is celebrated for his visionary paintings of the American landscape; from gritty industrial scenes, to tranquil rural towns, to turbulent landscapes. Working during the first half of the twentieth century, Burchfield's watercolors of 'the middle border' (the American Mid-West) achieved significant critical and commercial success over the course of his career. Critics loved Burchfield's Modern innovations which were neither entirely abstract nor representational, while audiences responded to the sincere affinity he expressed for his subjects.
Since his death in 1967, art historians have re-visited Burchfield's oeuvre, praising the individualistic, and at times fantastical, paintings created by an artist who led a relatively prosaic life. Art critic Roberta Smith writes of Burchfield, "Charles Burchfield… was a down-home visionary, a painter of the American Scene who saw right through it to the inner life of natural forms, landscapes and even man-made structures."1 Burchfield's works are in all major collections of American Modernism, including the Whitney Museum of American Art, the National Gallery of Art, and the Museum of Modern Art. Recently, renewed interest in Burchfield's work has stimulated strong auction results. In 2007, the artist's record was set when Burchfield's watercolor A Dream of Butterflies (1962) sold at Sotheby's for $1,329,000 against a pre-auction estimate of $500,000 to $700,000.2
Burchfield was born on April 9, 1893 in Ashtabula Harbor, Ohio. Five years later, following the death of his father, his family moved to nearby town of Salem. After Burchfield graduated from high school in 1911, he attended the Cleveland School of Art where he intended to learn illustration. However, by his second year of art school, Burchfield's attention had shifted as he became fascinated with the challenge of visually expressing the natural environment. As a twenty-one year old, Burchfield wrote in his journal, "I hereby dedicate my life and soul to the study and love of nature, with the purpose to bring it before the mass of uninterested public."3
After graduating from college, Burchfield moved back to Salem, where he worked as an accountant for an automobile company. He painted devotedly in his spare time; on weekends, evenings, and even during his lunch hour at work. Burchfield's paintings from these formative years are generally whimsical creations that reflect his obsession with nature, but also his fixation on childhood memories. He developed a style that merged calligraphic marks and strange abstractions into organic forms in order to express the transcendental nature of his landscapes. Within Burchfield's enchanted paintings, objects are personified; flowers seem to have faces and tribal masks appear in the bark of trees.
In 1921, Burchfield moved to Buffalo, New York to begin working for M. H. Birge & Sons Company, one of America's most prominent wallpaper companies. He married Bertha Kenreich, and over the next seven years they had five children together. Living in Buffalo influenced Burchfield's painting significantly. From 1924 onwards, he adopted a more realistic style, as he became interested in objectively depicting architecture and the surrounding countryside. Tree lined streets, quaint churches, and store fronts are typical subjects from this early-Buffalo period. Many of his works have a slightly sinister quality to them that Burchfield's biographers attest to his dissatisfaction with urban Buffalo. However in general, Burchfield's simple compositions evoke a sense of neutrality towards his subjects which allows for a visual social commentary to emerge.
In 1929, after Frank K. Rehn Galleries began representing him in New York, Burchfield's ensuing commercial success allowed him to resign his job and paint full-time. During this period Burchfield refined his objective style that emphasized the realities of American life during the Depression. Images of houses buried under snow, grain elevators, and lake freighters show minute figures going about their daily life, while being dwarfed by the cityscape around them. The dramatic scaling of his works created a sense of baroque drama, however these works also reveal a heightened sense of place and belonging.
These moody scenes of Buffalo have often been compared to works by Burchfield's contemporary and friend Edward Hopper. Hopper also painted in a style of romantic realism, however the two artists are essentially quite different. While Hopper created an artificial world of privilege fraught with boredom and anxiety, Burchfield cast a less contrived gaze over his world of relentlessly ordinary blue-collar workers. Burchfield lived the 'middle border' subjects of his paintings, he did not judge them.
Burchfield won numerous awards for his watercolors, and he exhibited frequently in public and private galleries throughout the 1930s. As his reputation grew he gained a number of important commissions, the first major one coming from Fortune magazine to paint the railroad yards at Altoona and Harrisburg in Pennsylvania. In 1930, Burchfield had a solo exhibition of his watercolors at the Museum of Modern Art in New York City.
In 1943, after years of commercial success, Burchfield decided to return to the subject and expression of his earlier work and bring nature "before the mass of uninterested public". Burchfield's return to personal expressionism, combined with his developed drafting skills, saw him produce artful and ambitious reconstructions of nature. To these heroic landscapes he added innovative abstract elements to convey pulsing sound and motion, as he recreated for the viewer the complete experience of being in the wilderness. This subject matter kept him occupied for the rest of his career.
Burchfield's artistic achievements were recognized by numerous late-career retrospectives, the most comprehensive held at the Whitney Museum of American Art in 1956, and later traveled to five city museums. He was further honored with the opening of the Charles Burchfield Center at Buffalo State College in December, 1966. Burchfield died in West Seneca, New York on January 11, 1967.
Burchfield's artistic oeuvre does not fit a single movement of Modern art, and unlike his contemporaries he did not travel overseas or seek inspiration from other paintings. Rather, Burchfield's highly distinctive, almost idiosyncratic, style can be seen as intensely autobiographical. His watercolors of nature are personal, almost surreal, expressions of local landscapes, while his images of industry and city-streets convey an honest experience of urban life. In walking a line between abstract and representational art, Burchfield's paintings were very modern for their time, and the legacy of these works resonates today as a defining vision of American life.
II. Chronology
1893 Born in Ashtabula Harbor, Ohio
1898 Moves to Salem, Ohio following the death of his father
1911 Graduates from high school as class valedictorian
1911-12 Works in the cost department of Mullins, an automobile company, to save money to go to art school to become an illustrator
1912 Attends Cleveland School of Art (now Cleveland Institute of Art), studying under Henry G. Keller, Frank N. Wilcox, and William J. Eastman
1916 Graduates and returns to Salem where he works for Mullins
Paints imaginative watercolors based on childhood memories in his spare time
Awarded scholarship to the National Academy of Design in New York City, quits after one day
Has small exhibition of paintings at Sunwise Turn Bookshop, New York
1918 Enters the military and serves as a camouflage artist for six months
1919 After being discharged from the army he returns to work for Mullins
1920 First one-man gallery exhibition is held at the Kevorkian Galleries, New York
1921 Moves to Buffalo, New York and begins working for M. H. Birge & Sons Company, one of America's most prominent wallpaper companies
1921-43 Adopts a more realistic style, as he becomes interested in objectively depicting architecture and the surrounding countryside
1922 Marries Bertha Kenreich (they have five children between 1923 and 1929)
1924 The Metropolitan Museum of Art purchases The False Front
1925 Moves to Gardenville, West Seneca, an outer suburb of Buffalo
1928 Edward Hopper's essay on Burchfield appears in Arts magazine, Burchfield and Hopper begin friendship
1929 The Museum of Modern Art purchases Noontide in Late May
Frank K. M. Rehn Galleries in New York City begins representing Burchfield
Resigns from his job as a designer to paint full-time
1930 Early watercolors are shown in a solo exhibition at the Museum of Modern Art
1934 Participates in the 19th International Biennial Art Exhibition, Venice, Italy
1935 Featured in Thomas Craven's Harper's Magazine article, 'Our Art Becomes American'
1936 Commissioned by Fortune magazine to paint railroad yards in Pennsylvania
Life magazine prints the story, 'Burchfield's America'
1937 Commissioned again by Fortune magazine to paint sulphur and coal mines in Texas and West Virginia
1943+ Returns to painting fantasy scenes that are more personal interoperations of nature
1949-53 Teaches courses periodically at the Art Institute of Buffalo; Ohio University, Athens; University of Buffalo; University of Minnesota, Duluth; and Buffalo Fine Arts Academy
1954 Is one of several artists who paints advertisements for Johnnie Walker scotch
1956 John H. Baur curates a retrospective of Burchfield's work at the Whitney Museum of American Art, followed by a five-venue tour
1966 The Charles Burchfield Center opens at Buffalo State College with an inaugural exhibition of his recent works
1967 Dies of a heart attack in West Seneca, New York on January 11
Sotheby's New York 21 November 2016 American Art:
Six works by the celebrated

American watercolorist Charles

Ephraim Burchfield are also included in the American Art sale. Spanning

nearly 50 years of Burchfield's career from 1915 to 1963, many of these

works have been off the market for

two decades. Leading the group is
September Wind (estimate

$300/500,000).

A testament to the artist's deep reverence for the natural world, this vibrant and dynamic watercolor from 1963

emphasizes the ephemeral beauty of the changing seasons.
Christie's Sale of American Art for 2015 on March 25th, 2015
The celebrated watercolorist Charles Ephraim Burchfield is renowned for his landscapes of vivid color and movement. The Moon and Queen Anne's Lace (estimate: $120,000 – 180,000), which is being offered from an important New York estate, is a superb example of Burchfield's rhythmic depictions of the sensations of nature.
Christie's November 19 2014
MOONLIGHT IN A FLOWER GARDEN
POND IN SPRING (WADE PARK, CLEVELAND) MAY 1916
Sotheby's OcTober 3, 2013
WINTER
Estimate
60,000
—
80,00

0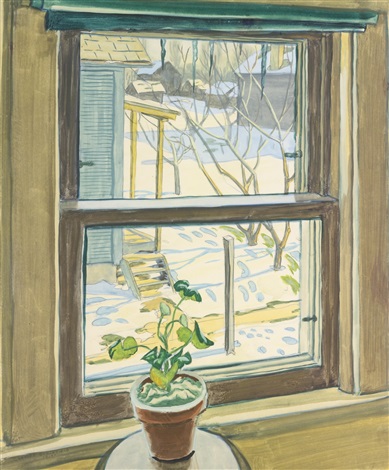 Lacy Trees and Sunlit Clouds
Price Realized (with Buyer's Premium) $25,000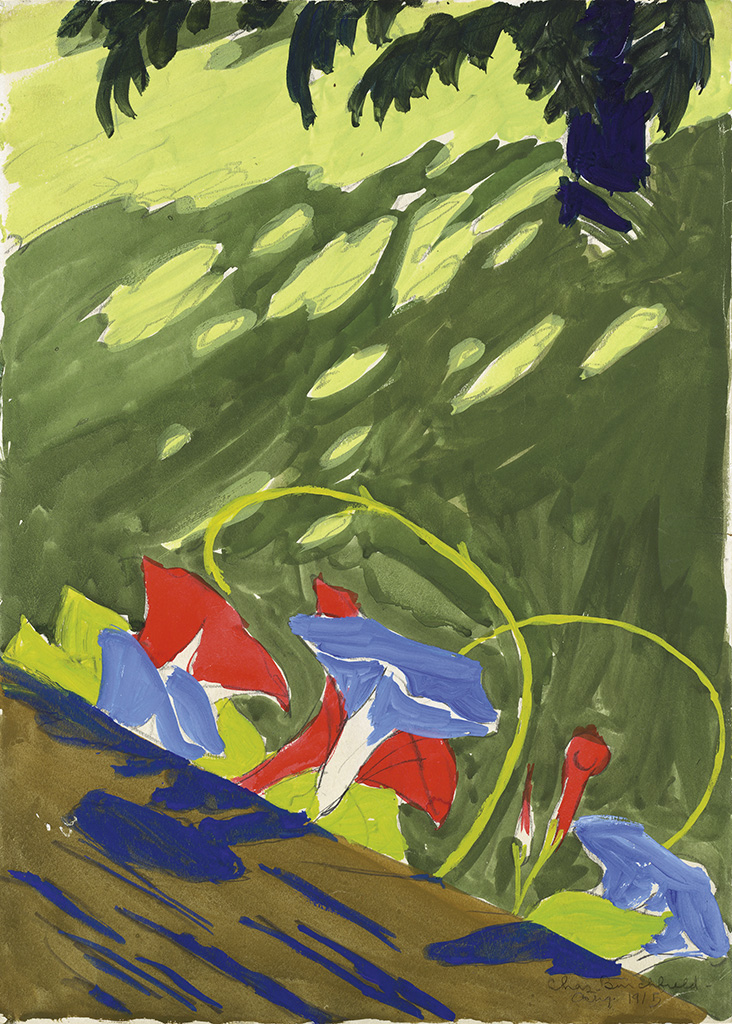 Estimate $5,000 - $8,000

Price Realized (with Buyer's Premium) $21,250

Charles Burchfield

(1893–1967)


Long House, North of Wyoming Village

,

1951




Mixed media on paper laid down on board




29⅞ x 40 5/16 inches


Estate stamp lower right: B-126; inscribed on verso: LONG HOUSE 1951 / NORTH OF WYOMING VILLAGE

Charles Burchfield

(1893–1967)


Morning Glories

,

1915




Mixed media on paper




14 x 10 inches


Signed and dated lower right: Chas. Burchfield / Aug. 1915; on verso: August 1915
Charles Burchfield

(1893–1967)
The Moon and Queen Anne's Lace
,
1960
Watercolor and gouache on paper laid down on board
44¾ x 34 11/16 inches
Monogrammed and dated lower right: CEB / 1960
Charles Burchfield

(1893–1967)


November Dawn

,

1926




Watercolor and gouache on paper




21½ x 35½ inches (sight size)




Signed and dated lower right: Chas. Burchfield / -1926-; on verso (photo available): "NOVEMBER DAWN" / 1926 / 22¼ x 36 / (VIEW LOOKING UP BUFFALO CREEK / FROM MY HOME AT GARDENVILLE, N.Y.)