BIOGRAPHY
Maurice Prendergast was born in St. John's, Newfoundland, but grew up in Boston. From his youth he aspired to be an artist but initially made his living lettering show cards listing the acts and performers for the theater. Unlike some other artists who began their artistic studies at a young age, Prendergast was unable to afford formal art training or foreign travel until he was in his thirties. By the time he enrolled in the Académie Julian and the Académie Colarossi in Paris in 1891, dramatic changes in the art world were revolutionizing French painting.
Initially Prendergast was influenced most by the works of Edouard Manet and the expatriot American painter James McNeill Whistler, but he soon found inspiration from other sources, most notably Paul Cézanne and the Nabis painters Edouard Vuillard and Pierre Bonnard. Like them, Prendergast found his subjects in the everyday life of Parisian parks and streets as well as in the colorful scenes at nearby resorts.
Returning to Boston in 1895, Prendergast joined his brother Charles in his recently established framing business. He gradually began to build a reputation as a painter, initially concentrating on watercolors because the materials required were less expensive than those needed for oils. A pronounced emphasis on surface pattern, which would become a hallmark of his mature work, was evident from his earliest works.
Around 1899 Prendergast began to enjoy increasing artistic recognition and made regular trips to New York. Although most of his work from the early 1900s portrays middle-class leisure activities in parks or on beaches, he also explored the working-class docks and waterfronts of both New York and Boston.
Sotheby's April 16, 2014
Sotheby's November 2012
Maurice Prendergast's
Park Street Church, Boston
(circa 1905-07), failed to sell.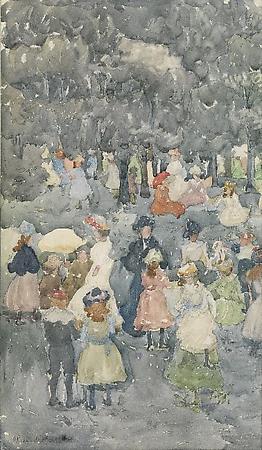 Prendergast's
Picnic Party
(circa 1900-03) didn't quite reach its low estimate of $300,000 when it sold for $290,500.
Estimate
200,000 — 300,000
Estimate
500,000 — 700,000