Mary Cassatt's Mathilde Holding a Baby Who Reaches Out to Right was acquired by the present owner in1964 and is also among the 19th century highlights in the sale (est. $700/900,000). Executed in 1890, the work is one of only a few depictions of Cassatt's loyal maid, Mathilde Valet. Cassatt discovered pastel with the help of her colleague Edgar Degas, and with the medium she was able to demonstrate her skills as an accomplished draftsman and colorist. In Mathilde Holding a Baby, the artist deftly renders the flesh tones with layered pigments to create volume.
Mary Cassatt's Baby Embracing Her Mother is a lovely example of the artist's experimentation with pastel counterproofs, at the encouragement of renowned dealer Ambroise Vollard (estimate: $30,000 – 50,000). Counterproofs are created by placing a dampened sheet of paper on top of a pastel and applying pressure to transfer some of the pastel to the new sheet. The technique creates a mirror image that has a softer look than the original, and the pastel appears essentially unchanged. While the theme of maternity is a hallmark of Cassatt, her counterproofs demonstrate that she continued to innovate and create appealing images long after she moved away from Impressionism.
Christie's
19 November 2014
BABY JOHN NURSING
$500,000 - $700,000

MOTHER COMBING SARA'S HAIR (NO 1)
$400,000 - $600,000

Christie's 6 November 2014
Mother Rose Looking Down at her Sleeping Baby
SOTHEBY'S May 2014
KNEELING IN AN ARMCHAIR (B. 186)
8,000
—
10,000
PORTRAIT SKETCH OF MME FONTVEILLE (NO. 2) (BREESKIN 170+
Estimation

5,000

—

7,000
Estimate
700,000 — 1,000,000
Estimate
100,000 — 150,000
Christie's May 22, 2014
Girl in a Hat with a Black Ribbon
Christie's May 16, 2012
Françoise in a Round-Backed Chair, Reading
Head of a Girl in a Hat with a Black Rosette
by Mary Stevenson Cassatt
Mathilde Holding Baby who Reaches out to Right
£553,250
SKETCH OF HEAD OF A GIRL IN A HAT WITH A BLACK ROSETTE
Christie's December 1, 2010
Master Alexander J. Cassatt, Jr.,
pastel on paperboard, 1914
500,000-700,000
Christie's November, 2010
Mother in Purple Holding her Child
Christie's October, 2010
Woman Bathing (La Toilette) (B 148; M&S 10)
The Fitting (B 147; M&S 9)
Christie's December 2, 2009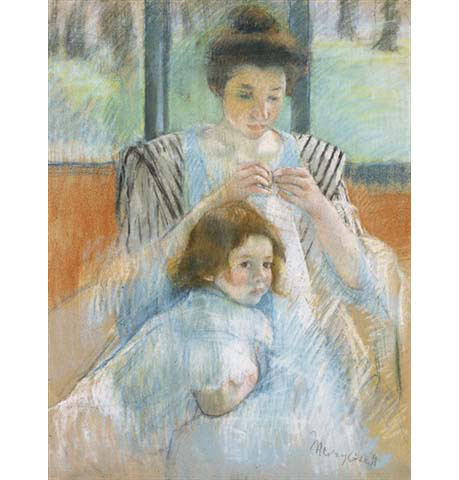 Study for "Young Mother Sewing"
Françoise Wearing a Big White Hat
Christie's May, 2008
$337,000
Christie's 2006
Christie's 2004
Bonhams May 2008
Mary Cassatt (American, 1844-1926);
Tea;