Auctions
Christie's
19 November 2014
LA POUDREUSE (WOMAN SELECTING A NECKLACE)
Bonhams New York 28 November 2007
Frederick Carl Frieseke, Rose Garden, Giverny.
A newly discovered and previously unrecorded
oil painting
by the American Impressionist artist Frederick Carl Frieseke (1874-1939), is expected to fetch US$800,000-1,200,000 when it comes up for sale at Bonhams in New York on 28 November 2007. Specialists at Bonhams & Goodman found the painting Rose Garden, Giverny in an Australian private collection during a routine valuation.
The dreamy composition of ladies in long, white dresses, languishing in a flower garden, has since been authenticated by both Bonhams'' US Director of Fine Arts Alan Fausel, who flew out to Australia to view the work, and the artist''s grandson and editor of the Frederick C.Frieseke Catalogue Raisonnéé,
Nicholas Kilmer.
A great admirer of Claude Monet, Frieseke moved to Giverny in 1906 where he painted at the art colony. While there he met Australian artists Emanuel Phillips Fox and Ambrose Patterson, who heavily influenced his work, including this particular example, to be sold by Bonhams.
Hugh Ramsay and Ambrose Patterson rented a studio in the same building as Frieseke at 51 Boulevard St Jacques, Montparnasse in Paris. George and Amy Lambert lived nearby, and the eclectic group of artists had "jolly musical soirees, drinking, eating, burning gum leaves and playing the piano in Ramsay and MacDonald''s studio," according to art historian Patricia Fullerton who has included a photograph of Frieseke and Ramsay in her book Hugh Ramsay: His Life and Work (Melbourne 1988).
In 1910, Frieseke began to include outdoor subjects in his annual exhibitions at the Société Nationale des Beaux-Art in Paris, with whom he first exhibited in 1899 and it is thought that Rose Garden, Giverny was painted no later than the summer of 1911.
In January 1912, Frieseke held his first solo exhibition at the Macbeth Gallery in New York, which included a number of similar compositions featuring female figures in outdoor scenes and Alan Fausel goes as far as saying: "There is a strong possibility that there is a match between this painting, whose title has not been preserved, and the title, Roses and Pansies - one of the lost
garden paintings
that was included in the 1912 Macbeth Gallery exhibition - of which no image has been discovered."
The oil painting measures 32 x 32 inches and was expected to fetch US$800,000- 1,200,000.
Oil on canvas Painted circa 1915
Estimate: $800,000-1,200,000
Christie's NOVEMBER 30, 2011
FREDERICK CARL FRIESEKE (1874-1939) 
Lady Trying on a Hat
Estimate: $1,000,000 – 1,500,000
Frederick Frieseke's images of women are celebrated among the finest achievements of American Impressionism. Painted in 1909, Lady Trying on a Hat shows his mastery of the type of Impressionist paintings created in the artists' colony in Giverny in the early 20
th
century. In the life-size painting (64¼ x 52 in.), a woman sits in her boudoir looking in a hand mirror, while fixing on her head an ornate hat topped with a pink flower, verdant leaves and blue feathers, newly removed from its richly hued box placed on the floor. His ability to play with light and technique imbues his models with an air of psychological independence, positioning the artist as one of the most accomplished American Impressionist painters. This painting is being sold by order of the Board of Trustees of the Art Institute of Chicago.
Christie's

16 May 2012
Bonhams New York May 31, 2014
Sotheby's May 17 2012
Exhibitions
Impressionist Giverny: A Colony of Artists, 1885–1915
Musée d'Art Américain Giverny: April 1–July 1, 2007; San Diego Museum of Art: July 22–October 14, 2007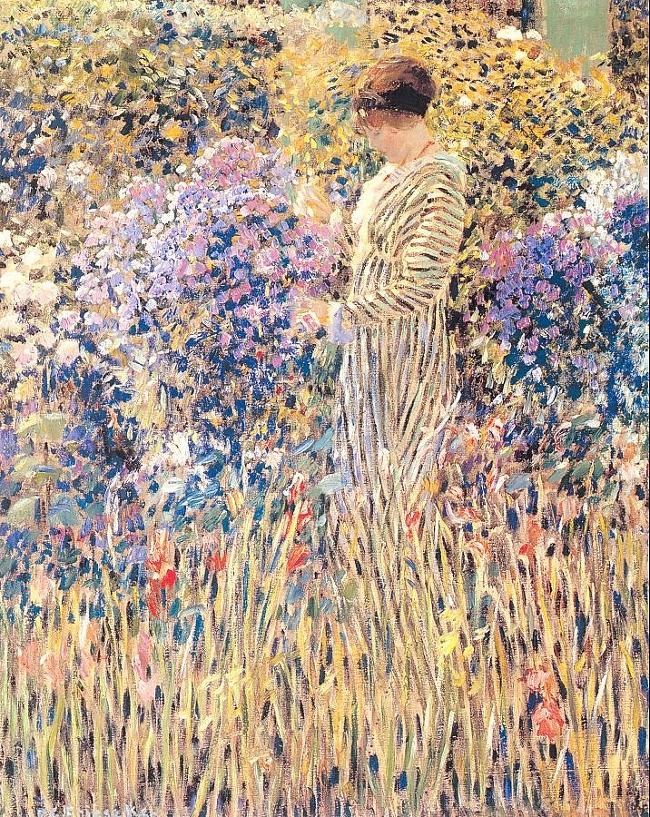 'Frederick Carl Frieseke, Lady in a Garden, oil on canvas, 1915. Terra Foundation for American Art, Daniel J. Terra Collection, 1999:52.'
FREDERICK CARL FRIESEKE: The Evolution of an American Impressionist
The Telfair Museum of Art, Savannah, Georgia
March 20-June 3, 2001
The Dixon Gallery and Gardens, Memphis
June 23-August 19, 2001
San Diego Museum of Art
September 8-November 11, 2001
Terra Museum of American Art, Chicago
December 8, 2001-February 3, 2002
Book of the Above Exhibition
Galleries
Heather James Fine Art
Frederick Carl Frieseke (1874-1939)
Afternoon at the Beach
Oil on canvas
60 x 178 in.
Executed 1905-1906

Provenance:
Commissioned by Rodman Wanamaker for the Hotel Shelburne in Atlantic City
David David Gallery, Philadelphia

Exhibited:
Savannah, Georgia, Telfair Museum of Art, Frederick Carl Frieseke: The Evolution of an American Impressionist, 2000/2001; travelling to Memphis, Tennessee, Dixon Gallery & Gardens, 2001; San Diego, California, San Diego Museum of Art, 2001; Chicago, Illinois, Terra Museum of Art, 2001

Literature:
N. Kilmer, Frederick Carl Frieseke; The Evolution of an American Impressionist, Princeton University Press, 2000, (illustrated p. 139)
"American Artists In Paris" in International Studio an Illustrated Magazine of Fine and Applied Art, Volume Forty-Three, Comprising March, April, May & June 1911; nos. 169 to 172 (illustrated pp. 263-270)
"La Decoration D'un Hotel Americain L'Art Decoratif" in Revue Mensuelle D'Art Contemporain, 8me Annee, 2 Semestre, July - December 1906 (illustrated pp. 195 - 200)

Afternoon at the Beach is a mural painting by Frederick Carl Frieseke, an American Impressionist who spent most of his productive years as an expatriate in France. Department store magnate Rodman Wanamaker commissioned the 15-foot-long painting for the Hotel Shelburne in Atlantic City. Frieseke designed it as a single composition in 1905, and completed it in segments in 1906.

Afternoon at the Beach depicts elegant young ladies with bonnets, as well as several children — two of which appear on a donkey — and an occasional male enjoying a day at the beach under striped parasols. Female figures, flowers, and domestic interiors and exteriors were recurring elements in his paintings. Their fairly close tonalities reflect the deep influence that James Abbott McNeill Whistler had on Frieseke's style.

Frieseke was born in Owosso, Michigan, in 1874, and studied at the Art Institute of Chicago and the Art Students League in New York before moving to Paris to attend the Académie Julian and the Acadamie Carmen with Whistler. In 1906, he and his wife settled in the art colony in Giverny, where the great French Impressionist Claude Monet resided. Here, Frieseke found his aesthetic and asserted his familiar theme. The parasol also became a frequent motif — protecting his female models and reinforcing their position as articles of beauty and the recipient of the viewer's gaze.

Afternoon at the Beach was installed at the Hotel Shelburne in February 1906. In 2000 and 2001, it was exhibited at the Telfair Museum of Art in Savannah, Georgia, in the 2000-2001 exhibition Frederick Carl Frieseke: The Evolution of an American Impressionist. Frieseke exhibited extensively in the United States and in his adopted France. His work is in the permanent collections of the North Carolina Museum of Art, the Metropolitan Museum of Art in New York, the Art Institute of Chicago, Museum of Fine Arts-Boston, and Museo d'Arte Moderna de Ca'Pesaro in Venice, Italy.