By Margarita Karasoulas
I. Biography
"I present a surprising vision of landscape by the daring use of colors." – Oscar Bluemner
(1)
Born in 1867 in Prenzlau, Germany, Oscar Bluemner inherited a rich familial artistic tradition. His father was a master mason and his relatives had all trained as craftsmen or artisans, thus Bluemner was exposed to art and architecture from a young age. He received his first formal art instruction in 1871 and began his lifelong practice of drawing and painting directly from nature. He further honed his talent at his local gymnasium in Elberfeld, where he studied art history and took studio courses in chalk and crayon drawing, watercolor, and landscape. In 1886, Bluemner enrolled at Berlin's Konigliche Technische Hochschule to pursue a career as an architect. Upon graduation, he received the institution's prestigious Royal Medal and contributed several designs for public buildings throughout Germany.
(2)
In spite of a promising architectural career, Bluemner decided to leave Germany's oppressively conservative artistic climate for the vanguard aestheticism of America.
(3)
He first settled in Chicago in 1893, where he took a job as an architect's assistant and worked in preparation for the World's Columbian Exposition. Bluemner frequently relocated between Chicago and New York in search of work opportunities, but settled permanently in the latter city by 1900, where he began competing for major public contracts and exhibiting regularly at architectural clubs.
(4)
Though Bluemner's art was quite forward-thinking, his architectural designs for domestic and public buildings favored the past, as he found inspiration in H.H. Richardson, a proponent of the Romanesque style.
(5)
Bluemner also admired the simplicity and functionalism of Frank Lloyd Wright and aspired to create indigenous architecture rooted to the American soil.
In 1904 Bluemner resumed a partnership with the architect Michael Garvin, who infamously stole the artist's design for the Bronx Borough Courthouse, forcing him to sue for financial compensation.
(6)
This dispute, combined with his disillusionment with architectural politics motivated Bluemner to abandon architecture altogether. He pursued painting with a renewed vigor and immersed himself in New York's active art community, frequenting its galleries, museums, and auction houses.
(7)
Bluemner witnessed firsthand some of the city's foremost modern exhibitions, including a show of Impressionist paintings at Durand-Ruel and that of "The Eight" at the Macbeth Gallery.
(8)
In what would be a fateful meeting at the 291 Gallery in 1908, Bluemner befriended Alfred Stieglitz and joined a group of New York's leading avant-garde, a circle known as the "291" group, including artists Arthur Dove, Marsden Hartley, Georgia O'Keeffe, John Marin, Charles Demuth, and Paul Strand.
His association with Stieglitz – one of the most influential artists and art dealers of the twentieth century – proved instrumental to his career. Stieglitz was the first to showcase Matisse, Cézanne, and Van Gogh in his gallery and lent tremendous support to young American painters, including Bluemner, by launching solo exhibitions of their work.
In preparation for his ascent in the art world, Bluemner acquired a solid grounding in art history and actively participated as an art reviewer, lecturer, writer, and critic. He habitually took well-documented notes on art theories, techniques, and his creative process and later became a regular contributor to Stieglitz's publication Camera Work.
(9)
By 1911 Bluemner was solidly committed to painting and did not return to architecture, regardless of future financial difficulties. As he later wrote to Stieglitz, "I would rather be a bum painter than . . . a 'successful' so-called architect."
(10)
In April 1912 Bluemner returned to Europe to continue his education. He traveled extensively throughout Germany, France, Italy, England, and the Netherlands, where he studied the art of the Old Masters and that of his contemporaries. Bluemner took copious notes and created hundreds of sketches based on his studies.
(11)
His travels invariably influenced his works and philosophical outlook. His early influences included Tonalism as well as Impressionism, Post Impressionism, and Japanese art, as evidenced in his pointillist technique, flattened perspective, and bold application of color. While abroad, Bluemner arranged to exhibit his watercolors at the influential Galerie Fritz Gurlitt in Berlin, where the Die Brücke group previously showed their controversial works.
(12)
Soon after his return to the United States, Bluemner made his debut at some of New York's most important galleries and exhibitions: five of his works were included in the famous Armory Show and he was one of sixteen artists featured in the 1916 Forum Exhibition of Modern American Painters.
Throughout the 1910s and early 1920s, Bluemner created his own unique pictorial vocabulary that realized the convergence of Cubism, Fauvism, Futurism, and Expressionism. In search of subject matter, Bluemner sought inspiration in his local environment and what was familiar to him, drawing upon the landscapes, harbors, and factories of New York and New Jersey.
(13)
The juxtaposition of nature and industry became a permanent fixture of his oeuvre. Bluemner also believed that his art should "come from the inside;" accordingly, he used color as a psychological and emotive agent.
(14)
Bluemner was highly methodical in his approach and placement of color, planning complementary color themes and harmonies in anticipation of his finished product. Relying on his architectural background, he layered sharply delineated, multifaceted geometric shapes into an intricate tapestry of prismatic color. The effect was simultaneously simple, complex, and evocative, unlike anything created by his contemporaries. Bluemner also surpassed his peers with his originality and technical innovation. He frequently combined pigment with unusual media, including egg yolk, resin, casein, gouache, formaldehyde, varnish, and lead, affixed to materials ranging from canvas to wood to cardboard. In his experimentation, Bluemner achieved the distinctive colors and textures that are the quintessence of his artistic style.
In 1926 Bluemner moved to South Braintree, Massachusetts following the untimely passing of his wife, Lina Schumm, whose death was attributed to the family's poverty. In his grief and guilt, Bluemner turned increasingly to the emotive symbolism of color, abandoning his Mondrian-like grid for more naturalistic landscapes. The house and tree motif and rising or setting sun and moon became frequent themes during this period.
(15)
He continued to experiment with new techniques and his oils featured a high-keyed palette and glossy surfaces that received critical acclaim.
The critic Henry McBride called his work "among the most important productions of the period"
(16)
and Edward Alden Jewell applauded his bold, simplified style as an "apotheosis."
(17)
Though Bluemner was well-respected in his lifetime and exhibited widely, sales were often poor. Bluemner also frequently compromised his relationships with his dealers which limited venues for his work.
The curator Barbara Haskell cites Bluemner's relative obscurity as a consequence of his mistrust, as his links to certain dealers would have guaranteed posthumous fame
.(18)
The era's unstable economic climate and shifting public tastes further contributed to Bluemner's precarious finances, as his abstract works found little market with the mounting popularity of Regionalism. To make ends meet, he accepted jobs with the government-based Public Works of Art Project and Works Progress Administration; however, he developed cancer and suffered from various ailments that hindered him from fulfilling his contractual obligations.
(19)
Bluemner's dwindling prospects, mounting debts, poverty, and failing health (he had recently been in a near-fatal car accident) led him to take his own life on January 12, 1938. Bluemner's legacy and contribution to early twentieth century American art remain unquestioned as he takes the rank of one of America's most important modernists.
Notes
1.
Oscar Bluemner, Visions of the Modern Landscape, exh.cat. (New York: Debra Force Fine Art, 2004), p. 1.
2.
Jeffrey Hayes, Oscar Bluemner (New York: Cambridge University Press, 2001), pp. 1–4.
3.
Barbara Haskell, Oscar Bluemner: A Passion for Color (New York: Whitney Museum of American Art, 2005), p. 10.
4.
Hayes, pp. 7–9.
5.
Haskell, pp. 17–21.
6.
Ibid., pp. 27–29.
7.
Hayes, p. 12.
8.
Ibid., p. 22.
9.
Ibid., 18.
10
. Haskell, p. 62.
11.
Hayes, p. 37.
12.
Haskell, p. 36.
13.
Bluemner, p. 1.
14.
Haskell, p. 31.
15.
Bluemner, pp. 1–2.
16.
Haskell, p. 96.
17.
Ibid., p. 160.
18.
Ibid., p. 168.
19.
Ibid., p. 164.
20.
Ibid., pp. 202–204.
II. Chronology
1867
Born on June 21st in Prenzlau, Germany.
1876
Moved to Hildesheim with his family.
1879
Resettled in Krefeld, Germany where he began his lifelong habit of sketching in nature.
1883
Moved to Elberfeld, Germany. At his local gymnasium, Bluemner began taking studio and art history courses.
1885
Held a one-man exhibition at the Elberfeld gymnasium.
1886
Enrolled in architecture department at Berlin's Royal Technical Academy.
1888
Took his first yearlong academic leave.
1889
Returned to Berlin.
1891
Won two prizes from the department of architecture. Took his second yearlong academic leave.
1892
Received the Royal Medal upon graduation from Berlin's Royal Technical Academy. Moved permanently to the United States in October.
1893
Moved to Chicago in January; returned to New York City in May.
1896
Second return to Chicago.
1897
Married his wife, Lina Schumm.
1899
Became a naturalized U.S. citizen.
1900
Moved to New York City in November.
1903
Began designs on the Bronx Borough Courthouse.
1904
Sued Michael Garvin for stealing his design for the Bronx Borough Courthouse.
1906
First settlement with Michael Garvin.
1907
Began working for real estate development company, Windmere Land Associates.
1908
Met Alfred Stieglitz for the first time.
1911
Completed sixteen Neo-impressionist paintings.
1912
Left for Europe in April. Traveled extensively throughout Germany, France, Italy, and the Netherlands.
1913
Exhibited at the Armory Show.
1914
Published his first piece in Stieglitz's publication Camera Work.
1915
First exhibited at the 291 Gallery.
1916
Exhibited at the Anderson Galleries. Moved to Bloomfield, New Jersey.
1917
Delivered two-part lecture about modern American architecture to the New York Society of Architects. Met the art dealer Stephen Bourgeois, who began representing Bluemner in 1918.
1918
Moved with his family to Belleville, New Jersey.
1919
Participated in the "Symposium of Modern Art" at the Civic Club, New York.
1923
Moved to Newark, New Jersey.
1924
Moved to Elizabeth, New Jersey.
1926
Wife passed away. Moved to South Braintree, Massachusetts.
1932
The Whitney Museum of American Art purchased one of Bluemner's paintings for its permanent collection.
1934
Received employment from the federal government's Public Works of Art project.
1936
Employed by the Works Progress Administration.
1938
Committed suicide on January 12th.
Sotheby's 2017
Oscar Bluemner, Violet Tones, signed Florianus (lower right); also signed, titled, dated and inscribed 28 1/2 x 38 1/2 Tempera - Varnish Painting/on Paper/1934 Record #370/"Violet Tones"/Oscar F. Bluemner/102 Plain St. S. Braintree/Mass on the reverse, casein on Fabriano paper mounted on board by the artist, 28 ½ by 38 ½ inches (72.4 by 97.8 cm). Estimate $2/3 million. Photo: Sotheby's.
Violet Tones
is a rare work by Oscar Bluemner from the 1934 (estimate $2/3 million). A dynamic interpretation of a darkened street in Elizabeth, New Jersey, Violet Tones highlights Bluemner's command of color and form. His meticulous arrangement of hues, rooted in color theory, and subtle repetition of forms bring forth tremendous visual impact. Violet Tones was included in an important exhibition of Bluemner's work organized by the Whitney Museum of American Art from 2005 to 2006.
JERSEY SILK MILLS
Marking a crucial transitional point in the artist's career,
Jersey Silkmills
represents the culmination of Bluemner's earliest series of paintings, embodying the compositional and color principles he developed and perfected during his first years as an artist. Starting his career as an architect, Bluemner brings a meticulous attention to detail to his work.
NRA
$700,000 - $1,000,000

Christie's 5 DECEMBER 2013
OSCAR BLUEMNER |
Surprise (May Moon)
Estimate: $400,000-600,000
Surprise (May Moon)
was executed by Oscar Bluemner in 1927, a key moment in the artist's career, as he was experiencing an important shift in his style. Following the passing of his wife the previous year, Bluemner moved his family from Elizabeth, New Jersey, to South Braintree, Massachusetts. His artworks reflected this emotionally turbulent time and he focused on motifs of suns and moons, seeing them as symbols of God or a universal creator. Surprise (May Moon) is one of a series of eighteen extraordinary works known as Oscar Bluemner's Sun and Moon series that offer a life affirming depiction of nature and its spiritual force. Here Bluemner masterfully utilizes color to shape and stimulate mood and to convey a range of powerful emotions in a single image. These important watercolors were the successors to Georgia O'Keeffe's Evening Star series and a precursor to Arthur Dove's exploration of similar iconography in the 1930s.
Oscar Bluemner's Illusion of a Prairie, New Jersey (Red Farm at Pochuck), (estimate: $2,000,000-3,000,000), is a powerful symphony of form and color and a seminal work that was exhibited in the artist's first one-man show at Alfred Stieglitz's celebrated avant-garde gallery, "291." Painted in 1915, this masterwork is also one of the earliest, large-scale (30 x 40 in) paintings to manifest Bluemner's fully developed and highly personal visual lexicon. He masterfully employs color as expression and reduces the landscape in order to capture his emotional response to the setting. He simplifies trees, river, hills and buildings, rendering them with broad, emotive brushwork. Illusion of a Prairie, is an early triumph and a powerful, dramatic composition that manifests Bluemner's fully developed artistic vision, one that was both thoroughly unique and decisively modern.
Christie's 2006
Sotheby's April 26, 2014
Sotheby's October 2, 2014
Estimate
6,000
—
9,000
LOT SOLD.
9,375 USD
Sotheby's 2012
OSCAR BLUEMNER
MYSTIC TREE
Estimation
20,000
—
30,000
USD
Lot. Vendu
21,250
Swann 2002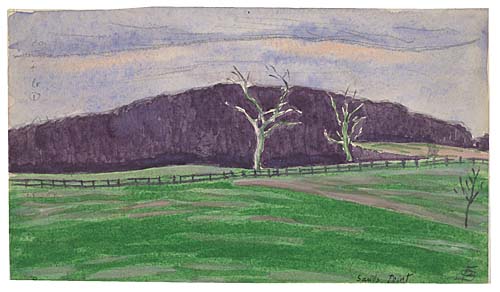 OSCAR BLUEMNER

Sands Point

Estimate $2,500 - $3,500

Price Realized (with Buyer's Premium) $3,450
Oscar Bluemner

(1867–1938)
View of Lehnenburg, Pennsylvania
Gouache on paper
5 x 7 inches
Signed and dated center left (in margin): O. Bluemner N.Y. - 14'
Oscar Florianus Bluemner
Chasta View, Irvington, New Jersey, 1922
Watercolor and pencil on paper
5 x 6 3/4 inches
12.7 x 17.1 cm
Initialed, dated, and inscribed: OB / Nov 13 -22 / Chasta View / Irvington NJ
Oscar Bluemner
(1867-1938)
Red Shack Dwelling, 1933 (detail)