By Chelsea DeLay
Born in Florence on January 12, 1856, John Singer Sargent was the son of two expatriates, Dr. Fitzwilliam Sargent and his wife Mary Newbold Singer Sargent. Sargent's nomadic upbringing resulted from his parents' constant travel throughout Europe; his early exposure to various cultures and languages instilled Sargent with a social ease that enabled him to easily form friendships. Sargent's mother placed a great importance on nurturing his premature interest in art, essentially laying the foundation for his future career as an artist when she introduced her young son to watercolors.
Sargent's early talent working with watercolors briefly led him to Florence's Accademia di Belle Arti in 1873, but after one year, the artist moved to France and enrolled at the atelier of French portrait painter Carolus-Duran, who instilled in the young painter a formal, highly-finished approach to portraiture.(1)
Almost five years passed while Sargent honed his craft under the tutelage of Carolus-Duran, but he also studied drawing for three semesters at the École des Beaux-Arts: fall 1874, spring 1875, and spring 1877.(2) Sargent's natural ability and amiable personality captured the attention of both his instructors and peers; in 1874, American painter Julian Alden Weir encountered the teenage artist and remarked, "I met this last week a young Mr. Sargent about eighteen years old and he is one of the most talented fellows I have ever come across; his drawings are like old masters, and his color is equally fine. He was born abroad and has not yet seen his country… As his principles are equal to his talents, I hope to have his friendship."(3) In 1876, the nomadic lifestyle caught up with Sargent—a twenty-year-old American who had yet to set foot within the United States—and in order to retain his American citizenship, he was required to make his first trans-Atlantic journey to America. In May of that year, Sargent traveled to America with his mother and sister Emily; their stateside visit included stops at Philadelphia's Centennial Exhibition and a trip to Niagara Falls.(4)
At this point in his career Sargent's capability as a portrait artist had been confirmed by the acceptance of
Fanny Watts
for exhibition at the 1877 Paris Salon, and his continuing success at the Paris Salon throughout the next few years brought a tide of portrait commissions from French and international customers. Sargent briefly diverted from portraiture during a trip to Venice in 1880, producing an impressive group of oil and watercolor paintings depicting enchanting scenes of the Italian city.
He soon returned to the comfort and ease of portrait painting and his best-known portrait,
Madame X (Madame Pierre Gautreau)
, reveals an integration of outside influences with his own style: her side profile is reminiscent of a Velázquez portrait and the figural treatment evokes Manet's hand, but the boundary-pushing sensuality and dress of Madame Gautreau was completely of Sargent's own making. When
Madame X
was unveiled at the 1884 Salon, it caused such a scandal among French critics that Sargent considered giving up his career as an artist. However, rather than end his career as a painter, Sargent chose instead to relocate to London where he continued to garner success as a portraitist.(5)
American interest in Sargent's work followed in the wake of
Madame X
's public reception and an influx of portrait commissions soon required the artist to make several trips to New York and Boston. In 1888, he spent half of the year in the United States painting over twenty portraits and attending his first solo exhibition at Boston's St. Botolph Club; the next year, trips to Boston, New York, and Massachusetts resulted in over forty completed portraits and an important mural commission for the Boston Public Library.(6)
These extended visits to America were separated by brief returns to England and periodic stopovers at the residence of Monet, whom Sargent is assumed to have first met in 1876 when both artists were in Paris.(7) Monet's style had a considerable impact on Sargent's career and the influence of French Impressionism on Sargent's work became evident in his use of a visibly lighter color palette, consideration of light, and looser brushwork. Dividing his time between America and Europe allowed Sargent to develop a valuable understanding of how to taper his work to the different tastes of his audiences: his European commissions were rendered in a formal, highly-finished hand that met the expectations of the Paris Salons, yet his American pieces catered to a more modern taste that challenged artistic tradition.
At the turn of the century Sargent began to feel creatively stifled and confined having limited himself to mostly portraiture; in 1907, he resolved to spend less time painting portraits and dedicate most of his artistic attention to his mural commissions.(8) Over the next several years Sargent completed murals for the Boston Public Library, the Museum of Fine Arts, Boston, and the Harry Elkins Widener Memorial Library at Harvard University.(9) After completing the murals for the Museum of Fine Arts, Sargent had planned to travel to Boston to supervise their installation, but sadly passed away three days before his departure date. Today the legacy of John Singer Sargent lives on in a myriad of esteemed international institutions including the Metropolitan Museum of Art, the Musée du Luxembourg, the Louvre, and the Tate Britain.
Chronology
1856
Born in Florence to Fitzwilliam Sargent and Mary Newbold Singer Sargent
1868–69
Studies with German-American landscape artist Carl Welsch
1870
Spends the summer touring the Tyrol with Carl Welsch
1872
Visits Switzerland and the Tyrol during the summer
1873
Enrolls in the Accademia di Belle Arti in Florence, Italy
1874
Travels to Paris in May, begins training at the atelier of French portrait artist Carolus-Duran
Passes the entrance exam at the École des Beaux-Arts
1876
Possibly meets Auguste Rodin and Claude Monet while visiting the Claude Monet exhibition in April at the Durand-Ruel Gallery
Travels to the United States in May with mother and sister
Returns to Paris in September, resumes studies at the atelier of Carolus-Duran
1877
Spends the summer on a walking tour of Switzerland with artist Carroll Beckwith
Rents a studio on rue Notre Dame des Champs with Beckwith for the Fall
Enlists with Beckwith to assist Carolus-Duran with
The Triumph of Maria de Medici,
a government-funded ceiling mural at the Palais du Luxembourg
Exhibits first work at the Paris Salon, a portrait of Fanny Watts
1878
Joins the Society of American Artists in New York and exhibits at the organization's inaugural show
1879
Exhibits at the National Academy of Design, New York, and at the Society of American Artists
1879–80
Travels to Spain and Morocco during the winter and copies works by Velázquez in the Prado
1880
Takes a summer trip with his family to Venice; meets Giovanni Boldini and James Abbott McNeill Whistler
1883
Spends the winter months with Edgar Degas, Pierre-Auguste Renoir, Alfred Sisley, Camille Pissarro, and Claude Monet.
1884
Exhibits
Madame X
, the Gautreau portrait at the Paris Salon
1885
Exhibits with Monet and other impressionist artists at the Galerie Georges-Petit in Paris
1886
Becomes a founding member of the New English Art Club in London
1887
Travels to the United States in September; completes several portrait commissions in Newport, Boston, and Rhode Island
1888
Significant exhibition of paintings held at St. Botolph's Club in Boston
1889
Made a
Chevalier
of the Légion d'Honneur
1890
Receives commission to paint murals at the Boston Public Library
1891
Elected Associate of the National Academy of Design
1894
Elected Associate of the Royal Academy
Awarded the Temple Gold Medal at the Pennsylvania Academy of the Fine Arts
1897
Elected full membership to the National Academy of Design and the Royal Academy
Made an
Officier
of the French Légion d'Honneur
1897–1900
Teaches at the Royal Academy School in London
1901
Sends several of his paintings to the Pan-American Exhibition in Buffalo, New York
1903
Installs new mural panels in the Boston Public Library
Awarded LL.D. by University of Pennsylvania
1904
Elected to the Royal Water-Colour Society
1905
Exhibits 50 works at the Carfax Gallery in London, including Madame X and Nude Egyptian Girl
1909
Awarded the Order of Merit by France and the Order of Leopold by Belgium
1913
Awarded LL.D. by Harvard University
1915
Exhibits 13 pieces at the Panama-Pacific International Exhibition, including
Madame X
1916 The Metropolitan Museum of Art purchases
Madame X
for £1,000
Awarded LL.D by Yale University and a Doctor of Arts by Harvard University
The Carnegie Institute holds an exhibition of watercolors by the artist and Winslow Homer
1918
Travels to France in June, stationed on the front lines as an official war artist
Invited to accept the Presidency of the Royal Academy, but turns the position down
1922
Installs completed murals for the Widener Library at Harvard University
1924
Major exhibition held in the spring at Grand Central Art Galleries in New York
1925
Passes away from degenerative heart disease; memorial services held at Westminster Abbey
Sotheby's 2017
JOHN SINGER SARGENT'S PORTRAIT OF HIS GODSON
John Alfred Parsons Millet
is an exceptional example of John Singer Sargent's celebrated portraiture, which earned him international renown by the 1880s (estimate $2.5/3.5 million). Depicting his godson, a member of the Millet family, who were patrons of the artist, the painting was a gift from the artist to the sitter's mother, and is inscribed to my friend Mrs. Millet. Included widely in major exhibitions, including in London, Boston, Washington, D.C., and Tokyo, the work has been off the market since 1980.
Christie's American Art on November 22, 2016
John Singer Sargent's watercolor
The Piazza; On the Verandah,
which depicts Blaney and his family, is inscribed "For my friend Dwight Blaney" (estimate: $700,000-1,000,000).
Christie's London on 16 June 2015
John Singer Sargent (1856-1925) formed an abiding love for and fascination with Venice, which informed his depictions of the mysterious floating city for over thirty years.
Gondoliers, Venice
is a vibrant and dynamic example of the Venice Sargent painted during his almost annual visits from 1898 to 1913 and serves as a window into the life and travels of one of the most celebrated artists of the 19
th
and 20
th
centuries (estimate: £120,000–180,000). The present work was dedicated to Paolo Tosti (1846–1916), Italian tenor and composer, and given to him by Sargent. It was then in the collection of Samuel Joseph.
In 1906, John Singer Sargent painted Mrs. George Mosenthal, the wife of a wealthy merchant with a vast empire in South Africa (est. $900,000/1.2 million). Though Mrs. Mosenthal did not commission this portrait – she was most likely invited to sit for Sargent after the two met at a dinner party – a portrait by the esteemed artist would have been an ideal asset to her well-appointed home and a mark of her place in the upper echelons of British society. The elegant trappings of her portrait, such as the fashionable evening gown, jeweled ring and diamond hairpin, reveal the artist's interest in presenting his affluent subjects as reflections of the rarefied world of London's elite.
SOTHEBY'S MAY 201

5
The May auction features a selection of four beautiful

works on paper by John Singer Sargent that document

the extensive travels for which he is well-known. The

group is led by
The Giudecca (A Summer Day on the

Giudecca, Venice) (estimate $600/800,000),
which has not been exhibited publicly for more than a

century, having last been on view in 1908 at the New

English Art Club in London.
Mrs. Ralph Curtis with her

Daughter, Sylvia depicts the mother and daughter on the terrace of the Villa Amicilia in Villa

Amicitia in Beaulieu-sur-Mer in the South of France (estimate $300/500,000). Mrs. Curtis's father- in-law, Daniel Curtis, was Sargent's cousin, and Sylvia was the artist's goddaughter. The work's

inscription indicates that Sargent gift ed the watercolor to Daniel's wife.
Sotheby's NOVEMBER 30, 2005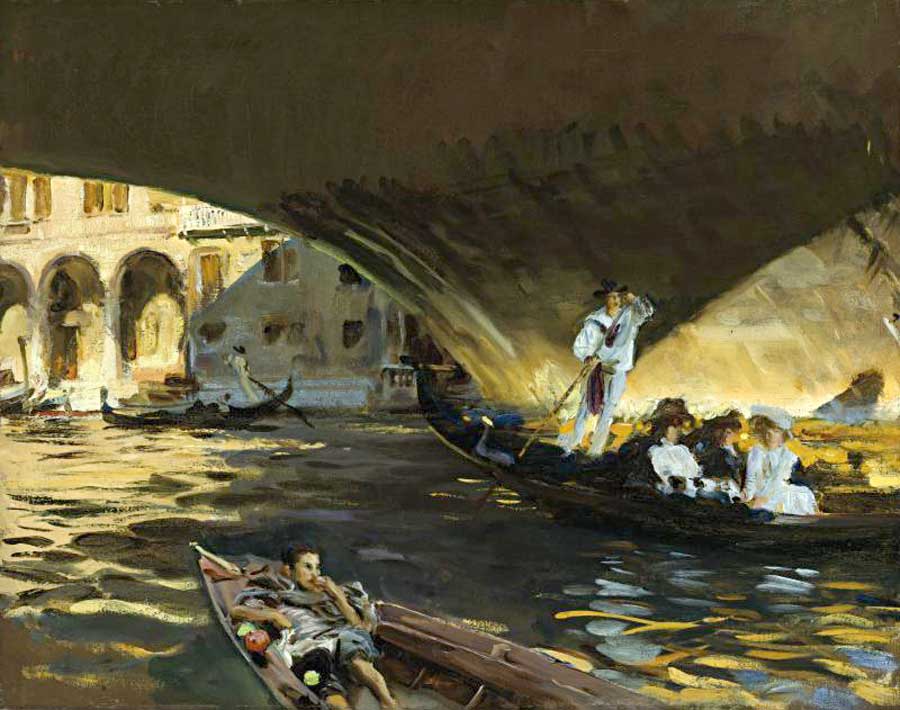 John Singer Sargent's The Rialto, an oil on canvas painted circa1909 (est. $3/4 million). By 1909 Sargent had stopped accepting portrait commissions, turning his focus to the picturesque European scenery and his intimate group of friends and relatives. In the present work, the artist chose an unusual angle from which to depict the Rialto bridge, orienting the viewer's perspective from below the Venetian landmark as if from a passing gondola. The Rialto is closely related to a watercolor of the same subject at the Museum of Fine Arts, Boston, and an oil painting at the Philadelphia Museum of Art.
Hailing directly from a descendant of the sitter, John Singer Sargent's

Mrs. William George Raphael

(

illustrated left

; estimate: $4,000,000-6,000,000) was painted in London in 1906 at the height of Sargent's unparalleled level of success and when he had reached a mastery of his craft.

Mrs. William George Raphael

is a grandiose and engaging painting that is a masterwork of Sargent's later portraits. Following Sargent's enormous success in the United Kingdom and the United States by 1900, the artist had gained international celebrity and his clientele expanded upward from the high bourgeoisie to the aristocratic who now sought to have their image captured by the top portraitist of the Gilded Age. As is typical in Sargent's best portraits,

Mrs. William George Raphael

conveys the sitter's character as a forceful presence, combined with a quality of elegance and social ease.
Christie's, December 5, 2013
JOHN SINGER SARGENT (1856-1925)
Estimate

$500,000 - $700,000
Price Realized

$605,000
John Singer Sargent's Spanish Convalescent (estimate: $500,000-700,000). is a watercolor and pencil on paper that is part of a series of seven works likely created during a productive trip the artist made through Portugal and Spain in the summer of 1903. The series depicted recuperating Spanish soldiers in the Hospital Real (Royal Hospital), who may have been veterans that had returned from the Spanish-American War. Their embodiment of both strength and vulnerability is likely what piqued Sargent's interest in employing them as subjects. One of the most celebrated watercolorists of his generation, Sargent painted with a technique that emphasized his rich color and bravura brushwork. His great gift, as embodied by Spanish Convalescent, was sprezzatura, the ability to imbue his works with the sense effortlessness despite the considerable skill and exertion that was necessary for such advanced compositions.
Estimate 200,000 — 300,000 USD
CHRISTIE'S NOVEMBER 30, 2011
JOHN SINGER SARGENT (1856-1925)
The Piazzetta with Gondolas

Estimate: $600,000 – 800,000
John Singer Sargent formed an abiding love for and fascination with Venice's engaging contradictions, which informed his depictions of the mysterious floating city for over thirty years. The Piazzetta with Gondolas, executed circa 1902-04, is a vibrant and dynamic example of his Venice paintings from his nearly annual visits from 1898 to 1913. Sargent was less interested in transcribing Venice's fabled vistas and panoramic views, preferring instead more intimate examinations of the canals. In order to view Venice from this new vantage point, Sargent set out in gondolas to approach the city from the water, capturing the vivid imagery in dazzling watercolor tones. These watercolors, such as The Piazzetta with Gondolas, have the effect of a snapshot, echoing contemporary photography with their cropped, close-up views, tilted perspective and fluctuating angles. The watercolor is in pristine condition, having been kept in the Sargent family through a gift to the artist's sister and by descent to the present owner.

CHRISTIE'S MAY 18, 2011



Renowned for his portraits, Sargent's most innovative works were completed outside his studio, during his travels to the European countryside when he felt most inspired and at ease. During his stays in the Alps in the summers of 1900 to 1914, Sargent produced a body of watercolors celebrated for their freedom, intimacy and modernity. Painted during his August 1912 visit to the resort of Abriès in the French Alps, Ladies in the Shade is exemplary of Sargent's work from this period and demonstrates the artist at the height of his abilities. This work was originally offered for sale in 1925 at Christie's London as part of the sale of the artist's estate and studio. It was purchased by the Widener family of Philadelphia and has descended within the family collection since.

Sotheby's October 3, 2013



JOHN SINGER SARGENT

PORTRAIT OF MRS. MABEL HUNT SLATER

L

OT SOLD.

25,000

Christie's

2015

Christie's

2014




Christie's

2012
Questroyal Fine Art, LLC, New York, New York
John Singer Sargent

(1856–1925)


Charles Alexander Giron

,

ca. 1884




Oil on canvas




25½ x 19⅝ inches


Inscribed and signed upper left: à mon ami Giron John S. Sargent