Christie's New York, May 21, 2015
Two Puritans
by Edward Hopper (1882-1967).
Painted in 1945 at the height of Hopper's career,
Two Puritans,
one of only three canvases by the artist of that year and the only one in private hands
,
is estimated to bring in excess of $20 million when it appears at auction for the first time this spring. The painting has been included in nearly every major exhibition and publication on the artist and, most recently was on view in Paris at the Grand Palais, where the Hopper exhibition broke attendance records, proving that the artist has arrived on an international stage.
Hopper's
oeuvre
is defined by what is at first glance a seemingly mundane, American subject yet in each canvas, and perhaps most poignantly in
Two Puritans
, a complex psychological subtext lies just beneath the surface, betraying the simplicity of the scene. The frisson created in this disconnect between subject and meaning defines his best work and imbues his compositions with an almost haunting permanence, leaving an indelible mark on the mind's eye. This ability to distill time, to freeze a single moment in perpetuity, cemented his legacy and inspired future generations of artists.
Edward Hopper's choice and earnest representation of commonplace subject matter in works such as
Two Puritans
set the artist apart from his contemporaries and allowed him to create a new and uniquely American iconography. In
Two Puritans
and throughout his career, Hopper painted aspects of America that few other artists addressed. He portrayed unromantic visions of life in a broad and increasingly modern style. While Hopper's paintings have formal qualities in common with other Modernists, his art remained steadfastly realist.
RAILROAD EMBANKMENT
$1,200,000 - $1,800,000

Railroad Embankment is a superb example of Hopper's Cape Cod work and demonstrates the artist's mastery of the watercolor medium and his celebrated ability to create hauntingly beautiful and poignant scenes from his everyday surroundings. This set Hopper apart from his contemporaries and allowed him to create a new and uniquely American iconography. In Railroad Embankment, Hopper captures the drama he saw in the effects of light on the rolling landscape and modest architecture of Cape Cod, and elevates his subject to a commentary on mid-century American life. Here, Hopper depicts an actual building, yet renders the scene in such an anonymous fashion so as to make it feel foreign, creating the tension and anticipation that are characteristic of his best works.
Sotheby's November 10 2014
Edward Hopper
Coast Guard Cove
Following the purchase of his first car, Hopper created
Coast Guard Cove
during his second visit to the village of Two Lights in Cape Elizabeth, Maine in 1929 (est. $1/1.5 million). The majority of the works Hopper completed during this period were executed in watercolor, a medium that allowed him to accurately capture the fleeting qualities of light and shadow on this unique environment.
CHRISTIE'S

22 MAY 2014
Coast Guard Boat I'
s detail and emphasis on light, embodies Edward Hopper's aesthetic from the summer of 1929, as the majority of his work from the period was in watercolor (
\
estimate: $1,000,000-1,500,000). Hopper preferred to use watercolor for his New England works as this medium was conducive to working
en plein air
and provided him a freedom not afforded by oil paint. As is the case with
Coast Guard Boat I,
Hopper often used water in his work as a means of introducing an element of motion into a scene that is otherwise dominated by stillness. The beauty of
Coast Guard Boat I
lies in the contradiction between weightlessness and heft, motion and stillness. This tension is echoed by the ropes, which tether the boat to the shore. At once wanting to be of the sea yet firmly harnessed creates a sense of restlessness and even agitation to the otherwise serene, idyllic image.
Leading the sale was Edward Hopper's magnificent, large-scale painting Blackwell's Island (estimate: $15,000,000-20,000,000). The work, which has never been offered at auction, has been exhibited at renowned institutions, such as The Museum of Modern Art, The Whitney Museum of American Art, the Museum of Fine Arts in Boston, and Pittsburgh's Carnegie Institute. More recently, Blackwell's Island was included in the first major retrospective of the artist's work at the Grand Palais in Paris from October 2012 through February 2013. An impressive five feet wide, the work was painted in 1928 and depicts what is now known as Roosevelt Island. A native of Nyack, Edward Hopper was drawn to the New York's East River and used the banks and bridges as his subject several times between 1911 and 1935.
Also by Edward Hopper is Kelly Jenness House (estimate: $2,000,000-3,000,000), one of the eight watercolors the artist executed in 1932. Painted in Hopper's signature style, the work presents a view of a Cape Cod House as one would glimpse the scene from the window of a passing car. The sense of distance and detachment in Kelly Jenness House places the painting among Hopper's finest works.
The sale was led by Edward Hopper's October on Cape Cod, which presents a view of a house and small barn from across a deserted road, permeated by profound silence and stillness (pictured page 2, upper left; estimate: $8,000,000-12,000,000). Gone is the clear blue, summer sky, replaced by the subtle, gray-tinged autumn light. The artist frequently drove around the Cape in search of subject matter, often drawing and painting from his car, a practice that he undertook in various locations throughout his career as far away as the Oregon coast. This imbues his works with a sense of distance, often making the viewer feel like a voyeur, rather than a participant in the scene. Executed in 1946, this work is one of only a few of Hopper's paintings that have remained in private hands.
Sotheby's May 17, 2012
Set in New York City's Central Park, Bridle Path masterfully exemplifies Edward Hopper's fascination with the mysterious. He imbues the image with his characteristic sense of anxiety and tension, as the three riders move toward an ominous black void under the Riftstone Arch, also magnified by the agitated stance of the white horse. The equestrian subject and focus on movement are highly unusual in Hopper's oeuvre, but the composition's sense of mystery is pure Hopper. The painting is further distinguished by its depiction of an identifiable location, with the city's infamous Dakota building in the background - a departure from Hopper's many ambiguous and universal settings.
The artist featured New York in a small number of additional works that he completed in the city - this group includes New York Movie, finished four months prior to the present work, which is currently in the collection of the Museum of Modern Art in New York. Bridle Path is on offer from the San Francisco Museum of Modern Art, and is being sold to benefit the acquisitions program
Christie's 5 DECEMBER 2013
EDWARD HOPPER | East Wind Over Weehawken
Estimate: $22,000,000-28,000,000
As the star lot of the sale, Christie's will offer East Wind Over Weehawken by Edward Hopper (1882-1967), a 1934 streetscape of a New Jersey suburb (illustrated page 1). The work was created shortly after Hopper's fall 1933 retrospective at the Museum of Modern Art in New York, at a pivotal moment in the artist's career. With his studio based in New York City, Hopper would occasionally travel across the Hudson River to New Jersey in search of subject matter. He carried out eight preparatory sketches of the sleepy suburb of New York, along with extensive notes about color in the area, which all contributed to the finished streetscape. The perspective is as if one is looking through a car window, having come to an intersection in the residential neighborhood. The work, which sought to capture the realities of Depression-era America, is permeated by a sense of melancholy and loneliness, underscored by the gray sky and brooding colors of the buildings. This, combined with the sense of suspended narrative, is what differentiated Hopper from his Ashcan School contemporaries.
This painting hails from the prestigious collection of the Pennsylvania Academy of the Fine Arts (PAFA) and has not been on the market since having been acquired by PAFA in 1952. Since its creation, the painting has been exhibited at such renowned institutions as the Whitney Museum of American Art, the Corcoran Gallery of Art, the Art Institute of Chicago, São Paulo's Museum of Modern Art, the Museo Thyssen-Bornemisza in Madrid and the Grand Palais in Paris. As announced by PAFA, proceeds from the sale of East Wind Over Weehawken will be used to support the creation of a new endowment for the purchase of artworks to expand the renowned collection of the museum and school.
Sotheby's May 21, 2014
EDWARD HOPPER
1882 - 1967
Estimate
300,000
—
500,000
USD
LOT SOLD.
1,085,000
SOTHEBY'S DEC 4 2013
Estimate
2,000,000 — 3,000,000
EDWARD HOPPER
1882 - 1967
Estimate
300,000
—
500,000
LOT SOLD.
305,000 USD
Sotheby's May 21, 2011
Sotheby's October 30, 2014
NIGHT IN THE PARK (Z. 20)
LOT SOLD.
68,750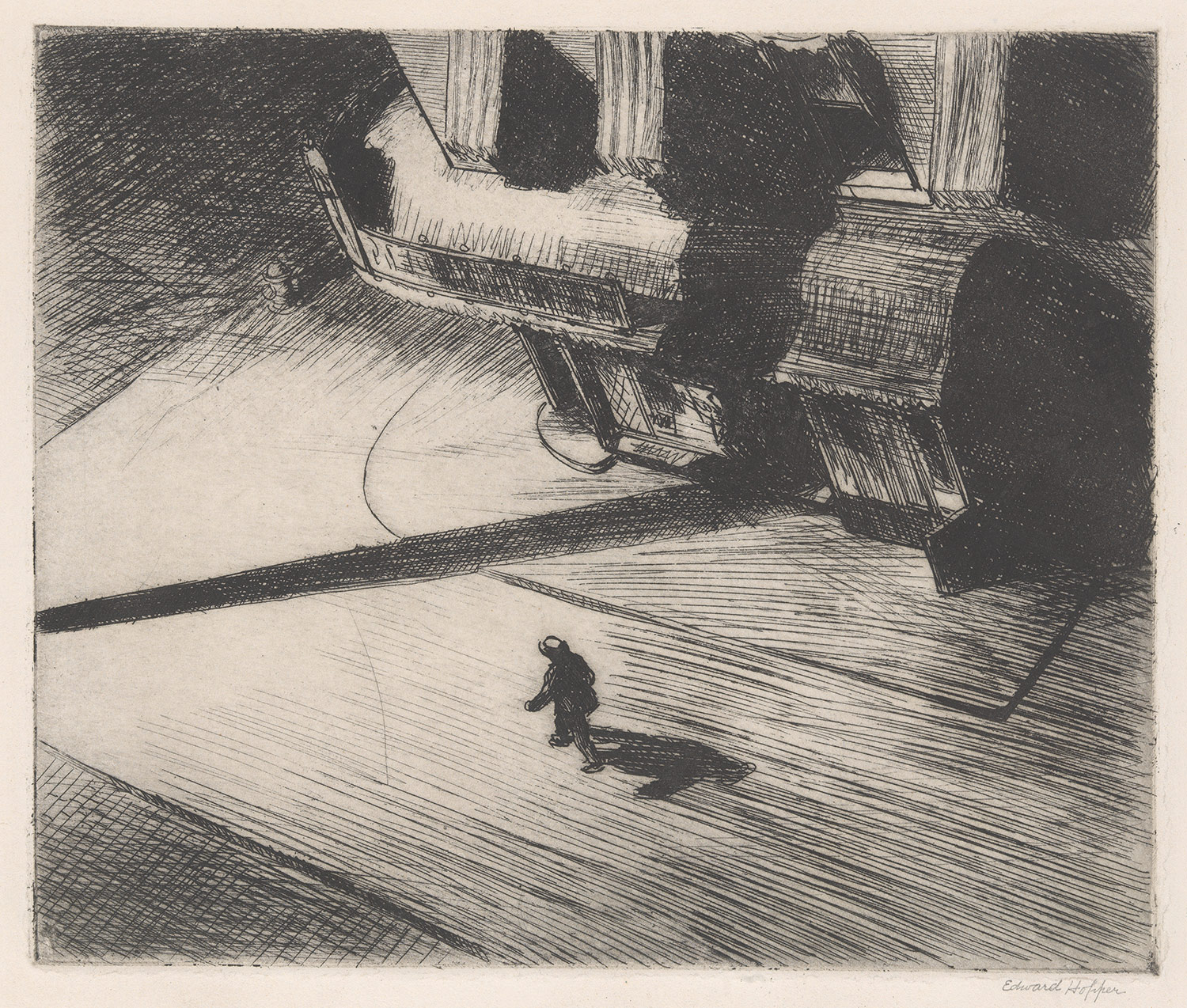 Estimate
20,000
—
30,000
USD
LOT SOLD.
31,250
A CORNER (ZIGROSSER 5)
LOT SOLD.
40,625
THE BAY WINDOW (Z. 34)
Christie's 2004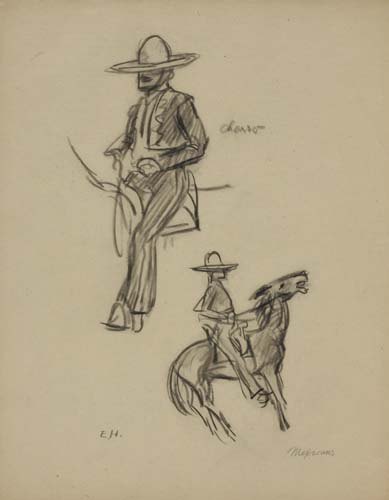 EDWARD HOPPER

Mexicans (Charro)

Estimate $5,000 - $8,000

Price Realized (with Buyer's Premium) $9,775