Fries Museum in the Netherlands
since October 2016
Belvedere, Vienna
February 22 to June 18, 2017
Leighton House Museum, London
7 July - 29 October 2017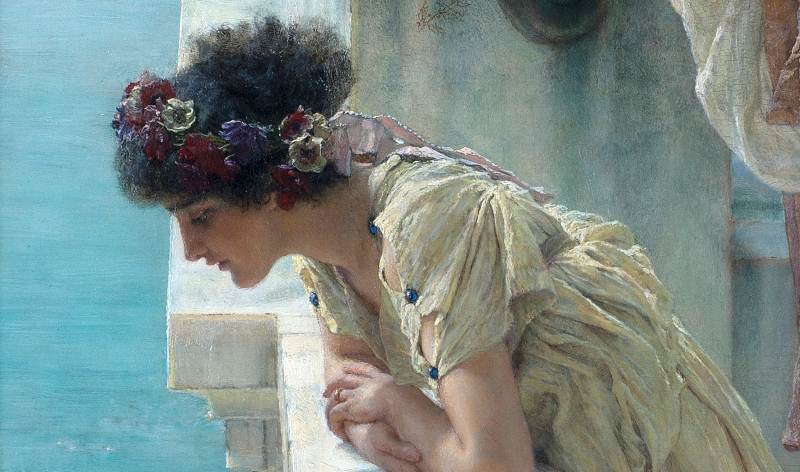 Sir Lawrence Alma-Tadema, A Coign of Vantage, 1895 (detail). Collection of Ann and Gordon Getty
#almatadema
Alma-Tadema: At Home in Antiquity (7 July – 29 October 2017)
explores Lawrence Alma-Tadema's fascination with the representation of domestic life in antiquity and how this interest related to his own domestic circumstances expressed through the two remarkable studio-houses that he created in St John's Wood together with his wife Laura and daughters. Born in the north of the Netherlands, the exhibition traces his early training and move to London in 1870 where he established a hugely successful career at the heart of the artistic establishment. His work fixed ideas in the popular imagination of what life in the ancient past 'looked like' – ideas and images that were taken to the stage, film and that remain with us today. The exhibition includes important works by Tadema himself, his wife Laura and daughter Anna with loans coming from public and private collections internationally.
At Home in Antiquity
finds a perfect setting in Leighton's own studio-house, interiors known to the Alma-Tademas as frequent callers and includes
In My Studio
presented by Alma-Tadema to Leighton as a token of his esteem and now in a private collection.
Leighton House Museum is the former home of the Victorian artist Frederic, Lord Leighton (1830-1896). The only purpose-built studio-house open to the public in the United Kingdom, it is one of the most remarkable buildings of the nineteenth century, containing a fascinating collection of paintings and sculpture by Leighton and his contemporaries.
Alma-Tadema: At Home in Antiquity
is organised by the
Fries Museum
, Leeuwarden, the Netherlands (the artist's home town) and comes to London following exhibition at the
Belvedere
, Vienna bringing over 100 works to Leighton House Museum as the only UK venue for the show.
Victorian England was where Dutchman Lawrence Alma-Tadema developed into a celebrated artist. His sensual representations of everyday scenes from antiquity made him famous beyond the borders of Great Britain. The artist and his works will be honored with a solo exhibition in the Lower Belvedere from February 22 to June 18, 2017. The works presented have been on show at the Fries Museum in the Netherlands since October 2016.

Born and raised in Friesland, Alma-Tadema received his education in Belgium before immigrating to London in 1870. He lived there with his two daughters from his first marriage and his second wife, Laura Theresa Epps, who was also an artist. The family's furnished studio houses were of central importance to him. The couple collected materials, objects, and furniture from different centuries and cultures – both originals and copies. Many of these objects can be found in Alma-Tadema's paintings. Fascinated by antiquity, Alma-Tadema brought to life quotidian scenes from ancient Rome, Pompeii, and Egypt in his works. Meticulous studies of ancient objects and structures contributed to the appeal and credibility of his representations. His masterful rendering of materiality, his innovative approach to the portrayal of space, and the distinct narrative element of his paintings inspired his contemporaries and made him one of the most sought-after and expensive artists of his time. His compositions shaped the way people imagined life during antiquity and inspired the costume designs and set concepts for epic historical film productions such as Quo Vadis? by Enrico Guazzoni (1913) and Ridley Scott's Gladiator (2000).

With major works from all over the world, the exhibition gives insight into the artist's life and work and invites one and all to dive into the decadent world of English aestheticism.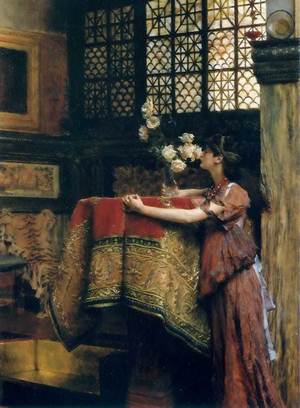 Sir Lawrence Alma-Tadema,
In My Studio,
1893
Sir Lawrence Alma-Tadema,
A Coign of Vantage,
1895