The Metropolitan Museum of Art,
July 3, 2017–January 2, 2018
The artist Frederic Remington (1861–1909)—chronicler par excellence of the American West—has long been celebrated for his achievements as an illustrator, a painter, a sculptor, and a writer. Opening July 3 at The Metropolitan Museum of Art, the exhibition
Frederic Remington at The Met
will present the artist's legacy through some 20 paintings, sculptures, works on paper, and illustrated books from the late 1880s until his death.
Although he lived and worked on the East Coast, Remington traveled extensively. His insightful depictions of trappers, Native Americans, cavalry, scouts, and, above all, his archetypal cowboys are some of the most iconic images of the Old West. The works that will be on view come primarily from The Met's singular collection, including several sculptures purchased directly from the artist. Drawings related to Remington's illustration work, on loan from The Rockwell Museum and the Frederic Remington Art Museum, will also be shown. Through juxtaposing works representative of each area of endeavor, the exhibition will highlight the unifying threads in the artist's creative process.
Frederic Sackrider Remington was just 20 years old when he undertook his first trip to the western states and territories in 1881. His earliest published sketch—of a Wyoming cowboy—was printed in the eminent pictorial magazine Harper's Weekly the following year. Over the next quarter century, Remington's illustrations appeared in 41 periodicals; he illustrated books by such noted authors as Henry Wadsworth Longfellow, Owen Wister, and Theodore Roosevelt;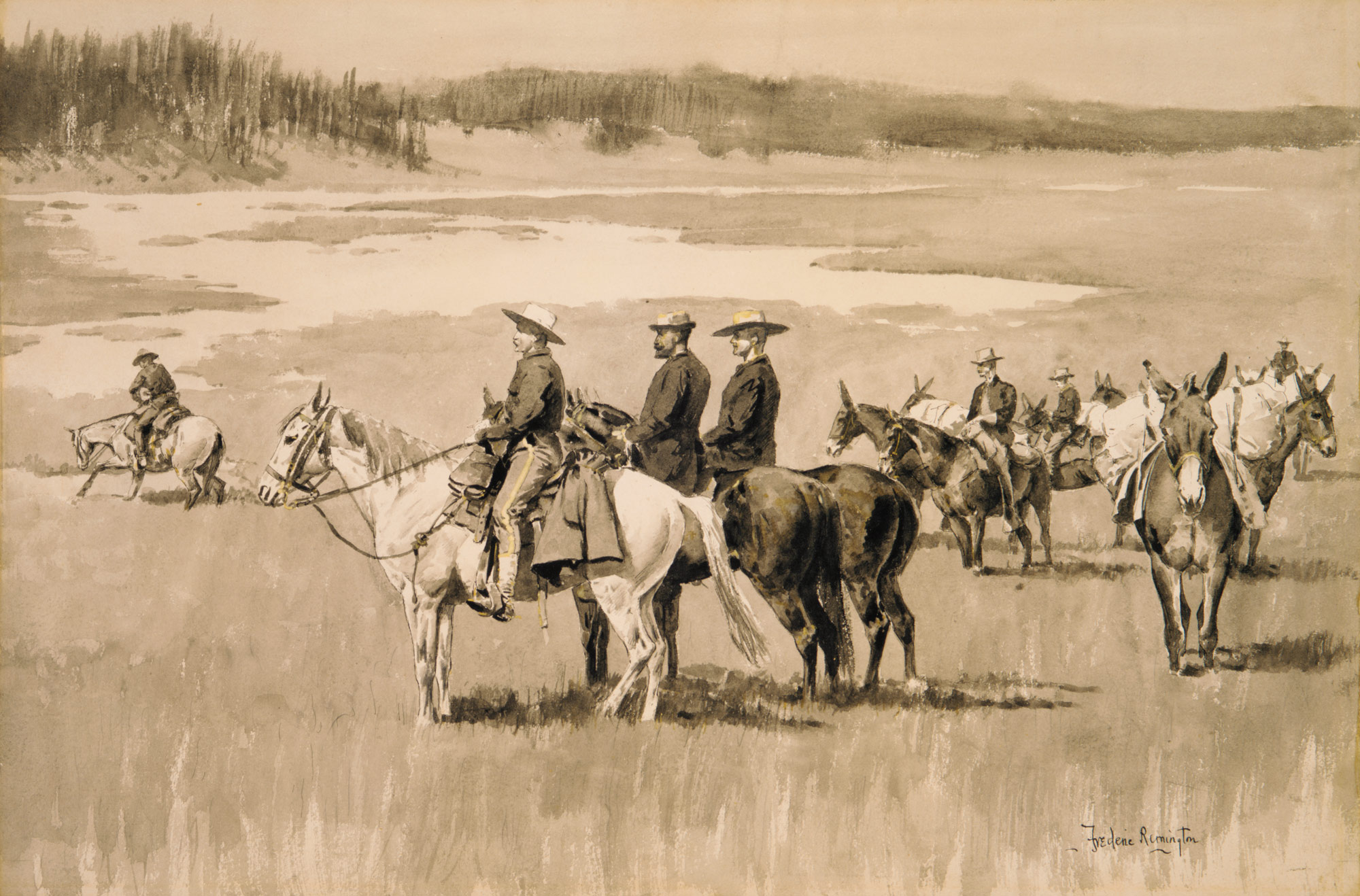 Burgess Finding a Ford (illustration from Frederic Remington's Pony Tracks, 1895)
and he wrote and illustrated his own books and articles.
In addition, during the Spanish-American War, Remington served as a foreign correspondent in Cuba, producing not only writings, but illustrations and paintings.
Having attained early recognition for his talent as an illustrator, Remington nonetheless still sought—and during the 1890s gained—critical and commercial recognition as a painter. After the turn of the 20th century, he produced evocative paintings that experimented with impressionistic brushwork and light effects, as evident in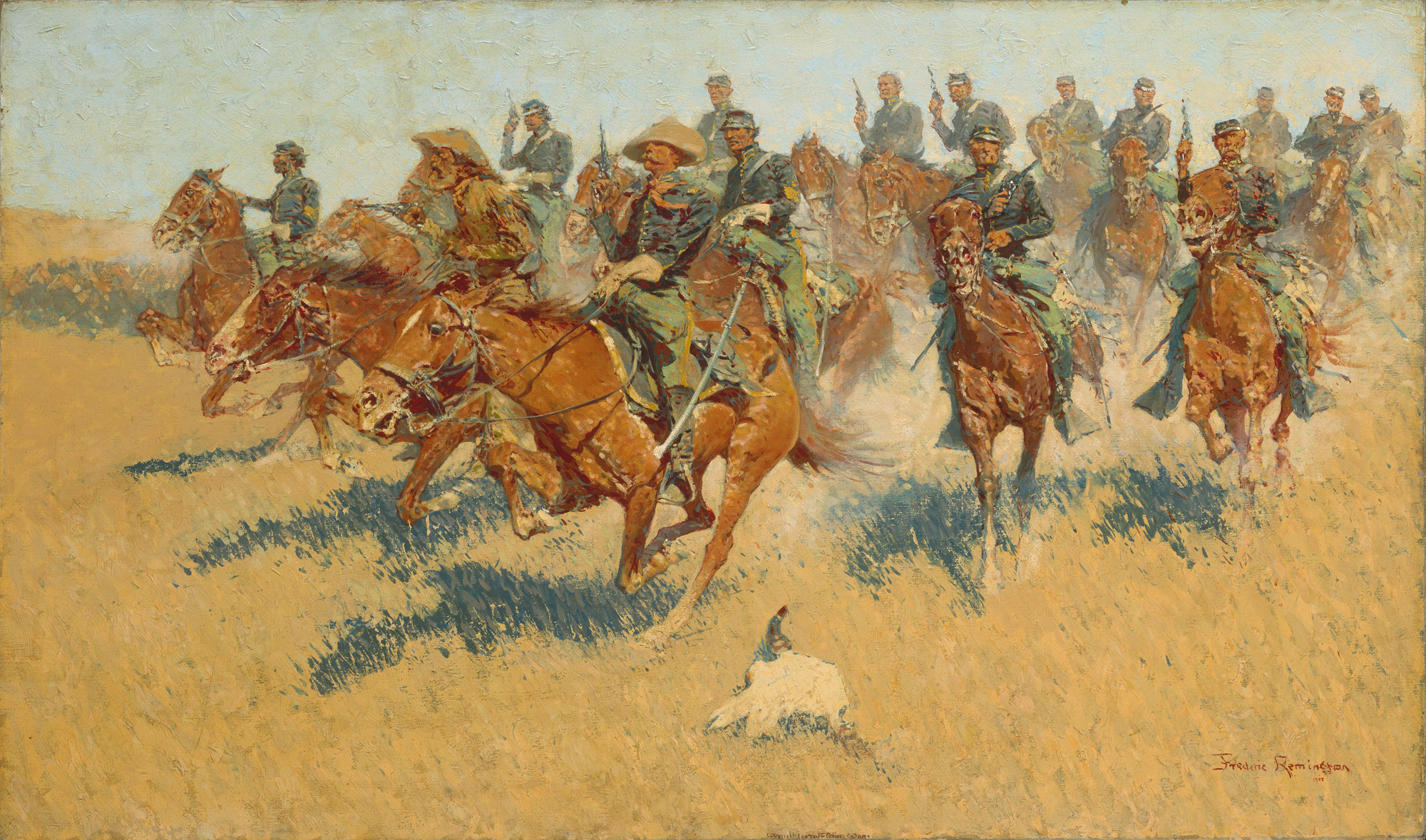 On the Southern Plains,
presented to The Met in 1911.
An informal introduction to the basics of clay modeling led Remington to create some of the most memorable sculptural depictions of the American West, beginning in 1895 with his first effort, The Broncho Buster, a cowboy astride a bucking horse. Delighting in experimentation, Remington accomplished seemingly impossible technical feats and textural effects in his bronze statuettes, which were eagerly collected both during and after his lifetime.
The exhibition is organized by Thayer Tolles, the Marica F. Vilcek Curator of American Painting and Sculpture, The American Wing.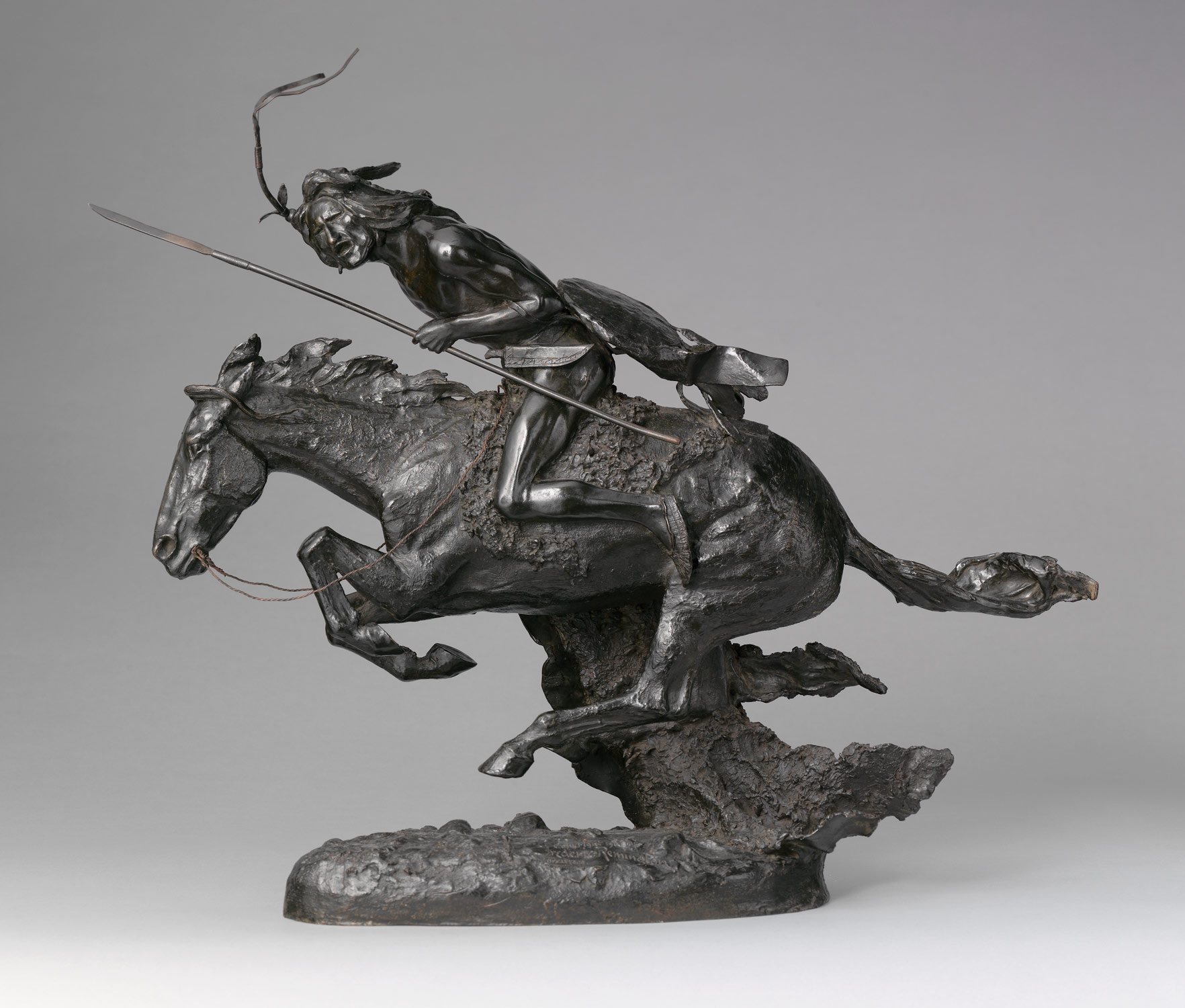 Additional paintings and sculpture by Remington are on view in the permanent-collection installation, The West, 1860–1920, in The Joan Whitney Payson Galleries, Gallery 765, located on the American Wing's second floor.