This spring the
Brandywine River Museum of Art
in Chadds Ford, Penn., will present
American Beauty: Highlights from the Richard M. Scaife Bequest
, featuring the finest works from the bequest of Mr. Scaife—who left his impressive art collection to the Brandywine and the Westmoreland Museum of American Art following his death in 2014. Co-organized by the Brandywine and Westmoreland,
American Beauty
features 50 paintings—a top selection of 25 from each museum's holdings—celebrating Scaife's passion for the rich traditions of American art. The exhibition will be on view
March 9 through May 27, 2019 at the Brandywine.
A long-time trustee of the Brandywine—as well as a newspaper publisher and philanthropist—Scaife was also a passionate collector of American art. He bequeathed his entire art collection to the Brandywine and Westmoreland, specifying that it be divided evenly between the museums with each taking turns to make their selection. This exhibition provides the first opportunity for the public to see the finest paintings from the Scaife collection.
For the Brandywine, Scaife's gift added significant depth to its landscape holdings, introducing extraordinary works by Martin Johnson Heade, John Frederick Kensett and Albert Bierstadt, as well as American Impressionist paintings by Theodore Robinson and Julian Alden Weir. Westmoreland's collection was similarly enriched, including a stunning landscape by George Inness along with several marine paintings and elegant figurative works by artists such as William Merritt Chase and Guy Pène du Bois. Together, these paintings present a fascinating glimpse of one man's vision and an overview of the evolution of American art in the nineteenth and early twentieth centuries.
"The Richard M. Scaife bequest was a watershed moment in the history of the Brandywine River Museum of Art," said Thomas Padon, The James H. Duff Director of the Brandywine River Museum of Art. "The works of art selected from Mr. Scaife's collection bolstered and broadened the Brandywine's holdings and its connection to the American landscape tradition."
"We are delighted to be working in partnership with the Brandywine for this exhibition," commented Anne Kraybill, Richard M. Scaife Director/CEO of The Westmoreland Museum of American Art. "We are very thankful that Mr. Scaife left these works in trust to our museums to preserve for future generations to enjoy."
During his lifetime, Scaife surrounded himself with works of art at his two homes in Pittsburgh and Ligonier, Pennsylvania, as well as those in Pebble Beach, California and Nantucket, Massachusetts. In California and Massachusetts, he tended to collect the work of artists showing scenes of these locales. This was especially the case in Nantucket where he surrounded himself with nautical subject matter by both historical and contemporary artists. A broader selection of American art could be found at his two southwestern Pennsylvania homes, as well a handful of regional artists. Examples from all four of his residences are featured in this exhibition.
Mr. Scaife believed in art's power to enrich our existence and its ability to help us better understand the world and the issues facing us. Through his bequest, these works of art, once enjoyed privately in domestic settings, have become part of the public realm. As he wrote toward the end of his life: "Beautiful art—paintings, music, literature, whatever—can transform our moods, lighten our hearts, make us think or change our minds, inspire us to be creative or live better lives."
Theodore Robinson,
Yacht Club Basin, Cos Cob Harbor
, 1894, oil on wood panel, 10 × 13 1/2 in. Brandywine River Museum of Art. Richard M. Scaife Bequest, 2015
Guy Pène du Bois,
The Appraisal,
ca. 1946, oil on canvas, 30 1/4 × 20 1/2 in. Brandywine River Museum of Art. Richard M. Scaife Bequest, 2015. © Estate of Yvonne Pène du Bois McKenney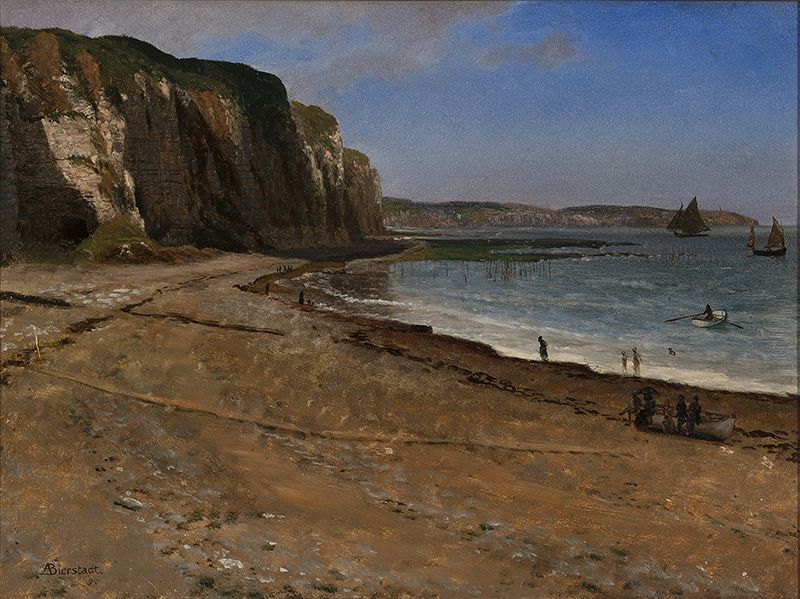 Albert Bierstadt (1830-1902),
Coast of California,
n.d., Oil on paper mounted to canvas, 14 x 19 inches, Brandywine River Museum, Richard M. Scaife Bequest, 2015, 2016.11.2
John La Farge,
Fountain in Our Garden at Nikko,
1886, oil on wood panel, 11 3/4 × 9 3/4 in. Brandywine River Museum of Art. Richard M. Scaife Bequest, 2015
George Inness, Moonrise, Alexandria Bay, 1891, oil on canvas, 30 ¼ x 45 ¼ in. Westmoreland Museum of American Art. Bequest of Richard M. Scaife, 2015