George Washington University Museum and the Textile Museum
February 13 - April 29, 2019
Seventy-eight years after President Franklin D. Roosevelt's famous State of the Union address inspired artist Norman Rockwell to create his iconic "Four Freedoms" series of paintings, the works of art will be on display in the nation's capital as part of
a seven-city international tour
. "
Enduring Ideals: Rockwell, Roosevelt & the Four Freedoms
" opened Wednesday at the
George Washington University Museum and the Textile Museum and will be on view through April 29.
"Enduring Ideals" is the first comprehensive traveling exhibition devoted to Mr. Rockwell's depictions of Mr. Roosevelt's Four Freedoms—freedom of speech, freedom of worship, freedom from want and freedom from fear—and is a rare opportunity to see these masterpieces together outside their permanent home in Stockbridge, Massachusetts.
The exhibition, organized by the Norman Rockwell Museum, takes visitors on a journey from Mr. Roosevelt's speech to wartime paintings and posters to Mr. Rockwell's poignant later artworks that addressed social issues such as civil rights and the Vietnam War.
The exhibition will continue to Memorial de Caen in Normandy, France, to coincide with the 75th anniversary of D-Day on June 6, 2019; the Museum of Fine Arts, Houston, in December; and the Norman Rockwell Museum in Stockbridge, Mass., in the fall of 2020.
The exhibition also includes works by contemporary artists offering fresh takes on freedom. Maurice "Pops" Peterson's "Freedom from What?" depicts a modern day African American couple putting their children to bed while looking over their shoulders for possible threats from the outside world. Bri Hermanson's "To Have and To Hold" shows two women in a loving embrace in a nod to marriage equality. Gary Bist's painting "Refugee Families in Winter" reflects on the many refugees who risk their lives in pursuit of safety, security and freedom.
The exhibition comes to the museum through a collaboration with the Albert H. Small Center for National Capitol Area Studies, which is dedicated to research on Washington as a center of government and the values that informed its development.
"Freedom of speech and worship, freedom from fear and want are ideals as powerful today as they were for Americans who fought in World War II," museum director John Wetenhall said. "At a time and in a federal city where the true meaning of these values has become contested in the world of partisan and identity politics, it behooves us all to reflect back to when these very freedoms were in peril – ideals so powerfully embodied in Rockwell's unforgettable icons."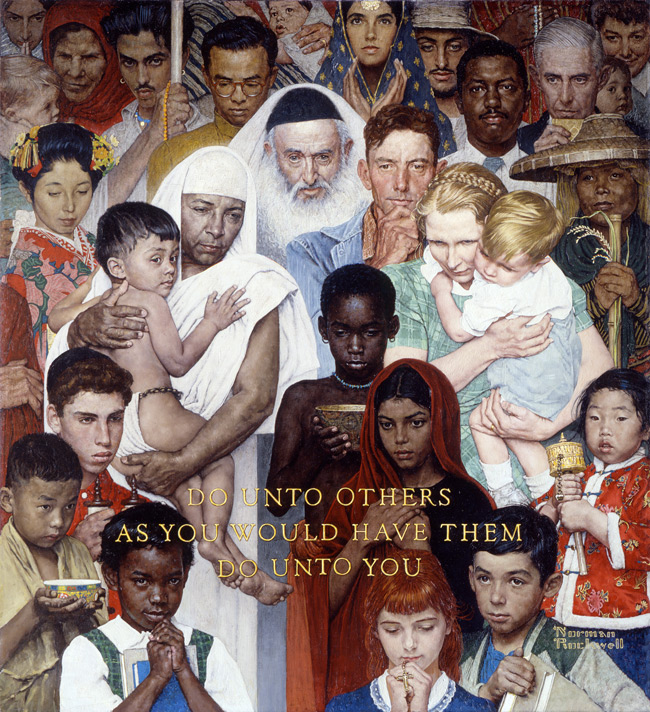 Enduring Ideals
illuminates both the historic context in which FDR articulated the Four Freedoms—Freedom of Speech, Freedom of Worship, Freedom from Want, and Freedom from Fear—and the role of Rockwell's paintings in bringing them to life for millions of people, rallying the public behind the War effort and changing the tenor of the times. In telling the story of how Rockwell's works were transformed from a series of paintings into a national movement, the exhibition also demonstrates the power of illustration to communicate ideas and inspire change.
In addition to his celebrated paintings of the Four Freedoms, the exhibition brings together numerous other examples of painting, illustration, and more, by both Rockwell and a broad range of his contemporaries―from J.C. Leyendecker and Mead Schaeffer, to Ben Shahn, Dorothea Lange, and Gordon Parks, among others―as well as historical documents, photographs, videos, and artifacts; interactive digital displays; and immersive settings. While exploring the response of an earlier generation to the plea for defense of universal freedoms, the exhibition also resonates with our own time.
The catalogue
features essays by exhibition co-curators Stephanie Haboush Plunkett and James Kimble, by Laurie Norton Moffat, Director of the Norman Rockwell Museum, and by other contributors, including activist Ruby Bridges, artist and granddaughter of Norman Rockwell, Daisy Rockwell, and Ambassador William vanden Heuvel.