In March of 1933, many of the banks in America were closed. The country was gripped by an economic depression and the emotional climate of the American people was also at an all time low. Art dealer Reeves Lewenthal chose this time in history to form the Associated American Artists organization.
The cover of Associated American Artists' (AAA) inaugural catalogue of prints, issued in October 1935, boldly and succinctly declared the corporation's primary objective: "Bringing American Art to Americans." Implicit in this statement were two important notions: 1) Collecting and appreciating serious art was now within reach of middle-class America and no longer the exclusive domain of the well-heeled; and, 2) Americans should collect American art. Promoting an egalitarian culture of art collecting was a marketing strategy that positioned AAA outside the dominant, traditional gallery system and capitalized on the period's popular perceptions of art galleries, dealers, and collectors. In the minds of many middle-class Americans the art world was elitist and peopled with blue-blooded connoisseurs and purveyors of the esoteric and rarefied. Associated American Artists craftily played on these prevailing sentiments, giving rise to a significant new class of collectors and creating a highly lucrative art merchandising machine.
Though the corporation's name suggests otherwise, Associated American Artists was the brainchild and operation of Reeves Lewenthal (1910-1987), a twenty-three year old former publicist and entrepreneurial wunderkind. In July of 1934, Lewenthal gathered a group of twenty-three artists in Thomas Hart Benton's New York City studio and pitched his proposal. He would pay the artists a flat fee of $200 to create a print, and they would produce the stone or plate from which the image would be printed. Lewenthal would be responsible for the printing, marketing, and distribution of the prints, which would be produced in editions of 250 and sold for five dollars each, initially in large department stores and later through mail order.
On October 15, 1934, amid a blitz of newspaper and magazine advertising, Lewenthal launched his vision in fifty American cities, where department store shoppers could view and purchase AAA's five-dollar prints. The response was overwhelmingly positive, and Lewenthal's efforts widely praised. Though AAA's ledgers showed a loss of $30,000 for 1934, largely because of startup costs, the corporation posted a $50,000 profit the following year after initiating mail order sales of the prints. By 1941, AAA had become what Time magazine characterized as "a $500,000-a-year business [that] drove many a frock-coated Manhattan gallery director furiously to think" and behind whose "rocketing rise lay one of the ablest promotion and distribution jobs the U.S. art world has seen."
Art By Subscription features more than 70 Depression-Era prints by such leading American artists as Thomas Hart Benton, John Steuart Curry, Reginald Marsh, Peggy Bacon and Grant Wood. The prints were among the thousands commissioned and distributed by Associated American Artists, a business venture formed in 1934 by art agent and publicist Reeves Lewenthal. The prints were predominantly representational and regional in subject matter aimed at a patriotic American middle class as educational, affordable art.
Exhibition organized by the Springfield Museum of Art, Springfield, Ohio. Tour management by Smith Kramer Fine Art Services, Kansas City, Mo.
Prints included:
Grant Wood, "March," 1939, lithograph
Grant Wood, Approaching Storm, 1940, Lithograph, Gift of Susan Wayne and Leslie Wayne Loftus,
Springfield Museum of Art, Springfield, Ohio
Thomas Hart Benton,
I Got a Gal on Sourwood Mountain,1938, Collection of the Springfield Museum of Art
Thomas Hart Benton, Wreck of the Old '97, 1944, Lithograph
John Steuart Curry, John Brown, 1939, Lithograph
John Steuart Curry, Stallion and Jack Fighting, 1943
Reginald Marsh, Girl Walking, 1945, Lithograph, 10 1/2 x 8 inches. Collection of the Springfield Museum of Art.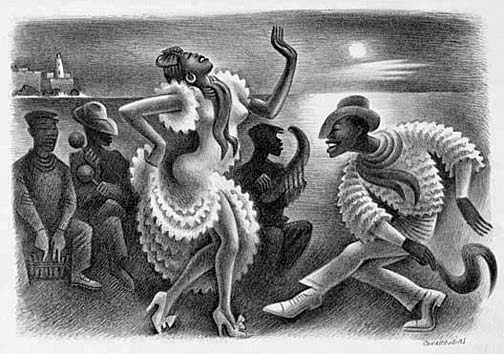 Miguel Covarrubias, Rumba, undated
Tour dates:
Sept. 9–Nov. 10, 2013: Gustavus Adolphus College, Hillstrom Museum of Art, St. Peter, Minn.
Dec. 6, 2013–Feb. 2, 2014:
Dane G. Hansen Memorial Museum, Logan, Kan.