Adelson Galleries
For over 40 years, Adelson Galleries has handled some of the finest American paintings to come to market, placing works in major private collections as well as leading public institutions. Distinguished for its expertise in the fields of American Impressionism, Realism and Modernism, the gallery was founded in 1964 by Warren Adelson in Boston, and is located today on New York's Upper East Side.
In addition to sponsoring both the John Singer Sargent and Mary Cassatt catalogue raisonné projects, the gallery regularly handles works by leading 19th- and 20th-century American artists, including George Bellows, Frank Benson, Mary Cassatt, William Merritt Chase, Thomas Wilmer Dewing, Thomas Eakins, Marsden Hartley, Childe Hassam, Robert Henri, Winslow Homer, Edward Hopper, Eastman Johnson, John Marin, Georgia O'Keeffe, Maurice Prendergast, John Singer Sargent, Edmund Tarbell, Andrew and Jamie Wyeth, among others. The gallery also exhibits works by selected contemporary artists. Recent Adelson Galleries exhibitions have included Andrew Wyeth: Helga on Paper; Sargent's Venice; Frederic Edwin Church: Romantic Landscapes and Seascapes; Jamie Wyeth: Seven Deadly Sins and Recent Work; and Mary Cassatt: Prints and Drawings from the Collection of Ambroise Vollard.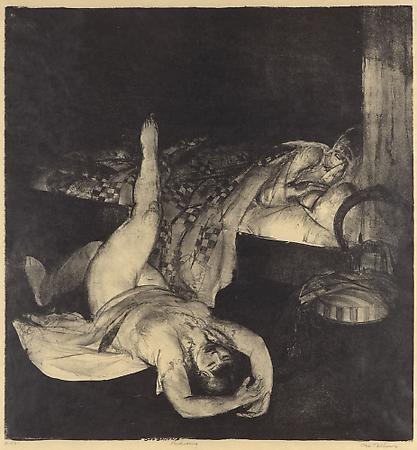 George Bellows
Reducing, Large, Second Stone, 1916
Lithograph on paper
17 3/8 x 16 1/2 inches
ALEXANDRE GALLERY
ALEXANDRE GALLERY represents and exhibits contemporary American artists and specializes in works by early 20th century American artists, with a focus on the Stieglitz Group. Publisher of contemporary prints and photographs. Alexandre Fine Art, Inc. established 1996.
Consignment and sale of works by early twentieth-century modernists and gallery represented artists is actively pursued. Of particular interest are works by Stieglitz Group artists including, Oscar Bluemner, Arthur Dove, Marsden Hartley, John Marin and Georgia O'Keeffe. Please contact the gallery for further information and appraisal services.
John Marin
Nassau Street, New York, 1925
watercolor on paper
15 1/4 x 20 1/4 inches
Photo: D. James Dee
Gerald Peters Gallery
In 1972, Gerald Peters founded the Gerald Peters Gallery in Santa Fe, New Mexico. Gerald Peters has long been recognized as one of the world's most respected dealers of American art of nineteenth and twentieth centuries with special interests that include classic Western art, paintings of the Taos Society of Artists and the Santa Fe Art Colony, American modernists, American and European Impressionists, the Ash Can School, the New York School, contemporary art, traditional and modern sculpture, naturalism, and vintage and contemporary photography. The Gerald Peters Gallery also represents the estates of Frank Applegate, Jozef Bakos, Cyrus Baldridge, Andrew Dasburg, Marjorie Eaton, Joseph Fleck, E. Martin Hennings, Albert Krehbiel, William Nash, Albert Schmidt, and Max Weber. Located in Santa Fe's historic district, the gallery's Spanish pueblo-style adobe building includes 8,500 square feet of indoor exhibition space, a gracious sculpture garden, a large research library, and a bookstore.
In 1992 Gerald Peters expanded the business to include a small gallery in New York. Operating from a townhouse on the Upper East Side, the gallery was initially envisioned to be a private showroom with a small staff, with a very limited exhibition schedule. In 1997, the Gerald Peters Gallery further expanded its presence in New York with the purchase of the townhouse at 24 East 78th Street. This five-story building incorporates two floors of exhibition space, several private viewing rooms, a library, storage facilities and offices. With a complete staff, the gallery currently is able to produce several exhibitions a year, publish catalogues and deal in a wide range of American art including the Hudson River School, American Impressionists and the American Modernists. In addition to the American paintings, drawings and sculpture, the gallery also specializes in modern European masters.
Thomas Hart Benton
Study for The Pathfinder, 1925
oil on board
14 x 11 in
Jonathan Boos
Jonathan Boos specializes in American paintings, drawings, and sculpture created between 1850 and 1950, with a particular focus on works of the Ashcan School, American Scene painting, and the Stieglitz Group, including such varied artists as Stuart Davis, Ben Shahn, George Bellows, Milton Avery, Jacob Lawrence, Marsden Hartley, and Georgia O'Keeffe.
Boos brings singular experience to his work as a private art dealer and consultant. His father owned and operated the respected Frank H. Boos Gallery in Troy, Michigan, for 40 years. Jonathan started working in the family auction house at age eight and was employed there full time for six years after receiving his degree from Michigan State University.
In 1994 Boos began working as curator and adviser to Richard Manoogian and the Masco Corporation Collection in Taylor, Michigan — a role he continues today. Boos has helped build the Manoogian and Masco collections into one of the finest private ensembles of American art in the world, acquiring notable works by Frederic Church, Sanford Gifford, Winslow Homer, John Singer Sargent, Mary Cassatt, Childe Hassam, and Edward Hopper, among others. He has helped organize exhibitions of the Manoogian and Masco collections presented at the Vero Beach Museum of Art; the Hokkaido Museum of Modern Art, Sapporo, Japan; and the Dixon Gallery and Gardens, Memphis, Tennessee, among many other institutions.
This background underlines the unique strengths of Jonathan Boos as a private art dealer: deep knowledge of the field and its participants and a reputation for discrete, transparent transactions. He started this service in 2008, with bases in New York and Bloomfield Village, Michigan, and has quickly attracted clients — private collectors and great museums — who are among the most discriminating and visionary in the world.
Philip Evergood
American, 1901–1973
Saturday's Children, 1954
Oil on board
47½ x 25 inches
Signed lower right
Evergood was born Philip Howard Blashki in New York to a painter father and a wealthy English mother. His family moved to London when he was eight so he could receive an English boarding school education. After changing his name and attending Eton, Evergood concentrated on drawing and sculpture at the Slade School of Art in London before returning to New York in 1923. In the 1930s Evergood became known as a Social Realist, and in 1933 his interest in social activism led him to the WPA's Federal Arts Project.
Evergood's paintings often featured skewed perspective, attention to detail, and a deliberate naiveté that stylistically supported his interest in the problems of struggling Americans, especially children. In Saturday's Children Evergood fully realized the potential of his style: as the big brother keeps his sister close, their vacant stares are echoed by the strange doll and amplify their vulnerability. The idiosyncratic depiction of space enhances the sense of the children as two lost souls unsure of their place in the world.
The John H. Surovek Gallery
The John H. Surovek gallery specializes in American paintings, drawings, watercolors and prints of the 19th and 20th centuries. In the gallery's thirty year history, many significant and important works of art have been either acquired, or placed with us for research and valuation. The acquisition and sale of American works of art is our foremost goal; it is what we love to do, and do well. America's most distinguished collectors and museums have come to associate the Surovek Gallery with scholarship and experience.
We serve on occasion as guest curator, visiting lecturer and offer expert services in appraising a single work, or an entire collection. We also offer advice on conservation and framing. The Surovek Gallery has represented the estate of Robert Henri, and currently represents the estates of William Glackens and Anthony Thieme.
My Family, Second Stone - 1921
Lithograph - Signed: George Bellows (l.r.) - Limited Edition of 56
Image size: 10 1/8 x 8 inches - Catalogue Raisonne: Mason 116
Michael Altman Fine Art & Advisory Services
Michael Altman Fine Art & Advisory Services is a private gallery specializing in rare masterpieces of American paintings from the 19th and 20th centuries. Encompassing the poetic and sublime landscapes of the Hudson River School, the vibrant and colorful en plein air works of American Impressionism, and the dynamic and energized expressions of American Modernism, Michael Altman Fine Art & Advisory Services offers exemplary works from this period.
For over twenty years Michael Altman Fine Art & Advisory Services has provided expert consultation and has helped build and enrich some of the most esteemed collections of art in both private and public holdings.
In addition to placing fine art in both public and private collections, Michael Altman Fine Art is interested in acquiring works through purchase or consignment.
While the gallery's inventory is ever changing, several artists frequently represented include Frederic Edwin Church, Sanford Robinson Gifford, Martin Johnson Heade, John Frederick Kensett, William Bradford, Thomas Moran, John Singer Sargent, William Merritt Chase, Childe Hassam, Maurice Brazil Prendergast, George Bellows, George Luks, Everett Shinn, John Sloan, Oscar Bluemner, Marsden Hartley, Georgia O'Keeffe, Milton Avery and Andrew Wyeth, among many others. On occasion the gallery also deals with European paintings by artists such as Henri Matisse, Gustave Courbet, Jean-Baptiste-Camille Corot, Eugene Boudin and Pablo Picasso, to name a few.
Marsden Hartley
Storm Wave, 1939
Oil on board, 18 x 24 inches (45.75 x 61 cm)
Menconi & Schoelkopf Fine Art
Founded in 2001, Menconi & Schoelkopf Fine Art offers a full range of American art, from the early nineteenth century through the mid twentieth. The two partners – Susan E. Menconi and Andrew L. Schoelkopf – bring to the business decades of experience in handling American paintings, drawings, watercolors, and sculpture.
Andy was raised in a family of art dealers, being the son of Robert and Jane Schoelkopf, who ran the prestigious Robert Schoelkopf Gallery in New York until the elder's untimely death in 1990. Having worked at the gallery until its close in 1991, Andy then went on to Christie's, where he rose to be head of the American Paintings Department. Andy currently sits on the board of the Private Art Dealers Association, of which the gallery is a member.
Susan began her art dealing career at Hirschl & Adler Galleries, New York, where she was founding director of the of American Sculpture Department. She later became Executive Vice President of the Richard York Gallery. Susan too was immersed in art from the beginning. Her late father, Ralph J. Menconi, was an accomplished professional sculptor, as was his father before him. For the past several years, Susan has served on the Art Advisory Panel of the Internal Revenue Service. She also serves on the American board of the Masterworks Museum of Bermuda Art, Hamilton, Bermuda.
Menconi & Schoelkopf offers the finest works available on the market today. We are uncompromising when it comes to quality and condition. Whether it is a small luminous Hudson River School picture or a fullblown flower painting by the major American modernist Georgia O'Keeffe, we study each work with a sharply critical eye before even thinking of offering it for sale. Often, this involves overseeing museum standard conservation and framing with a fine period frame.
Our primary activities are, of course, the acquisition and selling of art to collectors, museums, and corporations. Among the museums to which we have sold works of art are the Metropolitan Museum of Art, New York, the Art Institute of Chicago, the Detroit Institute of Arts, and the Museum of Fine Arts, Boston. We have developed strong relationships with a number of individuals and institutions, where we act as the exclusive representatives, building or disposing of entire collections. We offer appraisal services and advice on conservation and framing.
Ernest Lawson (1873-1939)
Boat in Central Park, c. 1910
Oil on canvas
21 7/8 x 22 1/2 inches
55.6 x 57.2 cms.
Signed at lower left: E LAWSON