Rembrandt's Century
examines a wide range of artworks from the 17th-century. Complementing the upcoming
Girl with a Pearl Earring: Dutch Paintings from the Mauritshuis,
this exhibition sheds further light on the Dutch Golden Age and the remarkable artistic achievements of Rembrandt and his peers. At its core is a selection of etchings by Rembrandt van Rijn—arguably his generation's most influential artist. Both Girl with a Pearl Earring: Dutch Paintings from the Mauritshuis and Rembrandt's Century will be on view in the Herbst Exhibition Galleries at the de Young Museum in San Francisco from January 26–June 2, 2013.

Rembrandt Van Rijn (Dutch, 1606–1669), Self-Portrait Drawing at a Window, 1648. Etching, drypoint, and engraving. 15.7 × 12.9 cm (6 3⁄16 × 5 1⁄16 inches) Courtesy of the Bruno and Sadie Adriani Collection, 1959.40.19 © Fine Arts Museums of San Francisco

Rembrandt's Century examines a time when printmaking was becoming of particular cultural importance. Exhibition Curator James Ganz notes, "More than any other fine objects, prints circulated extensively throughout the 17th-century art world, broadcasting artistic, political, and scientific development far and wide." The exhibition illustrates the wide-ranging contributions Rembrandt, his predecessors, and followers made in the form of printed images that were produced in Holland and internationally. It explores the rich print culture of the era, through portraiture, still life, natural history, scenes of daily life, landscape, and subjects drawn from mythology and religion.
Works by painter-printmakers such as Adriaen van Ostade, Giovanni Benedetto Castiglione, and Jusepe de Ribera are balanced by the contributions of specialized graphic artists such as Jacques Callot, Wenceslaus Hollar, and Lambert Doomer. Virtuosic engravings, ambient etchings, ink drawings, watercolors, and more illustrate the enormous range and appeal of printmaking and drawing techniques during the time of Rembrandt.
About Rembrandt van Rijn
Rembrandt was both a teacher and a student. While his work was among the most vigorously collected during this period, he too was a collector. Like the sea shells and other natural wonders he collected, depictions of which are shared in this exhibition, Rembrandt collected knowledge, which he disseminated to his students and followers. Championing etching as an original form of artistic expression, and technically experimenting with each stage of the etching process, Rembrandt inspired artists around the world for generations to come.
About the Achenbach Foundation for Graphic Arts

Rembrandt's Century
provides an opportunity for the Fine Arts Museums of San Francisco's Achenbach Foundation for Graphic Arts to present hidden treasures from its own collection, a number of which have never before been displayed. Beginning as a gift from Mr. and Mrs. Moore Achenbach given to the City of San Francisco in 1948, the Achenbach Foundation has grown to be the most comprehensive collection of works on paper in the western United States. Carefully selected primarily from this collection, in complement to Girl with a Pearl Earring, Rembrandt's Century reveals the astounding and wide-ranging artistic excellence of the 17th century.
Exhibition Catalogue
This exhibition is accompanied by a catalogue,
Rembrandt's Century
, published by the Fine Arts Museums of San Francisco and DelMonico Books Ÿ Prestel. Author and curator James Ganz explores the era's vibrant print culture in a series of thematic sections focusing on depictions of the artist, portraiture, natural history, daily life, landscape, mythology and religion, and the art of darkness. In the process, he sheds light on the rich holdings of the Fine Arts Museums of San Francisco's world-renowned collection of graphic arts. 164 pages. Hardcover $34.95/$31.46 members. Available at the Museum Stores or online at
famsf.org/store
.
Images:
Rembrandt van Rijn Landscape with Three Trees, 1643,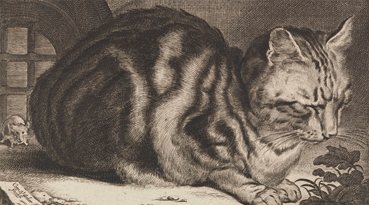 Cornelis Visscher's The Large Cat
Lambert Doomer (Dutch, 1624–1700), Salt Flats at Le Croisic, ca. 1671–1673. Brown ink and brown and gray washes on ledger paper mounted on cream laid paper.
Adriaen van Ostade. Village Romance 1652.Etching.