Modern Dialect: American Paintings from the John and Susan Horseman Collection will be on view in the D'Amour Museum of Fine Arts in Springfield MA until February 24, 2013. The exhibition illustrates American Modernism from the 1920s to the beginning of World War II, a period marked by significant change and compounded by the onset of the Great Depression in the 1930s. The more than sixty major American Scene paintings in the exhibition illustrate the changes the nation underwent through the eyes of American artists who were often poor and out of work.
Organized by the Dixon Gallery and Gardens in Memphis Tennessee, the exhibit was assembled to reflect American "history and the important lessons that it continues to teach," in the words of John and Susan Horseman. Influenced by radical art movements taking hold in Europe at the time, the featured artists painted images ranging from urban laborers to Cubist-inspired abstractions, and from fragmented rural landscapes to modern industrial cities and the people that inhabited them. Modern Dialect illustrates the scope of the American modernist aesthetic and the vision and integrity each artist brought to the representation of the American experience.

WILLIAM SOMMER (1867-1949), Active in Cleveland, Adam and Eve, ca. 1912-15, Oil on artist s board 31 1/2 x 23 3/4 inches
The exhibit's early modern paintings, such as William Sommer's Adam and Eve, provide a glimpse of an America beginning to assert itself in the art world.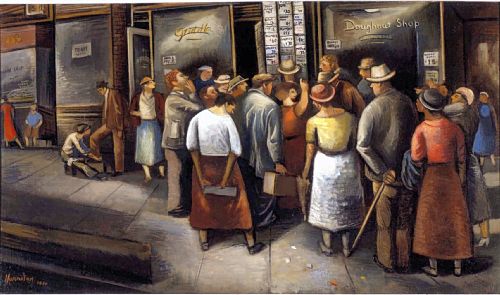 Then works like Abraham Harriton's 6th Avenue Unemployment Agency mirrors a shift in the country's mood to one of desperation caused by the Great Depression.
CLYDE SINGER (1908-1999) Active in Malvern, Ohio, Barn Dance, 1938, Oil on canvas, 39 _ x 49 _ inches

As the economy continued to worsen, painters like Clyde Singer depict the struggle to come to grips with this new reality. Singer's Barn Dance illustrates the attempt to escape the harshness of life with a night of joyful music and dancing,
while
Louis Ribak
's Nocturne, with hooded Klu Klux Klansmen running into the night, shows how the Depression intensified racial tensions.
The collection also features American Abstract artists who conveyed the opposing forces of modern life. Although abstract art was still considered a European phenomenon, it was gaining recognition in America, though still subordinate to Post-impressionism, Regionalism and American Scene painting. Works by George Bellows, John Rogers Cox, Burgoyne Diller, Maurice Freedman, Marsden Hartley, Reginald Marsh, Charles Sheeler and Stuart Walker and are also included in the show.
Modern Dialect is in good company at the D'Amour Museum of Fine Arts, as museum's Early 20th Century American Collection boasts significant works by many of the same artists working in the time period. Some of these include
Ephrata by Charles Sheeler,
Merry-Go-Round by Reginald Marsh,
Number 5- Second Theme, 1963 by Burgoyne Diller, as well as works by Harold Rabinovitz and others.
More works in the exhibit:
ROBERT GILBERT (1907-1988), Active in Santa Ana, California, Industrial Composition, 1932, Oil on canvas, 47 /2 x 34 /2 inches




JOHN STEUART CURRY (1897-1946), Active in Kansas, New York, & Wisconsin, Portrait of Stanley Young, 1932, Oil on canvas, 32 x 30 inches





JACK KEIJO STEELE (1919-2003), Active in Detroit, The Sweeper, ca. 1940-45, Oil on masonite, 35 1/2 x 26 1/4 inches




LOIS MABEL HEAD (1906-?), Active in New York, Factory Town, ca. 1940-44, Oil on panel, 35 x 23 inches




REGINALD MARSH (1897-1955), Active in New York, Mad Men of Europe, 1940, Watercolor on paper, 26 1/4 x 39 3/4 inches





JAMES BRITTON GANTT (1911-1984), Active in Kansas City, Side Show, 1937, Tempera on panel, 43 x 29 inches




JOHN STOCKTON DE MARTELLY (1903-1979), Active in Kansas City, While the Sun Shines (Haying), 1943-45, Tempera on canvas mounted on plywood, 28 x 40 inches



Interesting discussion here

Fascinating review - excerpt here (images added):


This thoroughly engaging, if dark, exhibition was organized by the Dixon Gallery and Gardens in Memphis, Tenn., where Mr. Horseman serves on the board. Subjects range from a lone, worn Detroit street "Sweeper," by Jack Keijo Steele, to the energetic farmers of "While the Sun Shines (Haying)" by John Stockton de Martelly.

Alienation and loss reside in many works, including



Akron native Raphael Gleitsmann's "House at Sunset, Medina County,"

set against a snowy lawn and flaming sky, fronted by a wireless telephone pole and railroad tracks absent trains. The bulky Victorian, painted around the time the U.S. entered World War II, is a near-silhouette with one lit window, perhaps a beacon for a loved one serving overseas or an indicator of a family member kept awake by worry.



Charles Burchfield's "In Memoriam" of 1936, an unkempt graveyard with fallen stones, seems to reflect the ongoing economic malaise, the gray skies predicting no immediate change in conditions.

The title of Walter Wellington Quirt's "The Future Belongs to the Workers" is optimistic, but imagery of a dead striker, a laborer's funeral parade and a lynching victim being tended by a crowd rallying under a communist flag indicates that prize won't come without struggle and pain.

Robert Tindall's "Winged Victory," which was displayed in the Carnegie Institute's 1941 "Directions in American Painting" exhibition, is a poignant commentary on the mythology of war versus the reality. Rather than the victorious, striding "Nike of Samothrace," popularly known as "Winged Victory," the image is of a helmeted skull, upon which a small bird perches, lying untended among fallen leaves.

Read more: here


And another review here (images added):


As Europe lurched into war, for instance, Robert Elton Tindall painted "Winged Victory," which shows a human skull partially hidden under a soldier's helmet. Perched on the macabre object, which is nestled in a pile of fallen leaves, is a tiny bird — perhaps a symbol of the ultimate triumph of nature and life itself over the brutality of war.



On the other hand, John Carlton Atherton's "The Sleepers," from 1945,

depicts a desolate landscape of blackened trees and rubble with five figures sprawled near a ruined building. The exhibit notes that Atherton, hired to produced patriotic lithographs for the government during the war, privately was horrified by the conflict, and that "The Sleepers" was his response to the atomic bomb attacks on Japan in 1945.

More images here

See the images below here:
Zorach, William - Interior and Exterior
Bellows, George - Little Bridge
Burchfield - Charles - In Memoriam
Gleitsmann, Raphael - House at Sunset
Koerner Henry Resurrecting
Fiene, Ernest - Mill Town in Winter
Osver, Arthur - Red Ventilator
Lewandowski, Edmund - Blast Furnace 5
Ault - George Copeland - the Stairway
Carter, Clarence Holbrook Down the River
Noecker, James Harold - The Genius
Cox, John Rogers - Wheat Field
Atherton - John Carlton - The Sleepers
Abercrombie Gertrude - Night Arrives
Diller, Burgoyne - Early Geometric
Morris, George L. K. - Composition
Biehle, August - Cleveland West Side
Schumacher, William - Flowers
Kuniyoshi, Yasuo - Morning
Hartley, Marsden - The Seashell
Braught, Ross - Colorado Canyons
Jones, Joe - The Road to the Beach
Gaertner, Carl - Second Floor Back
Durston, Arthur - Mother & Child
Goff, Lloyd - Thanksgiving Day Parade
Dobrotka, Edward - Bryant Park Chorus
de Martelly, John - While the Sun Shines
Brucker, Edmund - Cleveland Flats
Freund, Harry - Crosstown Forum
Millman, Edward - Drilling for Oi
Messick, Benjamin - Jitterbug Contest
Lundeberg, Helen - Iris
Sepeshy, Zoltan - Driftwood
Tindall, Robert - Winged Victory
Wilde, John - Untitled
Atherton - John Carlton - The Sleepers
Biederman, Charles - Abstraction
Walker, Stuart - Movement
Drewes, Werner - Lighthouse & Gulls