Phillips' Sales of 20th Century & Contemporary Art in New York will take place on 15-16 November, with 250 works of art spanning nearly a century. The Evening sale on Thursday, 16 November, will offer 44 lots, featuring works by some of the most sought-after artists of the 20th and 21st centuries, from Henri Matisse and Pablo Picasso to Peter Doig and Richard Prince. The auction will also include two lots by Latin masters Carmen Herrera and Hélio Oiticica. Preceding the Evening Sale, the Day Sale on Wednesday, 15 November, will offer over 200 lots. For the first time, Phillips is hosting the Day Sale in a new format of two sessions. The Morning Session will focus on Modern and Post-War Art, including works by Roy Lichtenstein, Josef Albers, Henry Moore, Yayoi Kusama and Robert Motherwell, while the Afternoon Session will feature works of Contemporary art, offering works by Damien Hirst, Agnes Martin, Peter Doig, and Oscar Murillo.
Jean-Paul Engelen, Worldwide Co-Head of 20th Century & Contemporary Art
, said, "On the heels of Phillips May Evening Sale, in which Peter Doig's Rosedale set a world auction record for a work by a living British artist, we are delighted to offer the artist's Red House as a star lot this season. Executed in 1995-1996, Red House is a true masterwork, created at a pivotal point in the artist's career, directly after his Turner Prize nomination. The painting is a testament to Peter Doig's important place within the canon of Contemporary art."
Robert Manley, Worldwide Co-Head of 20th Century & Contemporary Art
, added, "Our November auctions in New York were thoughtfully composed, with the goal of breaking down the barriers of traditional collecting categories. The auction includes a fantastic selection of lots by modern masters alongside their contemporary counterparts, as well as important works of Latin American art and photography. We are delighted to have the opportunity to offer such a strong selection of works of art across several artistic genres that will appeal to discerning collectors of all interests and backgrounds."
The Evening Sale | 16 November 2017, 5pm
Leading the Evening Sale is Peter Doig's
Red House
. The work was created in the immediate aftermath of his Turner Prize nomination in 1994, which propelled him to international recognition in the art world. Painted between 1995 and 1996,
Red House
captures the breakthrough moment in Peter Doig's artistic development when the thick impasto of his early 1990s paintings thawed to reveal delicate mists of translucent color. Continuing the central tenets of his practice, namely that of the slippage between reality, imagination, and memory, Doig in many ways presents his own re-interpretation of
Edvard Munch's
Red Virginia Creeper,
1898-1900.
Red House
was featured in the artist's seminal 1998 solo exhibition Peter Doig: Blizzard Seventy-Seven, which traveled from the Kunsthalle Kiel, to the Kunsthalle Nuremberg, and finally to the Whitechapel Gallery.
Franz Kline's
Sawyer
is also among the Evening Sale's top lots, hailing from an important private American collection. Painted in 1959, at the peak of Kline's career the painting exemplifies the artist's iconic black and white palette. Dominated by black and white, the work is enlivened by impastoed passages of cream, ochre, peach, chalky whites and greys that infuse the composition with a soft, atmospheric tone. In 1960, the same year Kline represented the United States at the 30th Venice Biennale,
Sawyer
was debuted in Kline's solo exhibition at the Sidney Janis Gallery, New York, alongside some of the artist's now most esteemed masterpieces. The works exhibited here stand as remarkable examples of the bravura of Kline's late oeuvre, which tragically ended with his premature death just two years later in 1962. It is testament to
Sawyer
's significance within Kline's oeuvre that it was celebrated in the artist's first posthumous institutional retrospective exhibition in the United States at the Whitney Museum of American Art, New York in 1968-1969.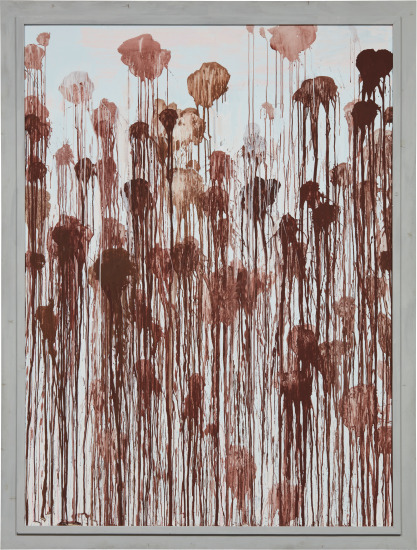 Executed in the final decade of Cy Twombly's life, Untitled, 2004, pays homage to the Mediterranean sea of his adopted home in Italy. It is one of ten paintings that comprise the artist's acclaimed Untitled (Winter Pictures) series, which the artist painted in the winter of 2003-2004 from his home in Gaeta. Building on Twombly's epic series Quattro Stagioni (A Painting in Four Parts), 1993-1994, in the collection of Museum of Modern Art, New York, the series Untitled (Winter Pictures) points to Twombly's preoccupation with the classical leitmotif of nature's seasons. A remarkable example of Twombly's inimitable painterly practice, Untitled is built up with coats of acrylic paint that the artist applied to the wooden panel with a combination of brush, cloth and hand. While works from this series typically feature similar cascading vertical lines, Untitled is one of only two painting distinguished by repeated circular blotches that run in splattering rivulets like dripping clouds beyond the edges of the pictorial support.
In addition to a strong selection of contemporary works, Phillips' Evening Sale will include a breadth of modern masterworks from distinguished private collections. Four works on paper by Henri Matisse and Pablo Picasso from the collection of Anne Marie and Julian J. Aberbach are among the sale's highlights and the collection of Betty and Stanley Sheinbaum will offer works by Robert Motherwell, Richard Diebenkorn, and Henry Moore.
Robert Motherwell's
A Sculptor's Pictur
e,
With Blue
leads the collection and will be offered in the New York Evening Sale of 20th Century & Contemporary Art on 16 November. The work is a tour-de-force from one of the most pivotal years in the Abstract Expressionist's personal life and career. The monumental painting was created in New York in the spring of 1958 around the time of Motherwell's nuptials to Helen Frankenthaler. Imbued with the sense of figuration so characteristic for Motherwell's abstract compositions, this powerful work visualizes the couple's union with the two black amorphous forms merging through the force of splattering brushstrokes. A Sculptor's Picture, With Blue represents the culmination of a discrete group of three paintings completed during the joyous period in spring of 1958. As the only work to remain in private hands, its companions now reside in prestigious permanent collections. Unseen to the public in more than three decades, the work was acquired by Betty Sheinbaum directly from the artist's 1959 solo exhibition at the Sidney Janis Gallery in New York. Remaining in her collection since, Betty loaned the work to major exhibitions at the Pasadena Art Museum, Los Angeles County Museum of Art, San Francisco Museum of Art and the Hirshhorn Museum and Sculpture Garden, Smithsonian Institution.
Also included in the November Evening Sale in New York is Richard Diebenkorn's
Driveway
. Painted in 1956 during Richard Diebenkorn's famed Berkeley years, Driveway epitomizes the early stages of the artist's shift from abstraction to representation, which would cement him as one of the most significant American painters of the past century. Despite presenting itself with the immediacy of what appear spontaneous brushstrokes,
Driveway
is in fact the culmination of a laborious creative process that saw Diebenkorn, like fellow Abstract Expressionist painter Willem de Kooning, successively and continuously rework the composition with impasto paint– discovering and developing his ideas within the very process of painting. Betty and Stanley Sheinbaum acquired the work directly from Diebenkorn's solo exhibition at the Poindexter Gallery in New York in 1958.
Henri Matisse's bronze sculpture
Le Tiaré
will also be offered in the November Evening Sale. A remarkable example of Henri Matisse's mature sculptural oeuvre,
Le Tiaré
is celebrated as the apex in his pursuit of organic simplicity. Conceived in Nice in 1930 and cast in the months before his passing in November 1954, the present bronze was purchased by Betty Sheinbaum from famed art dealer Erick Estorick in 1960. Inspired by the tiari flower worn by Tahitian women in their hair, this work is a testament to the radical turning point in Matisse's mature career, prompted by his trip to Tahiti in 1930. The trip revitalized Matisse, who continuously sketched and drew the island's lush tropical vegetation – ushering in a wholly new formulation of his art.
Works by Henry Moore, Henri Matisse, Hans Arp, and Edouard Vuillard, among others, will also be sold in the New York sales of 20th Century & Contemporary Art.
After setting the world auction record for Carmen Herrera in the November 2016 Evening Sale of 20th Century & Contemporary Art, Phillips is pleased to include two works of Latin American art in the upcoming auction – Carmen Herrera's Untitled (Orange and Black) and Hélio Oiticica's P31 Parangolé, capa 24, Escrerbuto. The movements and oeuvres of these artists are inextricably linked with those of their transnational peers and a discussion of 20th century and contemporary art would be incomplete without noting the tremendous contributions of Latin American artists.
Painted in 1956, Untitled (Orange/Black) is among the first mature paintings Carmen Herrera created upon returning to New York from Paris two years prior. A remarkable example of the asymmetrical and intuitive arrangement of forms characteristic of her New York period, the dichromatic painting is testament to the modular, almost mathematical process of combining and rotating triangular forms that Herrera initiated in 1956 with works such as the present one. Sidelined as a female Cuban immigrant in the context of the Abstract Expressionist, male-dominated New York art world, it is only recently, due in part to her 2016 retrospective at the Whitney Museum of American Art, that Herrera has been accorded her due place within the annals of post-war abstraction.
Created in 1972 during Hélio Oiticica's seminal New York years, P31 Parangolé, capa 24, Escrerbuto brilliantly exemplifies the pioneering Brazilian artist's immersive and experiential art practice. The present work is a salient example of Oiticica's infamous Parangolés, which Oiticica created between 1964 and 1979 with the goal of engendering what he called "lived experiences" through the spectator's wearing of the cape-like wrap. It is testament to the art historical significance of this work that it was celebrated in Hélio Oiticica: To Organize Delirium, the artist's first U.S. retrospective in twenty years that travelled from the Carnegie Museum of Art, Pittsburgh, to the Art Institute of Chicago and, most recently, to the Whitney Museum of American Art, New York, between 2016 and 2017. While Oiticica has long been highly regarded in Latin America and in Europe, it has in large part been due to this retrospective that Oiticica's far-reaching influence on performative and socially-engaged art practices has finally been given its due reverence in the United States.
An engaging image of lyrical calm and beauty, Henri Matisse's
Jeune fille dormant à la blouse roumaine
dates from 20 December 1939. This picture shows a sleeping Lydia Delektorskaya, Matisse's studio assistant, secretary and Muse, who wears a Romanian blouse with embroidered sleeves, which appeared in a number of Matisse's works.
Jeune fille dormant à la blouse roumaine
relates to Matisse's 1940 masterpiece
Le rêve
, a work which he revered so much that, when he was about to undergo an operation, he considered bequeathing it to Paris; it remained for a long time in his own collection. That painting was completed towards the end of 1940, the culmination of a long artistic journey in which the present drawing was one of the first steps. It was formerly in the collection of Fernand Graindorge, a prominent collector and philanthropist, and was exhibited at the Kunsthalle in Basel in 1954, shortly before Matisse's death.
Henri Matisse's
Jeune fille accoudée
, executed in 1938, shows one of the motifs that preoccupied the artist repeatedly during his career and in particular in the late 1930s: that of the seated woman. The present work likely depicts Russian émigré Princess Hélène Galitzine. It relates to a group of drawings that Matisse made as he explored the subject matter that he would use in the upper portion of
Le chant
, the fireplace decoration he created for Nelson A. Rockefeller's apartment in New York.
Le chant
was commissioned by Rockefeller to decorate his triplex apartment in New York. Matisse had a full-scale model of the fireplace made up, around which he could work in the new apartment at the former Hôtel Régina, in Cimiez. He turned his rooms in the Régina into a make-believe realm. Plants, carpets, art and furniture combined to create a space that echoed salons, harems and artists' studios all at once. It was within its generous spaces that Matisse conjured the bucolic, elegant world glimpsed in
Jeune fille accoudée
. This drawing was also formerly owned by Fernand Graindorge.
Portrait de femme endormie
. III is an intimate portrait by Pablo Picasso of his partner Françoise Gilot sleeping. This picture has been dated twice by the artist – with one inscription pointing to the last day of October and the other to the first of November 1946. The work was created while Picasso and Gilot were staying in Antibes, a particularly fruitful period when he was able to create in the large spaces at Château Grimaldi. Filled with a passion for the Mediterranean, for Françoise and for these exciting new pastures, he filled the château with pictures, plunging into a lyrical world of mythological creatures. Looking at Picasso's work during this time, his enthusiasm is quite apparent. This was a period of immense relief and celebration in the wake of WWII. At the same time, Picasso was living publicly with Françoise. There is a close parallel between Portrait de femme endormie. III and Picasso's images from a decade and a half earlier, showing his then lover Marie-Thérèse Walter sleeping. However, in
Portrait de femme endormie
. III the intimacy is that of a stolen moment, with Picasso watching on admiringly while his tired partner sleeps.
Executed nearly 30 years prior, in 1920, Picasso's
Deux nus
depicts two nude figures standing together, statuesque and poised. This picture dates from the height of Picasso's involvement with the ballet, and the women stand with the assurance of the dancers who so intrigued him. This drawing also reveals the increasing interest in classical culture that had been whetted by Picasso's trip to Italy three years earlier. It is a tribute to the quality and importance of
Deux nus
that it was formerly in the collection of Dr. Gottlieb Friedrich Reber, one of the greatest patrons of Cubism, who owned a dazzling array of Picasso's works – he would lend almost twenty paintings to the artist's first museum exhibition at the Kunsthaus Zürich in 1932. Before Reber acquired
Deux nus
, it passed through the hands of the legendary art dealer Paul Rosenberg. It was only a couple of years before the picture was created that Picasso and Rosenberg had come to a formal agreement, with the dealer given first choice of the artist's works, a mark of distinction for
Deux nus
.
About the Collectors Julian J. Aberbach, born in 1909, and his brother Joachim, or Jean, were the sons of a successful Jewish jeweller in Vienna. By the 1930s, the brothers had relocated to Paris and entered the music business, forming their own company. After selling their company, the brothers made their way to the United States. Julian served as an officer in the US military during the Second World War, helping command the Free French forces. During his time in the army, he had spent time in the South; developing an ear for country music, he intended to enter that world from a business perspective. He went on to Los Angeles and founded his legendary company, Hill and Range. He and his brother worked with stars ranging from Johnny Cash to Elvis Presley to Edith Piaf and helped create or publish hits as varied as
Frosty the Snowman, I Walk the Line, and Love me Tender.
While in Paris, chance brought Julian and his wife Anne Marie together, when he asked her for help choosing lottery numbers, eventually attempting to ask her out for a meal. This was the beginning of a swift romance and a successful half-century-long marriage. Both remained very attached to France, and Julian was even awarded the National Order of the Legion of Honour.
As early as the 1950s, Julian had begun to collect pictures by various artists, not least on his regular trips to Europe. In this, he was often assisted by Anne Marie, their collection an equal reflection of both their tastes. Julian and Anne Marie, along with Jean, went on to acquire significant and acclaimed works. Many works by artists ranging from Francis Bacon to Fernando Botero, from Ellsworth Kelly to Willem de Kooning, and from Henri Rousseau to Georges Rouault were donated by the families to a wide-ranging number of institutions, including The Metropolitan Museum of Art, the Berkeley Art Museum, the Hood Museum, and the Rose Art Museum.
The Day Sale: Morning Session | 15 November 2017, 11am
The Morning Session of the Day Sale will take place at 11am on 15 November, with John McCord as Head of Sale. Two works by Roy Lichtenstein will be offered as highlights – Brushstroke and Ceramic Sculpture #16. Executed in 1965, Brushstroke is from the series of the same name, which sought to directly reinterpret the Abstract Expressionism of artists like Jackson Pollock and Willem de Kooning. The works in this series all featured one or two brushstrokes, rendered with his characteristic Ben-Day dots. The present work is the first early enamel brushstroke work to come to the market in almost a decade, and has remained in the same distinguished private collection for three decades. Ceramic Sculpture #16 was executed in the same year as Brushstroke, when the artist started regularly working with sculptural media like ceramic and enamel and recalls the familiarity of consumerist objects that harken back to American diner culture of the 1960s. With his characteristic Ben-Day dots and blocks of color, the artist breaks down the three dimensional form of a leaning tower of cups and saucers into its graphic surface elements. While confronted with a recognizable symbol of low culture, viewers are simultaneously faced with the sculpture's lack of functionality and in turn, characterization of a high art object.
The Morning Session will also include seventeen works from the Sheinbaum collection, including works by Henry Moore, Mark Tobey, and Robert Motherwell, among others. Robert Motherwell's Elegy to the Spanish Republic No. 50 was executed in 1958 and acquired one year later by the Sheinbaums. It is completely fresh-to-the-market, having remained in their family's collection for nearly sixty years. The Sheinbaums were also avid collectors of Henry Moore and six of his bronzes will be offered on 15 November. Betty Sheinbaum started her remarkable collection with maquettes by modern master Henry Moore, whose trailblazing work she had discovered on a trip to England as a young woman. By the time she acquired the present works in 1959-1960, Moore's reputation was growing, but he was still very much a radical contemporary artist. These sculptures demonstrate important themes in the artist's oeuvre and a number influences on his signature exploration of figural forms.
Collectors will also be given the opportunity to acquire a rare early work by Lee Bontecou, an artist renowned for her success in a period of male-dominated minimalism. The present lot belongs to the year that the artist returned to New York in 1959, following her Fulbright Scholarship trip to Italy, and received recognition in the post-war minimalist sphere, when there was a pivotal shift in her sculptural practice. Having discovered the use of a blowtorch, Bontecou began creating lightweight, welded metal frameworks, which she subsequently filled with wire mesh, canvas and muslin. Untitled is one of the most recognizable and renowned examples from the very beginning of this important transition for Bontecou.
The Day Sale: Afternoon Session | 15 November 2017, 2pm
Works by Damien Hirst, Agnes Martin, Julian Schnabel and Michelangelo Pistoletto are among the highlights of the Afternoon Session of the Day Sale, with Rebekah Bowling serving as the new Head of Sale. Hirst's Adenylosuccinate Lyase, a stellar example of his iconic spot paintings, will lead the auction. The present lot is an exceptional piece from one of Hirst's most celebrated series, one which questions three of the most essential qualities of painting – color, form and composition – and relates them to the building blocks of science. Titled after a chemical compound, this work confronts the viewer in a mass of glossy vibrancy, each component of which stands in stark contrast to the white, rectangular canvas on which it rests. Hirst's repetitive forms in the present lot negate the spontaneity of expressionist painting in favor of the sensibility of Pop Artists like Roy Lichtenstein and Andy Warhol through careful, methodical gesture. But unlike these artists, who used the dot as a means to produce an image, Hirst mass produces the dot itself, paring down his composition to painting's most basic form. This work has remained in the same distinguished private collection since a year following its creation in 1993.
Damien Hirst's Tearful, executed in 2010, will also be offered in the Afternoon Session. His renowned Cabinets series, begun in 1988 have become synonymous with contemporary conceptual art. A few years following the success of the earlier works in the series, such as the pharmaceutical cabinets, Hirst embarked on a new set of Cabinets. The present lot belongs to the latter series, featuring a delicate display of precious stones inside a gold-plated stainless steel cabinet. Aptly titled after human emotion, Tearful is a paradigm of the artist's seminal practice in its arresting beauty.
Two untitled works by Agnes Martin, circa 1995, will also be offered. Emptied of image, narrative and "meaning" in any conventional sense, these works, both executed in the twilight of Agnes Martin's career, wonderfully embody the expressiveness within minimal means that is a hallmark of Martin's corpus. Painted after her move to Taos in New Mexico, the softly colored, almost translucent bands are reminiscent of the ethereal desert light in which she was working. The vast expanse of the empty landscape, where the horizon and sky merge almost imperceptibly, became the inspiration for her work, with her use of color exploring the physical properties of the light spectrum, rather than the objects of color themselves.