Christie's has announced that
The Michael Scharf Family Collection
will lead the American Art sale on May 22. Considered one of the finest collections of American Modernism, this impressive group of twenty-eight paintings offers a strong representation from the Stieglitz Circle with works by Georgia O'Keeffe, Marsden Hartley, and Arthur Dove, as well as exceptional early explorations into abstraction by artists including Max Weber and Charles Green Shaw.
Michael Scharf began his collection of American Modernism in 1972 when he purchased Arthur Dove's
Parabola
and began to study the artist and his contemporaries. His collecting habits, however, were founded during his childhood with serial collections of stamps, porcelain pugs, early editions of Elizabethan plays and British literature, and early sixteenth-century Hebrew books printed in Constantinople.
Michael Scharf comments, "
The more I studied, the more I came to believe Arthur Dove, Georgia O'Keeffe, Max Weber, Marsden Hartley, and John Marin were important artists who were responsible for instigating a transformation in the development of Modern American art. Also, the purchase of
Parabola
caused a bee to land in my bonnet. The bee stung me into activity, and a burning interest developed. Thus the Collection was born."
Eric Widing, Deputy Chairman, American Art, Christie's remarks,
"Over many decades, Michael Scharf assembled an authoritative collection which represents, in depth, the emergence of modernism in America. Among its highlights are masterworks by many of the best-known American artists of the early twentieth century: Arthur Dove, Marsden Hartley, Georgia O'Keeffe, Max Weber and dozens of others. Some works are among the earliest American abstractions, others explore nature and still others touch upon diverse subjects such as the city, music, and mystical and symbolic imagery. It is a justly celebrated collection."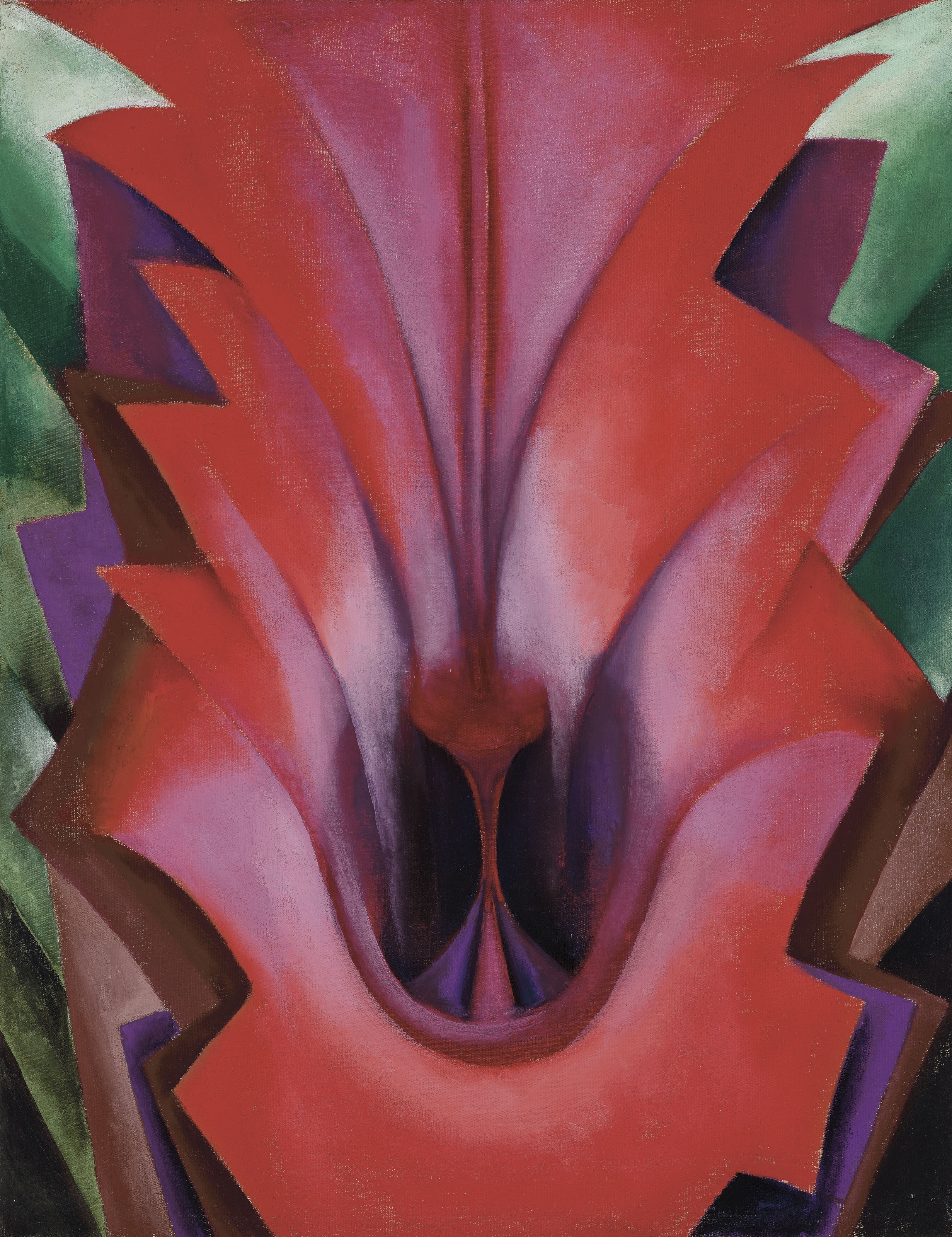 Leading the collection is
Georgia O'Keeffe's
Inside Red Canna
,
1919, which is arguably the artist's earliest depiction of a magnified flower in oil (estimate: $4,000,000-6,000,000). A triumph of American Modernism, the work is the culmination of a series of a small watercolors and oil paintings of cannas O'Keeffe created between 1918 and 1919. Of this group,
Inside Red Canna
is the largest in scale and is one of the most compositionally complex paintings within O'Keeffe's early
oeuvre
. The painting was included in O'Keeffe's watershed 1923 retrospective exhibition at Anderson Galleries, organized by her dealer and future husband Alfred Stieglitz, which launched the artist to her iconic status.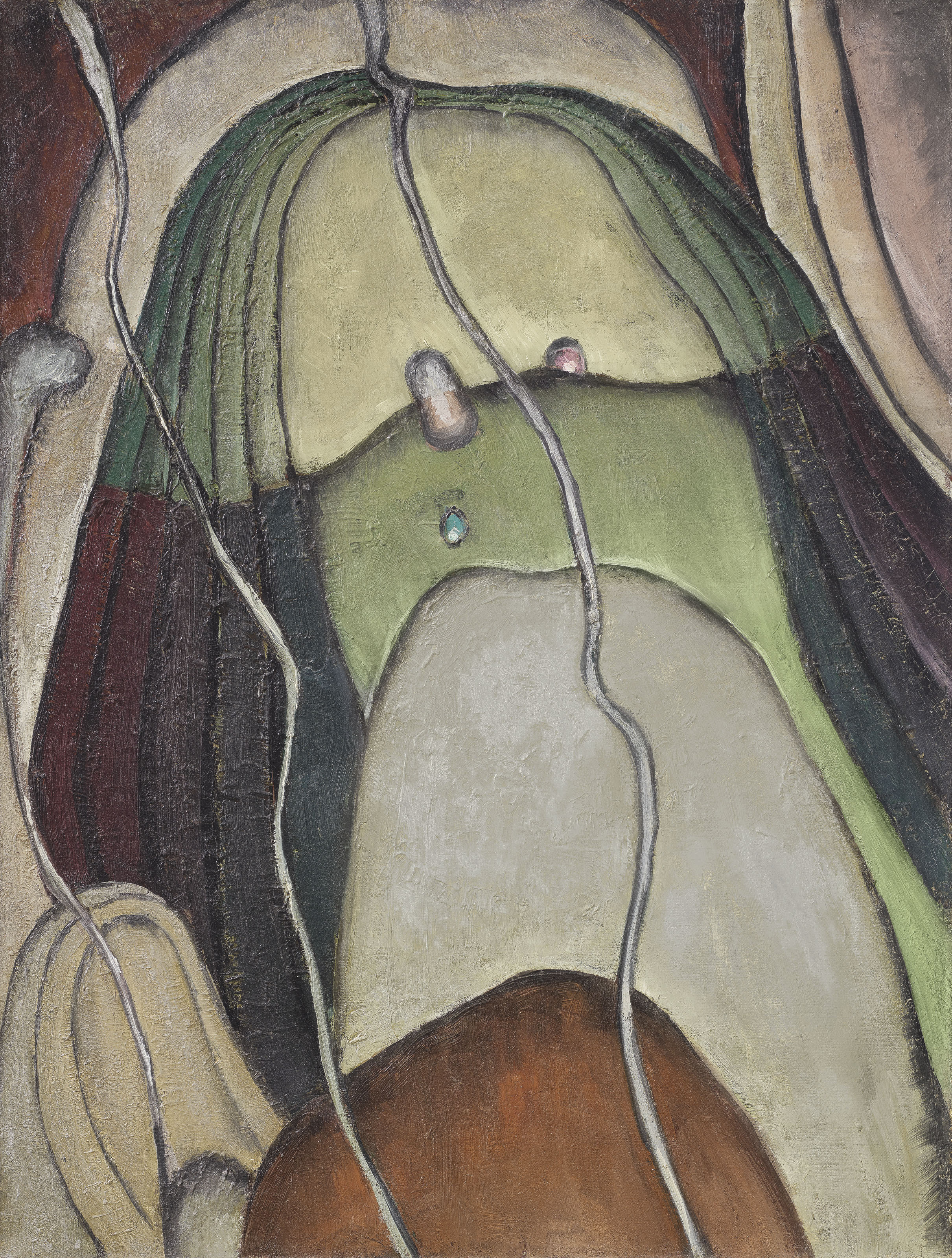 Arthur G. Dove's
River Bottom, Silver, Ochre, Carmine, Green
,
circa
1923 (estimate: $3,000,000-5,000,000), is among the most important works by the artist to come to the market and reflects Dove's deep connection to the American landscape and his fascination with water. In this view looking down onto a riverbed, Dove creates an amorphous exploration of color, line and form, pushing representation of nature to the edge of abstraction.
Marsden Hartley's
Abstraction
(estimate: $4,000,000-6,000,000) was created in 1912-13 during a pivotal period of his career in Europe and embodies one of the artist's most experimental and boldest abstract statements of his
oeuvre
. Building upon his musical 'intuitive' works of late 1912, and anticipating the politically and personally entrenched wartime German Officer paintings,
Abstraction
veritably vibrates with the intellectual and spiritual energy of one of the greatest visionaries of early twentieth-century art.
The collection also features seminal artists of early abstraction including one of the first shaped canvases ever painted in America by
Charles Green Shaw,
Plastic Polygon
, 1937 (estimate: $250,000-350,000). Other collection highlights include works by Oscar Bluemner, Max Weber and Konrad Cramer, among others.
The American Art sale on May 22 is comprised of 88 lots and distinguished by rare and fresh to the market paintings, many with important provenance. The American Art online auction opens for bidding May 15-22 and features works from some of the most noteworthy American artists of the 19th and 20th centuries, from
Milton Avery, Edward Hopper
, and
Andrew Wyeth
to
Asher B. Durand
and
George Inness
, with estimates starting under $5,000. All lots will be on view in Christie's Rockefeller Center galleries from Saturday, May 18-21.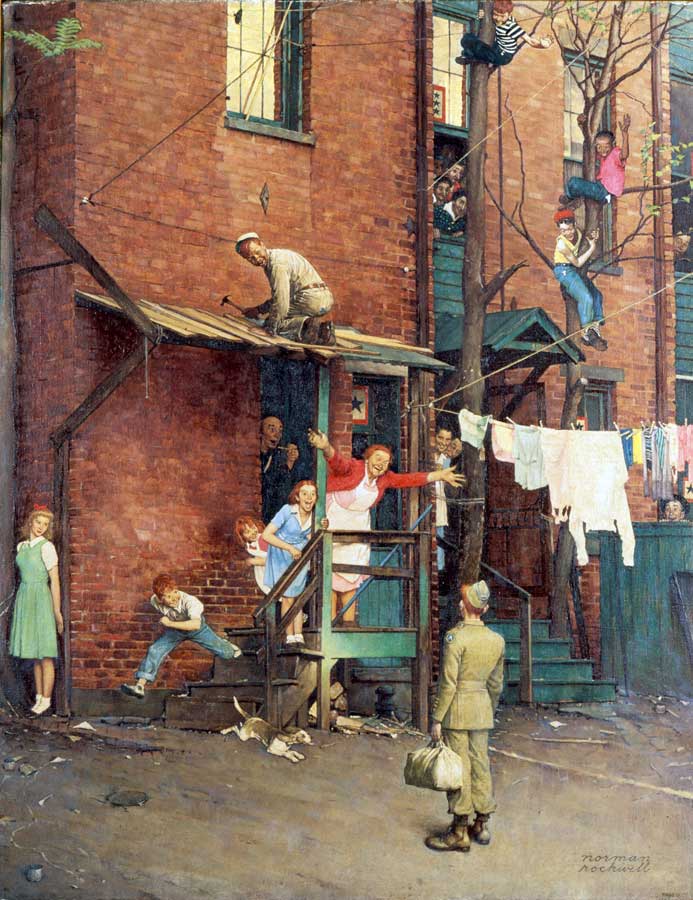 The top lot of the American Art sale is
Norman Rockwell's
famed Saturday Evening Post cover
The Homecoming
, which was printed for the May 26, 1945 issue, just eighteen days after the end of World War II (estimate: $4,500,000–6,500,000). The timely and emotional image tells the story of a young soldier arriving home, where family, neighbors and even a love interest rush to greet him with ecstatic joy. The work was described by Post editor Ben Hibbs as "the finest cover Norman has done; in fact, I have always felt that it is the greatest magazine cover ever published."
Among the strong selection of American Modernist works is
Shipyard Society
by
George Bellows
(estimate: $4,000,000-6,000,000)
,
which is offered by the Virginia Museum of Fine Arts to support future acquisitions. Painted in Camden, Maine, in 1916,
Shipyard Society
shows two of the most famed themes of Bellows' career; the struggle of man versus the sea along the coast of Maine, and a focus on a realistic depiction of all levels of society.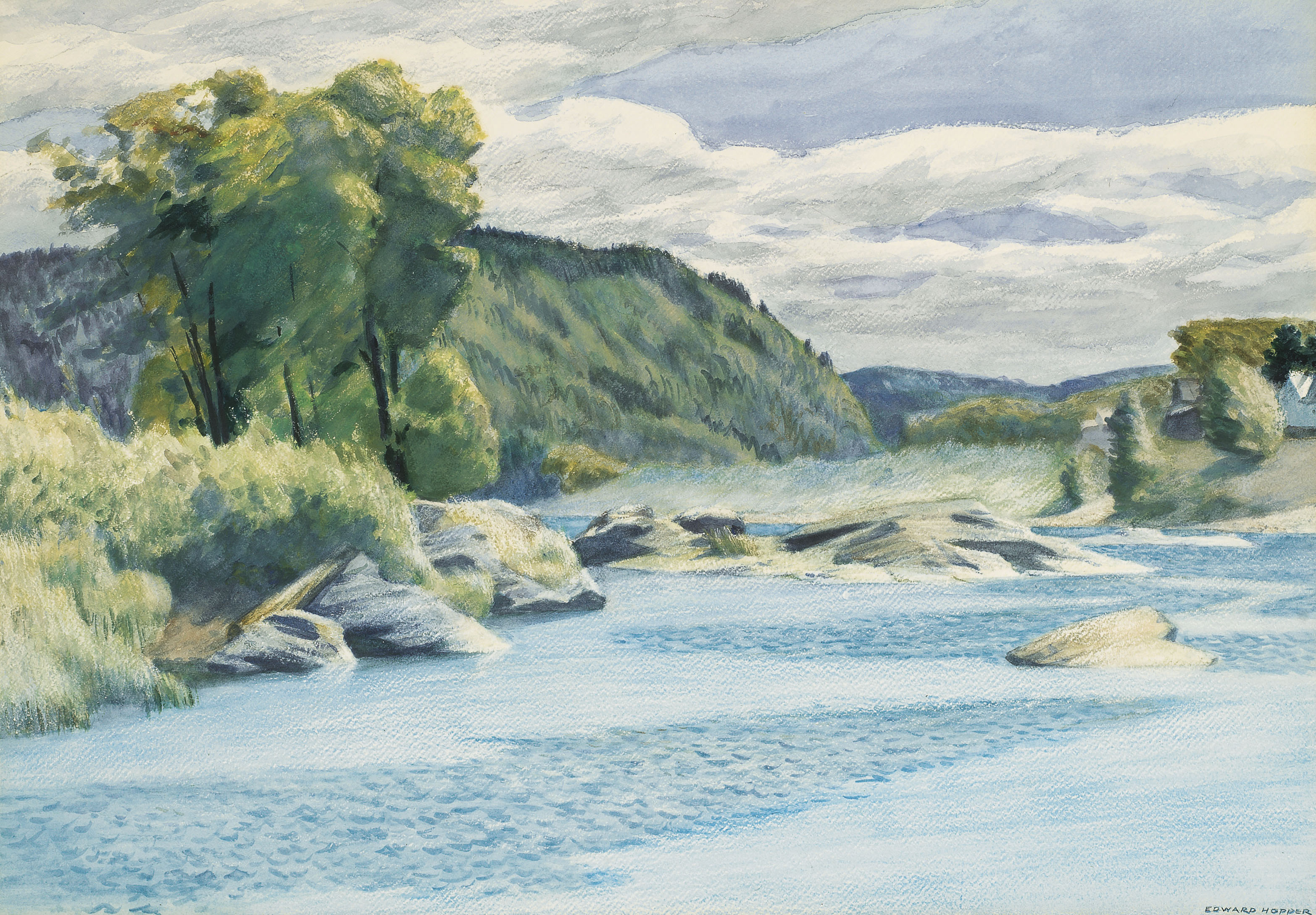 Additional American Modernist highlights include
Edward Hopper's
Windy Day
which is sold to benefit The Prospect Hill Foundation and depicts the White River in Vermont with the adept handling of watercolor and keen understanding of light for which the artist's works on paper are best known (estimate: $1,000,000-1,500,000).
The auction includes iconic Impressionist works, including a Cos Cob interior by
Childe Hassam
recognized by scholars as the best of its type
,
a pastel example of
William Merritt Chase's
famed Shinnecock, Long Island, landscapes, and a
John Singer Sargent
sketch after the artist's masterwork
El Jaleo
in the Isabella Stewart Gardiner Museum.
Stellar examples by the Hudson River School include works by
Sanford Gifford, John Frederick Kensett
and
Albert Bierstadt
. A strong group of Western works includes examples by
Alfred Jacob Miller, Henry Farny
and Taos Society artists such as
Walter Ufer
. The sculpture selection is led by an
Augustus Saint-Gaudens
once owned by Stanford White, as well as exceptional models by
Gaston Lachaise, Elizabeth Catlett
and
Herbert Haseltine
.