Christie's 2015
From
Ambrosius Bosschaert the Elder
(1573- 1621), who along with Jan Brueghel the Elder and Jacques de Gheyn was the pioneering founder of European flower painting, Christie's will offer a hitherto unknown, jewel-like panel (estimate £600,000-800,000), which constitutes a significant addition to the artist's small
oeuvre
, of some seventy accepted works. Despite the seemingly anecdotal nature of its subject, Bosschaert's still lifes encapsulate the two key transformations of the early modern era: the dawn of the scientific age, marked by a new curiosity and inquisitiveness about the natural world, and the discovery of the Americas, which resulted in the arrival of a series of exotic plants in Europe.
This painting is an archetypal work of Bosschaert's maturity, when he was able to orchestrate a substantial number of flower species into a relatively small space while creating a real sense of volume, movement, and tonal harmony. At the heart of the picture is a mature rose, soon to crumble, beautifully framed by a group of lively narcissi, a delicate viola and an exuberant red and white carnation Bosschaert's subtle modulation of light creates a remarkable sense of depth and by setting the crisply designed and meticulously painted flowers against a dark background, he generates a stark contrast of patterns and colours that proves strikingly modern.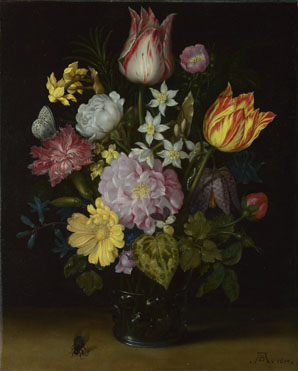 The panel is closely related to one of Bosschaert's masterpieces dated from 1614 now in the National Gallery in London. According to Fred Meijer of the RLD, who dates the present panel to the same year, the two pictures were probably painted side by side, a common practice for Bosschaert who would sometimes repeat his most accomplished compositions.
Parrot tulips, a rose, a fritillary, daffodils, narcissi and other flowers in a roemer, with a Meadow Brown butterfly and a fly, on a stone table
will be offered from a private collection.
Sotheby's 2014
LOT SOLD.
1,022,500 GB
Christie's 2007
Ambrosius Bosschaert the Elder Antwerp 1573-1621 The Hague
A still life of flowers in a vase
Sotheby's 2013
LOT SOLD.
482,500 GBP
Sotheby's 2012
LOT SOLD. 2,882,500 USD (Hammer Price with Buyer's Premium)
Christie's 2011
Sotheby's 2009
STILL LIFE WITH TULIPS, ROSES, NARCISSI AND OTHER FLOWERS IN A GLASS BEAKER