Christie's 2016
Two of Lucian Freud's most intimate portraits of his daughters will be united in Christie's Post-War and Contemporary Art Evening Auction on Thursday 11 February in London, King Street.
Head of Esther
(1982-83, estimate: £2,500,000 - 3,500,000)
and
Head of Ib
(1983-84, estimate: £2,500,000 – 3,500,000)
contribute to the strong core of British artists offered at auction this February, alongside Francis Bacon, David Hockney and Peter Doig.
The two works have previously been included, individually and together, in all of Freud's major retrospectives, including at the National Portrait Gallery, London (2012); Tate Britain, London (2002-3) and the Hirshhorn Museum and Sculpture Garden, Washington D.C (1988). Highlights of 20th Century at Christie's, a series of sales that take place from 2-12 February in London, the two are on view at Christie's Rockefeller Centre, New York until 20 January 2016.
Of the same size and similar date, these works were both executed in arguably Freud's greatest period at the beginning of the 1980s when he painted the much celebrated



Large Interior, WII (After Watteau), (1981-83),



Two Irishmen in W11 (1984-85),



and his famed self-portraits of 1981



and 1985.

Having recently turned 60, this was a moment of reflection for Freud; painting his children for the first time in over a decade, these works capture Freud's deep affection for his grown-up daughters after many years of parental absence. The early 1980s was also a time of professional triumph for Freud: in 1981 he was hailed as a father of 'New Figuration' after his work was included in the ground-breaking exhibition A New Spirit in Painting at the Royal Academy of Arts in London, and in 1983 he was appointed Commander of the British Empire in recognition of his contribution to British painting.
Painted when Esther and Isobel (Ib) were both in their early twenties, the two works stand among the artist's most acclaimed small format portraits. Almost the same age, Isobel (Ib, born in 1961 and daughter of Suzy Boyt) and Esther (born in 1963, the daughter of Bernardine Coverley and celebrated author of Hideous Kinky, which was made into a 1988 film starring Kate Winslet) are rendered with subtle strokes of impasto in rich, warm hues that convey the blossoming familiarity between father and daughters. Many of Freud's sitters were unattributed but the portraits of his own children were almost always named. The paint itself, which the artist described as being the person, was worked to function in the same way as the flesh of the sitter. It became a tool not just of observation but of reconnection – a means of bringing himself closer to his daughters.
Esther Freud: 'My father had charisma, he had the ability to make whoever he was with feel very special. With each person he was with he focused so much that they felt glowing. I was glowing. I felt I was important to him ... in those hours and hours I had so much of his attention. He would paint, tell me stories, sing me songs, give me food and take me for dinner. He makes you feel wonderful. I did feel very close to him' (E. Freud, quoted in interview with A. Elkann).
Francis Outred, Chairman and Head of Post War and Contemporary Art, EMERI at Christie's commented: 'At Christie's we have had the pleasure to present some of Freud's greatest works yet never have we seen two small portraits of this quality; they are jewels that date from arguably the most important moment in his career and offer an insight into the relationship between a father and his daughters that is unmatched. The intimacy is reflected in the scale of the fourteen-by-twelve inch portraits recall the format of Francis Bacon's celebrated portrait heads, however where Bacon attempted to capture the presence of his subject in a single brushstroke, Freud carefully carves and caresses the paint with a piercing exactitude and intense precision.'
Sotheby's 2016
On 10 February, Sotheby's London will offer for sale a painting that not only marks a pivotal moment in the career of Lucian Freud, but that also shines a spotlight on a fascinating but little-­‐known moment in the artist's life. While much has been written about many of Freud's amorous liaisons, barely anything is known about his intense, and ultimately transformative, relationship with Bernadine Coverley. The two met when she was just 16, and he was already an established artist, 20 years her senior. Although their time together was relatively brief, it was to prove critical -­‐marking both the beginnings of a life-­‐long bond and, for Freud, a new approach to painting.
Pregnant Girl embodies this new approach. Estimated £7-­‐10m, the painting will be a highlight of Sotheby's Contemporary Art Evening Auction in London on 10 February 2016.
Media
Oliver Barker, Sotheby'sSenior International Specialist, Contemporary Art: "This astonishingly beautiful painting embodies the profound bond between Lucian and the mother of his two daughters. There is arguably no other portrait by Freud that is more gripping,more tender,and more laden with such emotional depth."
In Pregnant Girl we see Freud paint his lover reclining on the green sofain the long and narrow room in his studio in Delamere Terrace, West London. The sleeping 17-­‐year old -­‐head titled to one side, eyes shut, dreaming-­‐does not confront the viewer, or the artist; rather we confront her at an intensely private moment. In creating a modern 'Madonna and Child' or 'Sleeping Venus', Freud echoes the greats of art history, to deliver a breathtaking image of beauty, desire, femininity and fertility.
Coverley, whose Irish Catholic parents ran the Black Horse pub in Brixton, was sent to a convent boarding school at the age of four. Feeling trapped and despondent under the strict governance of the convent, she twice tried to run away. By her teens, she craved the liberation and excitement of bohemian Soho –an intoxicating underground world of artists, musicians and writers. It was here, in a Soho pub in 1959, where Coverley first met Freud, who was captivated by her natural beauty and free spirit. Much has been written about Freud's famously numerous partners -­‐when he first met Coverley, he had already been twice married and had fathered a number of children–but little is known about their relationship.
Pregnant Girl opens a window onto the most meaningful moment in the lives of both lovers, embodying thesingular tenderness he felt for Bernadine,soon to be the mother of his daughters Bella and Esther. "It must have been a very happy time in her life, being pregnant with the man she loved and him wanting her to be there and paint her", says their daughter Bella, "I think he was undoubtedly the love of her life."
After separating from Freud, Coverley left England (and its conservative views on unmarried mothers) with her wo small daughters to start a new life in Morocco. The story of their bohemian lifestyle in Marrakesh was immortalised in Esther's novel "Hideous Kinky", and later turned into a hit film with Coverley played by Kate Winslet. Although he was not altogether present in Bella and Esther's early years, Freud was extremely close with his two daughters, painting both of them several times, including
Lucian Freud, Baby on a Green Sofa, 1961 Copyright: Image/Artwork: © The Lucian Freud Archive / Bridgeman Images
Baby on a Green Sofa (1961), a painting of Bella as a baby resting on the same green sofa in which her mother was portrayed. Remarkably, after two extraordinary lives, Freud and Coverley died within just four days of each other in July 2011.
Christie's New York, 9- 10 November 2015
Lucian Freud (1922-2011), T
he Brigadier,
oil on canvas, Painted in 2003-2004. Sold $34,885,000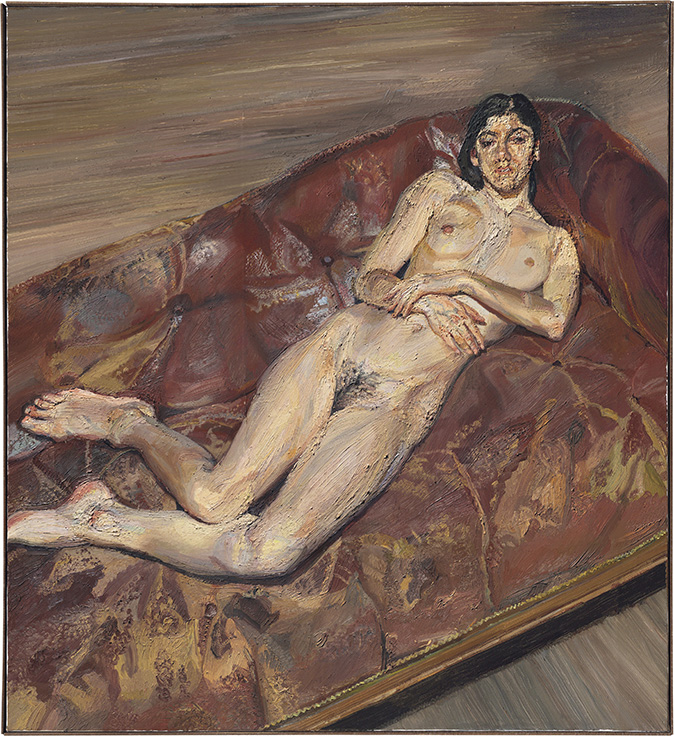 Lucian Freud (1922-2011),
Naked Portrait on a Red Sofa,
1989-91. Oil on canvas. 39. x 35.in. (99.5 x 90.7cm.)
Lucian Freud's
Naked Portrait on a Red Sofa (1988-91)
, an intimate and poignant portrait of one of the artist's most personal subjects, his daughter Bella, will be a centrepiece of the curated sale The Artist's Muse. on Monday 9 November at Christie's New York, which marks the first time this portrait is appearing at auction.
Sotheby's Modern & Post-War British Art Evening Sale London, 17 November 2015: Lucian Freud, Girl and Self Portrait
Lucian Freud, Girl and Self Portrait (1947/48), pen & ink, heightened with coloured crayon, on paper21.5 by 29.5cm; 8
1/2
by 11
1/2
inches (est. £600,000-800,000)
Sotheby's London has announced the sale of an outstanding rediscovered drawing by Lucian Freud in its Modern &Post-War British Art Evening Sale on 17 November 2015. Girl and Self Portrait is the only self-portrait drawing by Freud known to feature his muse Kitty Garman, who was to become his first wife and whom he had painted devotedly from early 1947.
Unveiled to the public for the first time in almost 70 years, Girl and Self Portrait was gifted between 1947 and 1948 shortly after it was drawn by the artist to the late Sonia Brownell( 1918-1980), second wife of George Orwell. The drawing now comes to the market for the first time with an estimate of £600,000-800,000.
Lucian Freud gifted the drawing to Sonia, who was almost certainly the inspiration for the heroine of George Orwell's seminal novel 1984, the 'girlf rom the fiction department', with whom the book's protagonist Winston Smith falls in love, changing the course of the storyline. Sonia and Lucian were close friends during the late 1940s, having met when they both worked at the highly regarded literary journal Horizon.It was Freud to whom Sonia turned when she needed help transporting Orwell to a Swiss sanatorium, in a last ditch attempt to save his life –although he died of tuberculosis a few days before the scheduled departure.
Girl and Self Portrait is testament Sonia's famed loyalty as a friend. Indeed, despite her financial need later in life, Sonia kept the drawing to the end. During the seven decades that the drawing remained in her homet he work was only lent once for exhibition, shortly after she received the gift, for Freud's now historic 1948 show at the London Gallery.
This arresting pen and ink drawing, heightened with coloured crayon, was initially intended to illustrate a reproduction of Flyda of the Seas: a Fairy Tale for Grown Ups, a book by Princess Marie Bonaparte, Sigmund Freud's disciple and patron. It was Marie Bonaparte's idea to commission Freud's grandson to do the illustrations for her book in 1947 when translated from the French by John Rodker's Imago Publishing Company, thoughhis illustrations did not end up being included in the edition. As a gift the drawing couldn't have been more suitable for the 'girl from the fiction department'-an image created initially to accompany a text, but one that pulsates with the emotional intensity between the artist and model/lover, a theme that Freud was to explore for the next 60 years.
Christie's POST-WAR & CONTEMPORARY ART EVENING SALE
12 November 2014
LUCIAN FREUD (1922-2011)
JULIE AND MARTIN
PR.$16,965,000
Sotheby's 2015
Lucian Freud

ROBERT FELLOWES
Estimate 600,000 — 800,000 GBP
LOT SOLD. 785,000 GBP
Sotheby's 2014
Lucian Freud
HEAD ON A GREEN SOFA
Estimate 2,500,000 — 3,500,000 GBP
LOT SOLD. 2,994,500 GBP
Sotheby's 2011
Lucian Freud
BOY'S HEAD
Estimate 3,000,000 — 4,000,000 GBP
LOT SOLD. 3,177,250 GBP