Christie's
Old Master & British Paintings Evening Sale
in London on Tuesday 8 December 2015 will offer an exceptional selection of pictures from private collections, several of which have never before been offered at auction.
The sale is led by an exceptionally rare work, in excellent condition, from a private collection:
A hare among plants
by
Hans Hoffmann
(Nürnberg 1545-1591 Prague), (estimate: £4-6 million). Monogrammed and dated 1582, just three years before Hoffmann went to Prague to become court painter to Emperor Rudolf II (1552-1612), at the time "the greatest art patron in the world" (Karel van Mander, 1548–1606,
Het Schilderboek
, 1604), the drawing is inspired by
Albrecht Dürer's magnificent
Hare
of 1502, today in the Albertina in Vienna.
One of Hoffmann's largest drawings and greatest masterpieces, the present work can be seen as a paragon of the so called Dürer Renaissance, an intense revival of interest in Dürer's work at the end of the 16
th
Century, about fifty years after the artist's death.
A hare among plants
is not a direct copy but an inventive adaptation and variation of Dürer's iconic
Hare
. Hoffmann represents the hare among plants while in the Albertina drawing the background is left blank. Every species is individualised and the artist excels equally at representing beautiful flowers in full bloom, lively insects, a lizard and a frog as well as faded, diseased, or pest-eaten foliage. Cobwebs and a faded dandelion and even a tick attached to the hare's fur are drawn with extraordinary detail.
A hare among plants
was part of the extraordinary collection assembled by Nürnberg born trading businessman Paulus Praun (1548-1616), very probably its first owner and the artist's most important patron. After 1801 it was acquired by Johann Friedrich Frauenholz, Nürnberg, and after 1945 sold to the Stapf family in Tyrol, from where it was acquired in 1975 by the father of the present owner. Christie's is proud to be able to offer international collectors the rare opportunity to acquire a technical
tour de force
in remarkable condition, which stands as a perfect embodiment of the Dürer Renaissance, a movement that lasted not more than twenty years but certainly helped fix the perception of Dürer's work and affected the way in which succeeding generations were to receive him.
---------------------------------------------------------------------------------------------------------------------------
From
Ambrosius Bosschaert the Elder
(1573- 1621), who along with Jan Brueghel the Elder and Jacques de Gheyn was the pioneering founder of European flower painting, Christie's will offer a hitherto unknown, jewel-like panel (estimate £600,000-800,000), which constitutes a significant addition to the artist's small
oeuvre
, of some seventy accepted works. Despite the seemingly anecdotal nature of its subject, Bosschaert's still lifes encapsulate the two key transformations of the early modern era: the dawn of the scientific age, marked by a new curiosity and inquisitiveness about the natural world, and the discovery of the Americas, which resulted in the arrival of a series of exotic plants in Europe.
This painting is an archetypal work of Bosschaert's maturity, when he was able to orchestrate a substantial number of flower species into a relatively small space while creating a real sense of volume, movement, and tonal harmony. At the heart of the picture is a mature rose, soon to crumble, beautifully framed by a group of lively narcissi, a delicate viola and an exuberant red and white carnation Bosschaert's subtle modulation of light creates a remarkable sense of depth and by setting the crisply designed and meticulously painted flowers against a dark background, he generates a stark contrast of patterns and colours that proves strikingly modern.
The panel is closely related to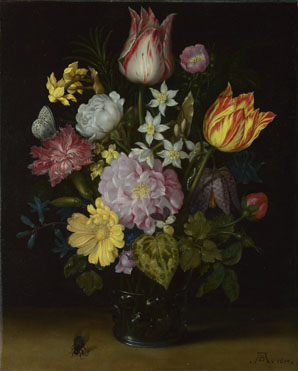 one of Bosschaert's masterpieces dated from 1614 now in the National Gallery in London
.
According to Fred Meijer of the RLD, who dates the present panel to the same year, the two pictures were probably painted side by side, a common practice for Bosschaert who would sometimes repeat his most accomplished compositions.
Parrot tulips, a rose, a fritillary, daffodils, narcissi and other flowers in a roemer, with a Meadow Brown butterfly and a fly, on a stone table
will be offered from a private collection.
--------------------------------------------------------------------------------------------------------------------------
Also offered for sale at auction for the first time is an exceptional nocturne,
The Agony in the Garden
, by
Jacopo Bassano
(1510-1592), (estimate £500,000-800,000). Bassano was a contemporary of Titian and Tintoretto and was hugely influential on El Greco. This picture, which was first published in 2004, dates to the 1570s and is a key example of Bassano's speciality and talent in depicting nocturnes. It has previously been on loan to the Museo Civico in Bassano, the artist's hometown, and was included in an exhibition at the Louvre,
Titien, Tintoret, Véronèse, Rivalités à Venise
, in 2009-2010.
A copy of this image (by a son?) is owned by the Pushkin Museum
:

---------------------------------------------------------------------------------------------------------------------------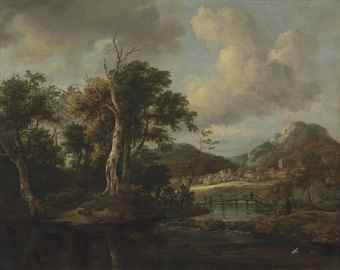 Jacob van Ruisdael
's (1628/9-1682)
A wooded river landscape with figures crossing a bridge
is offered for sale for the first time in over 100 years (estimate £250,000-350,000). It was once part of the collection of Alexander Hugh Baring (1835-1889), 4
th
Lord Ashburton, of the legendary Baring dynasty of bankers, philanthropists, and art collectors. Ashburton's collection included paintings by Greuze and Weenix now in the Wallace Collection and Murillo's
The Infant Saint John with the Lamb
today in the National Gallery in London. The reappearance of this picture, known through an engraving, but untraced since it was sold in Paris in 1879, returns one of Ruisdael's celebrated wooded landscapes to his documented
oeuvre
. This classic subject by the greatest landscape painter of the Dutch Golden Age depicts a transitional space, where the wild forest and the cultivated cornfield and nearby hamlet meet. From the Baring collection the painting went to the collection of Max Kahn in Paris before entering the collection of Léon Emile Brault (1825-1910) in 1879, in whose family it has remained ever since.
---------------------------------------------------------------------------------------------------------------------------
The sale also includes a beautifully preserved view painting by
Francesco Guardi
(1712-1793),
The Island of San Giorgio Maggiore, Venice
, (estimate £1,500,000-2,500,000), one of his and his patron's most celebrated
vedute
. This view, taken from the Molo and showing the island monastery of San Giorgio Maggiore with its façade designed by Andrea Palladio and the eastern end of the Giudecca, now the site of the Cipriani Hotel, is a work from the artist's full maturity. Throughout the 1770s and 1780s, the period when this picture and its pendant,
Santa Maria della Salute with the Dogana di Mare
(detail) (now Norton Simon Museum, Pasadena) can be dated, Guardi gradually developed his technique to what was to become his most admired style; the brushwork became looser and freer, his palette lightened and his images softened into a suffused pale glow.
The tow were sold together
at
a Christie's auction in 2012.
---------------------------------------------------------------------------------------------------------------------------
The sale will also feature a Holy Family by Nicolas Poussin (1594-1665), (estimate £400,000-600,000), formerly in the renowned collection of Lucien Bonaparte,

a rare still life by Jacques de Gheyn II (1565-1629), (estimate £100,000-150,000, one of only five surviving flower pieces by the artist,

and a fine version of the Birdtrap by Pieter Brueghel the Younger (estimate £1-1.5 million).