Represented in this sale are three generations of the iconic Wyeth family, with works from N.C., Andrew, and Jamie on offer. The distinctive genre of American illustrative art as characterized by Norman Rockwell and Maxfield Parrish is also featured in this sale, as are early American painters like Gilbert Stuart

Artists and subjects of special significance to Philadelphia society (like the subject of Stuart's "Portrait of Anne (Nancy) Lee" ) and its rich artistic community (including Thomas Eakins) are peppered throughout the sale.

Barely known and rarely seen, the undisputed star of the sale is

Andrew Wyeth's "Winter Corn Fields" (Lot 81, Estimate $600,000 - 800,000) The work comes to auction from The Estate of Nancy duPont Reynolds Cooch, who had been a childhood friend of Wyeth's .

"Every so often a painting comes along that resonates deeply, and for me, this is one," said Vice Chairman Alasdair Nichol of the work. He went on to remark that "I consider this to be the most exciting period of Wyeth's career - he's just coming into his own and escaping his father's influence. This is six years before his masterpiece ' Christina's World,' and already we're seeing the symbolism he would become known for - that ominous, brooding sense of uncertainty.

Once dismissed as merely commercial work unworthy of serious consideration , Illustration A rt is now enjoys a reputation as a vital and highly influential genre, with collectors clamoring for works by icons of the American "Golden Age of Illustration." Two pillars of the style , Norman Rockwell and Maxfield Parrish, are represented in this auction.

Arguably one of the most beloved of American artists, Norman Rockwell worked in opposition to the avant garde style of his contemporaries. Lots 36 - 39 in Freeman's December auction is a series of four pencil drawings, (Estimated at $60,000-$100,000 each) studies for oil paintings which appeared in Brown & Bigelow's Four Seasons calendar in 1950. The illustrations depict the seasonal adventures of "Two Old Men and Dog ."
Philadelphia native Maxfield Parrish is another celebrated illustration artist featured in the sale. His oil on board work,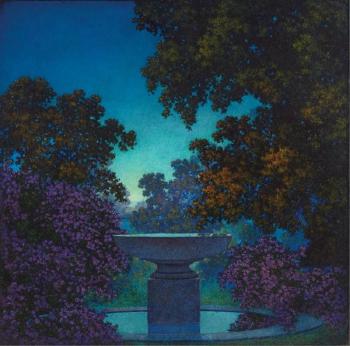 "Blue Fountain" (Study for Reveries) , is an excellent example of the artist's fantastical landscapes. (Estimate $150,000 - 250,000)
Also highlighted in the auction are Gilbert Stuart and Thomas Eakins two early American artists with ties to Philadelphia .
Stuart's "Portrait of Anne (Nancy) Lee" (Lot 6, Estimate $30,000 - 60,000) is sure draw attention from collectors of fine early American art and historical portraiture. A favorite of Philadelphia society and a great beauty of her time , Anne Lee is depicted by Gilbert wearing a bonnet in the height of fashion. The portrait is unfinished ; it's bare, unfinished edges add to the overall charm of the work.
In a letter to the editor of Frank Leslie's Popular Monthly in 1896 , an admirer of the painting remarked that rather than finishing the work, Stuart "flung away his brush, exclaiming 'It breaks my heart to paint loveliness that must fade so soon!'" Whether or not this incident actually happened cannot be determined, but the story adds romance to an already enchanting painting.
Lot 7 is "Study of a Spectator" for
"Taking the Count " by Thomas Eakins ,
The great detail and effort Eakins places in this small subject are representative of the artist's meticulous nature.
Other notable works in this auction include p a i n t i n g s by preeminent Pennsylvania Impressionists Daniel Garber and Edward Willis Redfield:
Daniel Garber "The Mary Maxwell House" (The Milk Wagon) Estimate $150,000 - 250,000 ·
Edward Willis Redfield "The South Window" Estimate $100,000 - 150,000 ·