An exhibition of 98 images by Carleton Watkins (1829-1916), America's greatest landscape photographer, was on view at The Metropolitan Museum of Art October 5, 1999 - January 9, 2000 in
Carleton Watkins: The Art of Perception
. The first large-scale examination of an often under-recognized artist, the exhibition included more than 85 mammoth prints, including work from his famous series of the pristine and then virtually unknown Yosemite Valley, as well as many other lyrical views of the American West.

Carleton Watkins: The Art of Perception
was organized by the San Francisco Museum of Modern Art, in association with The Metropolitan Museum of Art, New York, and with special cooperation from the Huntington Library and Art Gallery, San Marino, California.
At the height of his career, Watkins was a leader in his field. His photographs helped convince Abraham Lincoln to sign the Yosemite Bill in 1864 — a tacit recognition of the necessity of natural conservancy in a climate of rampant development, and an important precedent in establishing the present system of national parks. The photographs were exhibited at the 1867 Paris International Exposition, where they were awarded a first-prize medal, and were later seen by Napoleon III. More than a century later, his images still create a visceral impact, effectively pulling the viewer into the scene by means of artistic devices such as radical framing, deep-space perspective, and intruding foreground objects — the same devices used contemporaneously by modernist painters such as Edgar Degas and Paul Cézanne.
The photographs in the exhibition were drawn from museum, corporate, and private collections throughout North America. In addition to Watkins's large-format prints, the exhibition included several immense panoramic pictures — works made of large prints placed side-by-side to orchestrate a vast sweep of visual terrain — and many stereo views. Stereographs — two small photographs mounted together that, when placed in a special binocular view, give the illusion of three-dimensional depth — were displayed in the exhibition not only in original Victorian-era stereoscopes, but also and more extensively in a novel interactive computer presentation.
More about Carleton Watkins
Born and raised in Oneonta, New York, Carleton Watkins settled in San Francisco at the height of the Gold Rush, taking up the still-new medium of photography in the mid-1850s. On the East Coast, reports of the massive California landscape had taken on mythic proportions, and accounts of colossal mountains, giant trees, expansive deserts, and a vast ocean were considered improbable by many. Watkins himself was struck by the immensity of the Western landscape, and aspired to capture the vastness and grandeur of its space and scale. As confirmation of stories emerging from the West — and to help render comprehensible the size and proportions of the trees, rock formations, mountains, and waterfalls in his photographs — statistical measurements of these natural wonders often accompanied his images or were included in their titles.
In the early 1860s, Colonel John Frémont, the explorer who mapped the American West with his friend Kit Carson, enlisted Watkins to photograph his land and mines. It was this association with Frémont that first led Watkins to photograph Yosemite, resulting in some of his most famous work. Recognizing that the scale of the valley required exceptional preparations, Watkins had a cabinetmaker fashion a huge camera capable of holding negatives 18 by 22 inches in size. The resulting pictures were lush in detail, visually coherent, and psychologically compelling. By December 1862 the views were the talk of New York. There, and in San Francisco, they were displayed in galleries and collected by scientists, investors, mining engineers, homesteaders, and tourists.

Carleton Watkins, Yosemite Falls (River View), 1861
Albumen print from wet-collodion negative
Private Collection, Montecito, California




Three Brothers, Yosemite National Park




Half Dome, 4967 feet, Yosemite




View from Camp Grove, Yosemite, 1861, Vintage Albumen Print, 15-¼ x 20-¾", The Nelson-Atkins Museum of Art, Kansas City, Missouri. Gift of Hallmark Cards, Inc.
In 1867 the photographer traveled to Portland, Oregon, and up the Columbia River, making several images that have since become icons of Western landscape photography. Views such as Cape Horn near Celilo (1867) express the faith of Watkins's generation of Americans in the continuing westward advance of civilization. More than just an illustration of Manifest Destiny of the local railroad's route, it achieves an artful balance between the valley etched by the river and the railroad laid down alongside it, recognizing the providential harmony of nature and man in this particular place.
Through his childhood friend Collis Huntington, he became the unofficial photographer for the Central Pacific and Southern Pacific Railroads in the 1870s and 1880s and was allowed to travel free along their lines. As the rampant laying of railroad tracks penetrated the continent, Watkins aligned his photography with the changing perceptions the train brought to the landscape.
With increased competition and the economic crash of the mid 1870s, Watkins's financial fortunes turned. In the wake of his bankruptcy he spent long periods on assignment out of San Francisco, traveling to Arizona, Idaho, Montana, Oregon, Washington, and British Columbia. Agricultural assignments in Sonoma, the San Gabriel Valley, and Kern County resulted in such memorable images as Arbutus Menziesii Pursh (1872-78) and Late George Cling Peaches (ca. 1887-88), both of which document the thriving new industry made possible by irrigation farming in areas serviced by new rail lines.
He continued to expand the range of his activity in the 1880s, and his abstract vision found new, unconventional subjects for a broadening audience. One of his last commercial projects involved documenting the new dams and waterways of the Golden Gate and Golden Feather mines in Butte County, California, in 1891. For these final images he returned to his trademark mammoth camera and wet-plate negatives.
Golden Feather Mining Claim, No. 12; Feather River, Butte County, Cal.
One of the views stands out as a remarkable symbol of the intrepid Watkins: at the foreground of
Gold Feather Mining Claim, No. 9 (1891),
silhouetted by the bright sun, is the shadow of the photographer himself in a rare self-portrait with his giant camera.
Carleton Watkins: The Art of Perception
was curated by Douglas R. Nickel and Maria Morris Hambourg.
Publication
Carleton Watkins: The Art of Perception
was accompanied by a catalogue featuring over 100 tritone plates — including four gatefolds illustrating Watkins's rarely reproduced panoramas — and 20 duotone illustrations. An introduction by Maria Morris Hambourg, a scholarly essay by Douglas R. Nickel, Associate Curator of Photography at the San Francisco Museum of Modern Art, and biographical material by Peter E. Palmquist, an independent scholar and Watkins biographer, are included.
The exhibition originated at the San Francisco Museum of Modern Art and subsequent to its New York viewing was shown at the National Gallery of Art in Washington, D.C., from February 6 through April 30, 2000.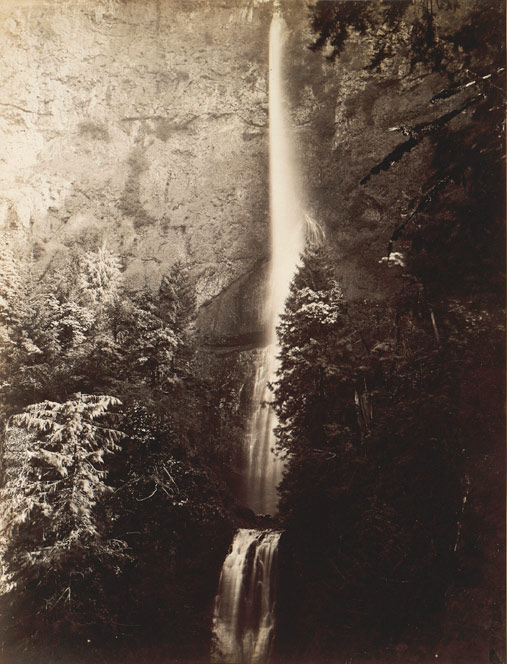 Multnomah Falls Cascade, Columbia River, 1867
Carleton E. Watkins (American, 1829–1916)
Albumen silver print from glass negative




View on the Columbia, Cascades, 1867
Carleton E. Watkins (American, 1829–1916)
Albumen silver print from glass negative