Selfportait, Oil on panel, 43 x 32.5 cm. ca. 1615. Vienna, Gëmaldegalerie der Akademie der Bildenen Künste
This exhibition, at he Museo del Prado through March 31,2013, focused on Van Dyck's early output. It was one of the most important to have been devoted to the artist world-wide and the first in Spain to focus entirely on his paintings and drawings. The exhibition included more than 90 paintings and drawings, all dating from the early period of this Flemish artist's career, specifically between 1615, when Van Dyck was only 16 (the exhibition opened with his exquisite Self-portrait at this age), and October 1621 when he moved from his native Antwerp to Italy.
During the approximately six years that Van Dyck spent in Antwerp, until the age of 22, he executed more than 160 paintings, including portraits and medium-size works as well as more than 30 ambitious, large-format compositions. His close relations with Rubens, to whom he acted as assistant, give rise to some of the most interesting art-historical issues of this period of his career: why, for example, did Van Dyck create some works that were intended to resemble his master's as closely as possible, but then distance himself in others, giving his figures a naturalistic appearance that is remote from Rubens's idealisation? The exhibition focused on such questions and also revealed the remarkably precocious talent of this brilliant artist who would subsequently become one of the most influential portraitists within the history of European art.
More information on
Rubens and the young Van Dyck
Drunken Silenus, Van Dyck, oil on canvas, 107 x 90 cm, Dresden, Gemäldegalerie Alte Meister der Staatlichen Kunstsammlungen
The exhibition was accompanied by a Spanish and English catalogue edited by Friso Lammertse, an expert at the Boijmans van Beuningen Museum, Rotterdam, and Alejandro Vergara, Senior Curator of Flemish Painting at the Prado. It has also benefited from the collaboration of Anne-Marie Logan, a specialist in Flemish drawings, and two other specialists. These authors have primarily focused on the remarkably precocious nature of Van Dyck's abilities, his extremely large output, the surprising fluctuations in his pictorial style and his relations with his master and mentor Rubens.
This publication also includes a technical section that presents the results of studies undertaken on Van Dyck's works by the Museo del Prado's Technical Department. The catalogue is the culmination of an ambitious research project that locates the Museum's Department of Flemish Painting among the leading centres world-wide for research in this field.
Cornelis van der Geest, Van Dyck. Oil on panel, 37.5 x 32.5 cm, ca. 1620, London, The National Gallery
Exhibit List


1. Self-portrait - above
Van Dyck
Oil on panel, 43 x 32.5 cm
ca. 1615
Vienna, Gëmaldegalerie der Akademie der Bildenen Künste




2. Saint Jerome
Van Dyck
Oil on canvas, 158 x 131 cm
ca. 1615 - 1617
Vienna, Liechtenstein Museum. The Princely Collections




3. The Adoration of the Shepherds
Van Dyck
Oil on canvas, 155 x 232 cm
ca. 16176 - 1617
Postdam, Stiftung Preußische Schlöser und Gärten Berlin-Brandenburg




4. Two Studies of a Bearded Man
Van Dyck
Oil on canvas, 40.5 x 53.5 cm
ca. 1616 - 1617
Antwerpen, Museum Rockoxhuis


5. The Adoration of the Shepherds
Van Dyck
Drawing on paper, 20.7 x 28.9 cm
ca. 1618 - 1620
Berghes, Musée Du Mont-de-Piété




6. The Entry of Christ into Jerusalem
Van Dyck
Oil on canvas, 151.1 x 229.2 cm
ca. 1617
Indianapolis, Indianapolis Museum Of Art (IMA)




7. Jupiter and Antiope
Van Dyck
Oil on canvas, 112.5 x 151 cm
ca. 1618
Cologne, Wallraf-Richartz-Museum & Fondation Corboud




8. Young Woman Resting her Head on her Hand(probably The Penitent Magdalene)
Van Dyck
Oil on canvas, 49 x 37.5 cm
ca. 1617 - 1618
New York, Private Collection

9. Drunken Silenus -above
Van Dyck
Oil on canvas, 107 x 90.5 cm
ca. 1617 - 1618
Dresden, Gemäldegalerie Alte Meister Staatliche Kunstsammlungen Dresden




10. The Lamentation
Van Dyck
Oil on canvas, 207 x 137 cm
ca. 16197 - 1618
Oxford, Ashmolean Museum




11. The Crucifixion of Saint Peter
Van Dyck
Oil on canvas, 204 x 117 cm
ca. 1618 - 1619
Brussels, Royal Museum of Fine Arts




12. Portrait of an Elderly Man
Van Dyck
Oil on canvas, 117 x 100.5 cm
ca. 1618
Brussels, Royal Museum of Fine Arts





26. Moses and the Brazen Serpent
Van Dyck
Oil on canvas, 205 x 235 cm
1618 - 1620
Madrid, Museo Nacional del Prado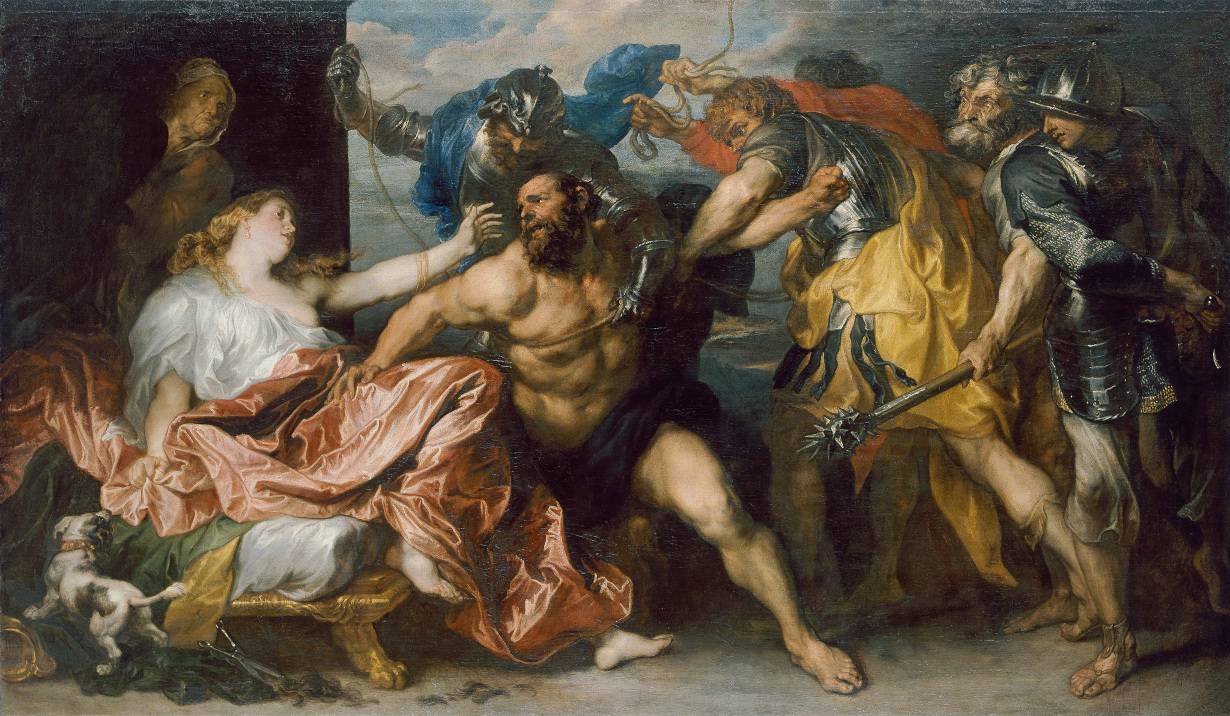 29. Samson and Delilah
Van Dyck
Oil on canvas, 152.3 x 232 cm
ca. 1618 – 1620
London, Dulwich Picture Gallery




34. The Mystic Marriage of Saint Catherine
Van Dyck
Oil on canvas, 123 x 174 cm
1618 - 1620
Madrid, Museo Nacional del Prado




38. Suffer Little Children to Come unto Me
Van Dyck
Oil on canvas, 131.4 x 198.2 cm
ca. 1618 - 1620
Ottawa, National Gallery of Canada



40. John
Van Dyck
Oil on panel, 64.5 x 50 cm
ca. 1618 - 1620
Budapest, Szepmüveszati Muzeum



41. Jude
Van Dyck
Oil on panel, 61 x 49.5 cm
ca. 1618 - 1620
Vienna, Kunsthistorisches Museum Gemäldegalerie




56. Christ Crowned with Thorns
Van Dyck
Oil on canvas, 224 x 197 cm
ca. 1618 - 1620
Madrid, Museo Nacional del Prado




58. Christ Healing the Paralytic
Van Dyck
Oil on canvas, 120.7 x 149 cm
ca. 16198 - 1620
London, The Royal Collection


62. The Lamentation
Van Dyck
Oil on canvas, 201 x 171 cm
ca. 1618 - 1620
Madrid, Museo Nacional del Prado
63. Studies after Rubens
Van Dyck
Drawing on paper, 31 x 20.1 cm
ca. 1616
Berlin, Kupferstichkabinett Staatliche Museen
64. A Horse with a Stable Hand
Van Dyck
Drawing on paper, 26.7 x 23 cm
ca. 1618
Florence, Galleria degli Uffizi
65. Cattle in Pasture
Van Dyck
Drawing on paper, 31.8 x 51.5 cm
ca. 1618 - 1620
Chatsworth, The Devonshire Collection
66. Sitting Man
Van Dyck
Drawing on paper, 23 x 19.5 cm
ca. 1618
Rotterdam, Museum Boijmans Van Beuningen
67. Battle of the Amazons
Anonymous (Van Dyck?) after Rubens
Drawing on paper, 81 x 102 cm
ca. 1618 - 1619
Oxford, Christ Church Picture Gallery
68. Michael Defeats the Rebel Angel
Van Dyck
Drawing on paper, 52.3 x 40.8 cm
ca. 1617 - 1618
Stockholm, Nationalmuseum
69. Michael Defeats the Rebel Angels
Lucas Vorsterman, after Rubens
Engraving, 56.5 x 43.5 cm
1621
London, The British Museum
70. San Jerome with an Angel
Van Dyck
Oil on canvas, 165 x 130 cm
ca. 1618-20
Rotterdam, Museum Boijmans Van Beuningen
71. Saint Jerome with an Angel
Van Dyck
Oil on canvas, 167 x 154 cm
ca. 1618 - 1620
Stockholm, Nationalmuseum
72. Saint Jerome in the Wilderness
Van Dyck
Oil on canvas, 195 x 215.5 cm
ca. 1618 - 1620
Dresden, Gemäldegalerie Alte Meister Staatliche Kunstsammlungen Dresden
73. Studies of a Man on Horseback and Three Horses Heads
Van Dyck
Drawing on paper, 26.3 x 16.4 cm
ca. 1617 - 1621
Amsterdam, Rijksmuseum
74. Study of a Soldier on Horseback
Van Dyck
Oil on canvas, 91 x 55 cm
ca. 1617 - 1618
Oxford, Christ Church Picture Gallery
75. Saint Sebastian Bound for Martyrdom
Van Dyck
Oil on canvas, 144 x 117 cm
ca. 1617 - 1618
Paris, Musée du Louvre
76. Saint Sebastian Bound for Martyrdom
Van Dyck
Oil on canvas, 226 x 160 cm
ca. 1620 - 1621
Edinburgh, National Gallery of Scotland
77. The Betrayal of Christ
Van Dyck
Drawing on paper, 17.3 x 22.6 cm
ca. 1620 - 1621
Berlin, Kupferstichkabinett Staatliche Museen
78. The Betrayal of Christ
Van Dyck
Drawing on paper, 21.1 x 32.3 cm
ca. 1620 - 1621
Vienna, Albertina
79. Recto: The Betrayal of Christ. Verso: Sleeping Apostles
Van Dyck
Drawing on paper, 16 x 24.5 cm
ca. 1620 - 1621
Berlin, Kupferstichkabinett Staatliche Museen
80. The Betrayal of Christ
Van Dyck
Drawing on paper, 18.6 x 18.5 cm
ca. 1620 - 1621
Berlin, Kupferstichkabinett Staatliche Museen
81. The Betrayal of Christ
Van Dyck
Drawing on paper, 21.8 x 23 cm
ca. 1620 - 1621
Vienna, Albertina
82. The Betrayal of Christ
Van Dyck
Drawing on paper, 24.6 x 21.2 cm
ca. 1620 - 1621
Paris, Musée du Louvre
83. Recto: The Betrayal of Christ. Verso: Studies for Christ's entry into Jerusalem
Van Dyck
Drawing on paper, 53.3 x 40.3 cm
ca. 1620 - 1621
Hamburg, Hamburger Kunstshalle
84. Study for a figure (for The Betrayal of Christ)
Van Dyck
Drawing on paper, 24.6 x 37.1 cm
ca. 1620 - 1621
Providence, R.I., Museum of Art, Rhode Island School of Design
85. The Betrayal of Christ
Van Dyck
Oil on canvas, 141.9 x 113 cm
ca. 1620 - 1621
Minneapolis, Minneapolis Institute of Art (MIA)
86. The Betrayal of Christ
Van Dyck
Oil on canvas, 344 x 249 cm
ca. 1620 - 1621
Madrid, Museo Nacional del Prado
87. Nicholaas Rockox
Van Dyck
Oil on canvas, 123.5 x 116 cm
ca. 1620 - 1621
Saint Petersburg, The State Hermitage Museum
88. Portrait of a Family
Van Dyck
Oil on canvas, 114 x 94.5 cm
ca. 1620 - 1621
Saint Petersburg, The State Hermitage Museum
89. Cornelis van der Geest
Van Dyck
Oil on panel, 37.5 x 32.5 cm
ca. 1620
London, The National Gallery
90. Portrait of a Woman and Child
Van Dyck
Oil on canvas, 131.5 x 106.2 cm
ca. 1620 - 1621
London, The National Gallery
91. Susanna Fourment and her Daughter Clara del Monte
Van Dyck
Oil on canvas, 172 x 117 cm
ca. 1620 - 1621
Washington, National Gallery of Art
92. Isabella Brant
Van Dyck
Oil on canvas, 153 x 120 cm
1621
Washington, National Gallery of Art