Sterling and Francine Clark Art Institute, June 9 until September 8.
George Inness: Gifts from Frank and Katherine Martucci
marks the inaugural presentation of a suite of eight paintings by American landscape artist George Inness that recently joined the Clark collection through a generous gift from collectors Frank and Katherine Martucci. These exceptional paintings, which are joined in the exhibition by two Inness paintings acquired by Sterling Clark, range in date from 1880 to 1894, the year of the artist's death. Wanting to do more than simply record nature, Inness experimented with color, composition, and painterly technique to evoke a visionary experience of the natural world.
The Sterling and Francine Clark Art Institute announced that it recently received a significant gift of art from New York-based collectors Frank and Katherine Martucci, including an important group of eight paintings by American landscape painter George Inness.
The gift of eleven paintings and five drawings was accepted by the Clark's Board of Trustees during a meeting in March and represents one of the more significant donations of art to the Institute since its founding. The Martucci collection also includes fine oil paintings by Eastman Johnson and Gaston Latouche, as well as a magnificent early watercolor landscape by Piet Mondrian and five works by nineteenth-century Italian genre painter Mosè Bianchi.
The Clark will present the eight Inness landscapes in an exhibition,
George Inness: Gifts from Frank and Katherine Martucci,
which will be on view June 9–September 8, 2013. The presentation will unite the new acquisitions with two works by Inness, Wood Gatherers: An Autumn Afternoon and Home at Montclair, that were purchased by Sterling Clark and have been a part of the Institute's collection since 1955.
"George Inness has no greater contemporary advocate than Frank Martucci, who has studied Inness's aesthetic philosophy, assembled a wonderful collection of his work, and supported the publication of the complete catalogue of Inness's work in 2007," said Michael Conforti, director of the Clark. "Frank and Katherine's extraordinary gift is not only generous, but it's especially meaningful to the Clark. As we prepare for the reopening of our museum galleries next year, it is very exciting to contemplate the added depth these works by George Inness will bring to our American paintings collection, focused on the two other great painters of the late nineteenth century America, Winslow Homer and John Singer Sargent."
The addition of the eight Inness paintings will "enrich the special nature of the Clark's collection," Conforti said. "Paintings like New Jersey Landscape and Green Landscape are beautifully conceived and rendered canvases that invite the intimacy of looking closely at art, which is so central to our visitors' experience of the Clark."
Frank Martucci began collecting works by Inness in the early 1980s, drawn to the artist's commitment to use his paintings as a means of extending his spiritual interests. Through the Martucci Foundation, the couple funded the research and publication of the catalogue raisonné of the artist's works by noted Inness scholar Michael Quick.
"Inness takes us beyond in the canvas in a unique way," Martucci explained. "He was an absolute idealist and shared Ralph Waldo Emerson's belief that there are intuitive ways in which to perceive the world which transcend the experience of our five senses. His landscapes are intended to capture that world beyond, and to become missionaries for this spiritual expression."
Martucci loaned Inness's New Jersey Landscape to the Clark's 2008 exhibition Like Breath on Glass: Whistler, Inness, and the Art of Painting Softly, and credits the experience of working with the Clark's curatorial team for deepening his connection to the Institute. "The sensitivity of that show and the way in which the Clark handled the exhibition impressed me, and our friendship has continued to grow over time," he said. Mr. and Mrs. Martucci are members of the Clark Society and Mr. Martucci serves as a member of the Clark's Director's Council, an advisory panel of noted arts leaders.
"We are so happy to have the Innesses at the Clark as we know that this is a museum that will appreciate them and will show them," said Martucci. "The timing of making this gift now, at a moment when the Clark is planning its new gallery spaces, is very good, because it feels as if a perfect stage is being constructed that will allow the works to be seen in the best possible situation."
Conforti noted that the Clark is "deeply appreciative of Frank and Katherine Martucci's generosity and knows that future generations of visitors, students, and scholars will benefit from their decision to entrust these works to the Clark's stewardship."
George Inness (American, 1825–1894)
The eight landscapes by Inness represent an excellent survey of the artist's late work. The paintings range in date from 1880 to 1894, the year of the artist's death. During this period, Inness moved from the open-air painting and naturalism of his early career toward a more conceptual approach to capturing mood and the play of light and shadow. His dedication to the teachings of the Swedish philosopher Emanuel Swedenborg provided him with specific spiritual concepts that guided his depictions of nature. Wanting to do more than simply record nature, Inness experimented with color, composition, and painterly technique in an attempt to present a vision of the natural world beyond its materiality. His ethereal handling of paint creates the hazy atmospheres, soft forms, and baths of color that reveal his attempt at formal unity intended to evoke the harmony of the physical world and a sense of higher truths. These paintings brilliantly express the aesthetic and spiritual vision sought by Inness during this key period.
The Martucci gift includes the following works by George Inness:


New Jersey Landscape, 1891. Oil on canvas, 30 x 45 in.




Sunrise in the Woods, 1887. Oil on canvas, 20 x 30 in.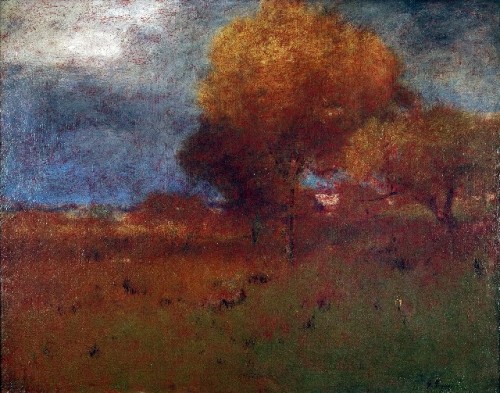 Autumn in Montclair, c. 1894. Oil on canvas, 29 x 35 7/8 in.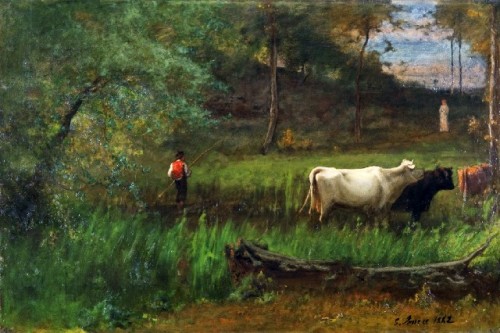 A Pastoral, c. 1882–85. Oil on canvas, 30 x 45 in.




The Road to the Village, Milton, 1880. Oil on panel, 22 x 34 in.




Green Landscape, 1886. Oil on canvas, 30 1/4 x 40 3/8 in.
The Elm Tree, c. 1880. Oil on canvas, 12 1/8 x 10 in.
Scene at Durham, an Idyll, 1882–85. Oil on canvas, 40 x 30 in.