The splendour and riches of the Early Renaissance come to life at the Art Gallery of Ontario (AGO) from March 16 to June 16, 2013, in a large-scale exhibition of rare Florentine masterpieces that have never before been shown in Canada. Presented in partnership with the world renowned J. Paul Getty Museum in Los Angeles,
Revealing the Early Renaissance: Stories and Secrets in Florentine Art
brings together an unrivalled collection of more than 90 rare paintings, manuscripts, sculptures and stained glass from the 14th century to show how the artists of one city gave birth to the Renaissance.
Many of these treasured works, which have survived seven centuries, have never travelled before and likely will not again for years to come. Some pieces that are travelling directly from churches, museums and private collections in Italy have never been publicly shown and will return to safe storage once the exhibition concludes.
"The AGO has been entrusted with these masterpieces in order to offer Toronto audiences a once-in-a-lifetime opportunity to view the works that changed art forever," explained Matthew Teitelbaum, AGO director and CEO. "The exhibition sheds new light on how the artists of the time revolutionized their practices, paving the way for brave new ways of expression that still resonate strongly today."
Thanks to new scientific and art-historical research into the materials and techniques employed by painters of the time, audiences will have the chance to learn fascinating true stories about how these masterpieces were created. Interactive iPad stations located through the exhibition will allow visitors of all ages to see how infrared technology can reveal a painting's secret history.
Prominent works of Revealing the Early Renaissance: Stories and Secrets in Florentine Art include: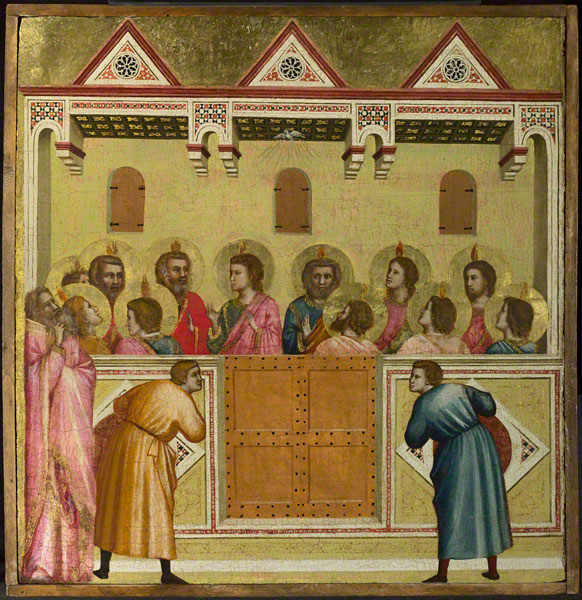 Giotto di Bondone's tempera and gold leaf panel painting Pentecost from around 1320, which comes to the AGO from The National Gallery of London;

the Vatican Museum's Madonna and Child with Angels and Female Saints by Puccio Capanna, ca. 1330;




Giotto's famed The Peruzzi Altarpiece, ca.1310-15, which travels from the North Carolina Museum of Art in Raleigh, N.C.;




Bernardo Daddi's triptych The Virgin Mary with Saints Thomas Aquinas and Paul, 1330, painted in tempera with gold leaf on panel, from the J. Paul Getty Museum;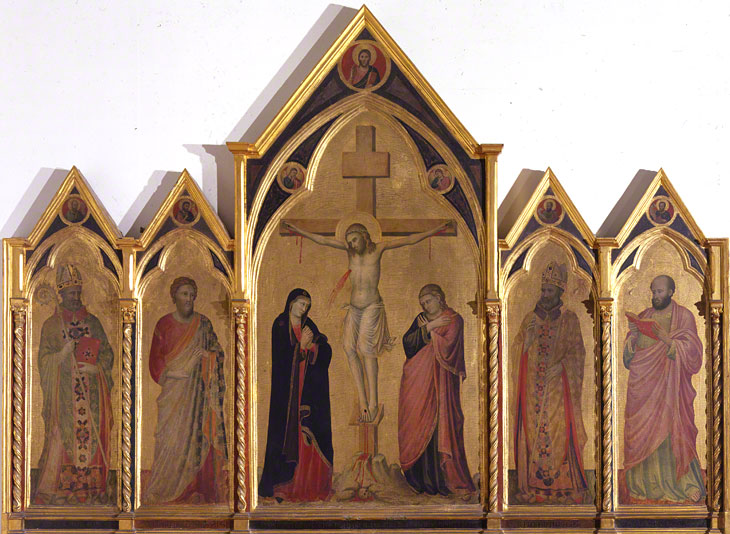 famed illustrator Pacino di Bonaguida's panel paintings Polyptych: The Crucifixion, Saint Nicholas, Saint Bartholomew, Saint Florentius, and Saint Luke, dated 1313-1330, from the Galleria dell'Accademia in Florence; and
Andrea Pisano's marble sculpture La Pittura, 1336-1343, which was originally made for Florence's bell tower and comes to the AGO from the Museo dell'Opera del Duomo in Florence.
Revealing the Early Renaissance: Stories and Secrets in Florentine Art
is curated by Christine Sciacca, assistant curator of manuscripts at the J. Paul Getty Museum, together with collaborating curator Sasha Suda, assistant curator of European Art at the AGO.
According to Suda, "the invention of a lending economy and the standardization of currency in 14th-century Florence brought about a new era of unprecedented wealth, which changed artistic practices forever. This exhibition will make it clear that the diverse techniques of Giotto and his contemporaries paved the way for generations of Italian masters to come, fuelling a passion for art and elevating it to the next level. These were truly the first Renaissance men!"