The exhibition
From El Greco to Goya: Masterpieces from the Museo del Prado
, which will present in Ponce a selection of works by some of the greatest 16th- to 19th-century painters, is the result of a collaborative agreement involving the exchange of collections and the development of joint projects between the Museo de Arte de Ponce and the Museo Nacional del Prado. Curated by Cheryl Hartup and Pablo Pérez d'Ors, curators at the MAP, and coordinated by Gabriele Finaldi, Associate Director of Curatorship and Research at the Museo del Prado, and Agustín Arteaga, Director of the MAP, the exhibition was on display at the Museo de Arte de Ponce from 25 March to 9 July, 2012.
Collaboration between the MAP and the Prado began in 2009 with the presentation in the Madrid museum of the exhibition
The Sleeping Beauty. Victorian Painting from the Museo de Arte de Ponce
. Comprising 17 works from the MAP's collection, it offered visitors to the Prado the chance to learn more about 19th-century English painting and to see an important selection of works from the collection of the MAP, which was at that date embarking on the renovation and expansion of its building, a project that is now completed.
To be seen for the first time in Puerto Rico,
From El Greco to Goya: Masterpieces from the Museo del Prado
brings together 24 paintings by some of the greatest names in western art including Titian, El Greco, Ribera, Rubens, Velázquez, Zurbarán and Goya. These works from the Prado's collection reflect the evolution of Spanish painting over four centuries in an exhibition that also focuses on the artistic traditions and ideological concerns that defined the Spanish School in the 17th century.
The works were grouped thematically in the exhibition. The first room showed religious compositions including Saint John the Evangelist by El Greco and The Holy Family with Saint Anne by Rubens. The next section looked at portraiture under the Spanish Habsburgs and includes
The Cardinal Infante Fernando de Austria by Van Dyck
and The Buffoon Don Diego de Acedo, "El Primo"by Velázquez.
This was followed by a section on still lifes, including Basket and Boxes of Sweetmeats by Juan van der Hamen, and one on Bourbon portraits including Self-portrait of the Artist in his Studio by Luis Paret, who lived and worked in Puerto Rico, and Portrait of Ferdinand VII before a Military Camp by Goya. Paret's portrait was displayed here alongside his Self-portrait in Puerto Rican peasant dress, which had been specially loaned by the Museo de Arte e Historia de San Juan.
List of Works in the Exhibition


1. Salome with the Head of John the Baptist
Titian, Tiziano Vecellio di Gregorio
Oil on canvas, 87 x 80 cm
Ca. 1550
Madrid, Museo Nacional del Prado




2. Saint John the Evangelist
El Greco (and studio)
Oil on canvas, 99 x 77 cm
Ca. 1605
Madrid, Museo Nacional del Prado




3.1 Saint Sebastian
El Greco
Oil on canvas, 115 x 85 cm
1610 - 1614
Madrid, Museo Nacional del Prado

3.2 Saint Sebastian's Legs
El Greco
Oil on canvas, 91 x 115 cm
1610 - 1614
Madrid, Museo Nacional del Prado




4. Saint Sebastian
José de Ribera
Oil on canvas, 127 x 100 cm
1636
Madrid, Museo Nacional del Prado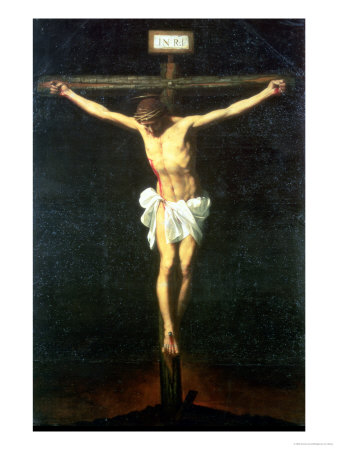 5. The Crucifixion
Alonso Cano
Oil on canvas, 130 x 96 cm
Second half of the 17th century
Madrid, Museo Nacional del Prado




6. Christ the Saviour blessing
Francisco de Zurbarán
Oil on canvas, 100 x 72 cm
1784
Madrid, Museo Nacional del Prado




7. The Virgin of the Rosary
Bartolomé Esteban Murillo
Oil on canvas, 166 x 112 cm
1650 - 1655
Madrid, Museo Nacional del Prado




8. The Holy Family with Saint Anne
Peter Paul Rubens
Oil on canvas, 116 x 91 cm
Ca. 1630
Madrid, Museo Nacional del Prado




9. The Cardinal Infante Fernando de Austria
Anthony van Dyck
Oil on canvas, 107 x 106 cm
Ca. 1634
Madrid, Museo Nacional del Prado

10. Basket and Boxes of SweetmeatsJuan van der Hamen y León
Oil on canvas, 84 x 105 cm
1622
Madrid, Museo Nacional del Prado

11. Sweetmeats and dried Fruit on a Table
Tomás Hiepes
Oil on canvas, 66 x 95 cm
First third of the 17th century
Madrid, Museo Nacional del Prado

12. Kitchen Still Life
Mateo Cerezo
Oil on canvas, 100 x 127 cm
Ca. 1664
Madrid, Museo Nacional del Prado

13. Still Life with Watermelons, Bread, Rusks and Glass
Luis Egidio Meléndez
Oil on canvas, 35 x 48 cm
1770
Madrid, Museo Nacional del Prado

14. The Emperor Charles V
Juan Pantoja de la Cruz
Oil on canvas, 183 x 110 cm
1605
Madrid, Museo Nacional del Prado

15. Lady with a Fan
Alonso Sánchez Coello
Oil on panel, 62.6 x 55 cm
1570 - 1573
Madrid, Museo Nacional del Prado



16. The Infanta Margarita Francisca, Daughter of Philip III
Santiago Morán
Oil on canvas, 100 x 72 cm
Ca. 1610
Madrid, Museo Nacional del Prado


17. Philip IV in an attitude of prayer
Diego Velázquez and Studio
Oil on canvas, 209 x 147 cm
Ca. 1655
Madrid, Museo Nacional del Prado


18. Mariana of Austria, Queen of Spain, in an attitude of prayer
Diego Velázquez and Studio
Oil on canvas, 209 x 147 cm
Ca. 1655
Madrid, Museo Nacional del Prado





19. The Buffoon Diego de Acedo, 'El Primo'
Diego Velázquez
Oil on canvas
Ca. 1644
Madrid, Museo Nacional del Prado




20. Portrait of "La Monstrua" nude, or Bacchus
Juan Carreño de Miranda
Oil on canvas, 165 x 108 cm
Ca. 1680
Madrid, Museo Nacional del Prado




21. Self-portrait of the Artist in his Studio
Luis Paret y Alcázar
Oil on canvas, 39.8 x 31.8 cm
Ca. 1786
Madrid, Museo Nacional del Prado




22. Bouquet of Flowers
Luis Paret y Alcázar
Oil on canvas, 39 x 37 cm
Ca. 1780
Madrid, Museo Nacional del Prado




23. Ferdinand VII before a Military Camp
Francisco de Goya y Lucientes
Oil on canvas, 207 x 140 cm
Ca. 1815
Madrid, Museo Nacional del Prado




24. Tadea Arias de Enríquez
Francisco de Goya y Lucientes
Oil on canvas, 191 x 106 cm
Ca. 1790
Madrid, Museo Nacional del Prado