The Columbia Museum of Art' major exhibition,
Impressionism from Monet to Matisse,
was a collection of 55 works including paintings, pastels and watercolors was on view from January 25 through April 21, 2013. Included are paintings by the well-known masters of French Impressionism: Claude Monet, Pierre-Auguste Renoir, Camille Pissarro and Alfred Sisley. The show also included paintings by America's most noted Impressionist painters, Mary Cassatt and John Singer Sargent. Moving beyond Impressionism, the show is rounded out with work by the more modern painters Paul Cézanne, Paul Gauguin, and Georges Braque, among others.
The Impressionists' desire to look at the world with a new freshness and immediacy continues to appeal to audiences today, making it the most popular style of painting in the world. The Impressionists were radical in their own time because "High Art" was supposed to depict gods, heroes and wars subjects believed to be timeless. Instead, they painted the world we actually live in, one with average people seated having a drink at a café, train stations, dancers, or an empty field of poppies. Instead of creating painstakingly detailed paintings, they explored the way we actually see: they saw and captured the purple and blue of shadows, and the vibrating yellow, pink and green colors of the sky. Critics of the 19th century saw them as scandalous and the word "impressionist" was originally an insult. Now, we see that the Impressionists were really the first modern artists, painting contemporary life around them.
Typical of the Impressionists' approach is Claude Monet's
Village Street of 1871
. The scene is humble and ordinary, but the real subject is the dramatic play of light and shadow moving across the street in broad swaths of energetic paint. A freshening wind enlivens the sky, and swiftly applied daubs of green define the foliage. Monet's art dances between realism and abstraction as it evokes nature's atmosphere at the same time it calls attention to the reality of paint itself on the canvas.
In a similar way, Pierre-Auguste Renoir creates a world of color by painting a single slice of the English Channel in his swirl of color entitled,
The Wave
, from 1882. In
The Wave
, we see how important color itself was to the Impressionists. The result of this passion for color was a style of painting unparalleled for its scintillating surfaces and dynamic color relationships.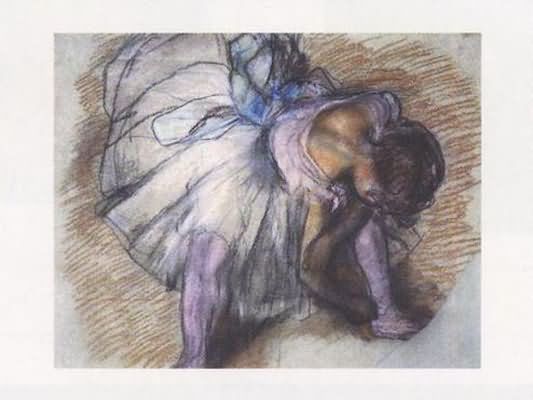 Figurative work in the show included Edgar Degas'
Dancer Adjusting Her Shoe
, 1885, a prime example of Degas' breathtakingly fluid draftsmanship and near-photographic instinct for capturing a fleeting moment.
Henri de Toulouse-Lautrec's
Dancer Seated on a Pink Divan
, c. 1883, is more stately in its quite, lucid presentation of a dancer at rest, but no less fresh in its sense of freezing an intimate and unguarded moment in time.
In Henri Matisse's bold canvas,
The Palace, Belle Ile,
visitors saw a very young Matisse moving away from Impressionism toward the powerful and arbitrary color for which he is famous and which inspired so much modern art to follow.
Indeed, the father of modernist painting, Paul Cézanne, was present in this show with a painting entitled,
Trees and Rocks near the Chateau Noir,
c. 1900. In his striking use of flat, intersecting planes of color, one sees his painting as standing on the precipice of Cubism and the many movements that would follow in his wake.
Beyond Impressionism, this extraordinary show included the work of post-Impressionists Maximilien Luce and Henri-Edmond Cross who are so called because they wished to bring a more systematic approach to color theory into Impressionism. Inspired by Georges Seurat, their use of carefully plotted, tiny dots of color coalesce into solid images of hillsides and castles bathed in electric light.

Impressionism from Monet to Matisse
also included a few surprises with the inclusion of a number of academic paintings meaning, detailed, traditional painting that contrast with the Impressionists and moderns.
The highlight was Henri Fantin-Latour's elegant and precious
Still Life
of 1869. Modest in its subject matter a simple vase of white flowers behind a bowl of mixed fruits is as refined and poetic as it is unpretentious. For artists and visitors, this still life is a grand lesson in the power of simplicity mixed with discipline.
This exhibition was organized by the Dixon Gallery and Gardens, Memphis, Tennessee.