Maine Sublime: Frederic Edwin Church's Landscapes of Mount Desert and Mount Katahdin On View at Olana June 9 – October 31, 2013
An exhibition of Frederic Church landscapes, Maine Sublime: Frederic Edwin Church's Landscapes of Mount Desert and Mount Katahdin, will open at Olana, the historic home and studio of the artist, on Sunday June 9.
Frederic Church was America's most important painter during the middle years of the 19th century. While famous for his scenes of the Arctic, South America, and the Near East, his landscapes of Maine were central to his career for over four decades. This exhibition explores first his early mastery of the conventions of art history, the expressions of national history during his maturity, and finally the poignant reflections of personal history in his later years. Guest curated by John Wilmerding, the Christopher Binyon Sarofim Professor of American art, emeritus, at Princeton University.

Maine Sublime
includes 10 oil and 13 pencil sketches from the Olana collection that celebrate the glories of Maine scenery. Many will be on public view for the first time, including the vibrant plein-air sketch
Wood Interior near Mount Katahdin,
c. 1877.
Loans of 4 important works from the Portland Museum of Art, the National Gallery of Art, Washington, DC and private collections will augment the sketches from Olana. The early and spectacular
Newport Mountain from Mount Desert
, 1851 from the National Gallery of Art depicting nature's more awesome character in the turbulent surf and looming mountain will be displayed alongside the related sketch, also from the National Gallery of Art,
Fog off Mount Desert,
1850.
The artist first journeyed to Maine in the summer of 1850 spending six weeks on Mount Desert exploring the coast, its rocky Islands, and peaceful harbors. He sketched the scenery which he described as "magnificent both land and seaward," capturing the splendid sky effects in
Sunset Bar Harbor
, 1854.
In 1852 he trekked inland focusing on the area of Mount Katahdin. Over the next decades Church continued to visit Maine capturing sensational sunsets, robust crashing waves, impressive peaks, and an abundance of wilderness.
Wilmerding's analysis of the paintings inspired by Maine reveals Church as both a public and private artist. "The work done in Maine during the 1850s and early 1860s, primarily at Mount Desert, embodied sentiments of increasing national strife, in symbolic and suggestive ways, while the career of the later 1860s and 1870s was devoted more to his personal time in inland Maine around Mount Katahdin," explains Wilmerding.
Featured in the exhibition is
Twilight, A Sketch,
1858 the study for Church's great masterpiece
Twilight in the Wilderness
, 1860 (Cleveland Museum of Art), which reflects the tensions surrounding the impending Civil War.
Mount Katahdin from Millinocket Camp,
1895 on loan from the Portland Museum was the artist's last major Maine canvas and a birthday gift to his wife— a work of great personal significance that both enhances the exhibition and directly relates to the artist's life at Olana.
The Maine material presented in the exhibition ranges from finished oil sketches that Church displayed in his home to pencil sketches and cartoons that he stored in portfolios and shared with friends, fellow artists and guests. A delightful pencil rendering of the newly married artist and his wife enjoying the bracing coastal winds on one of their first trips to Maine, will be give visitors a glimpse of Church's witty nature.
Catalog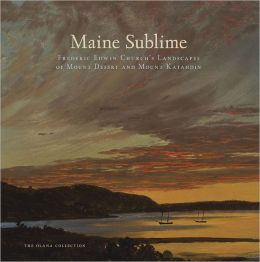 Maine Sublime
brings together all of the artwork in the Olana collection resulting from and inspired by Church's travels, from finished oil sketches that Church selected to mount, frame, and display at his home to pencil sketches and cartoons that he stored in portfolios. The subjects include such specific locations as
Sunset Bar Harbor
(1854)
and works like
Sunset
(ca. 1852-65)
and
Twilight a Sketch
(1858), which were inspired by dramatic Maine skies and are evocative of the region as a whole. Throughout his life, Church would continue to visit Maine, sketching, fishing, and hiking. In 1878 he bought land on Lake Millinocket with a view of Katahdin and built a simple cabin. After Church's marriage in 1860, his wife Isabel often joined his excursions to Maine. In a witty cartoon included in this catalog,
Frederic and Isabel Church on Mount Desert Island
, Church captures his wife's admiration of the scenery.
Maine Sublime
accompanies an exhibit of Church's Maine artwork that was displayed at the Portland Museum of Art (Portland, Maine) from June to September, 2012; the Museum of Fine Arts, Houston from February to May 2013; and will be at the Evelyn and Maurice Sharp Gallery at Olana (Hudson, New York) from July to October, 2013.