Museo de Arte de Ponce presents
The Art of the Empire: Three Centuries of British Art,
an exhibition on view through 12/08/13.
The Art of Empire: Three Centuries of British Art
includes over sixty works from the museum's English art collection, plus some forty additional works by internationally renowned contemporary artists such as Francis Bacon, Lucien Freud, and Damian Hirst, not to mention dozens of others, on loan from local collectors.
Rather than following a strict timeline, the exhibit is organized thematically, enabling viewers to discover unexpected facets of history. In a single gallery, viewers can see landscapes depicted by the Pre-Raphaelites alongside contemporary landscapes by artist Peter Doig.
A mural, inspired by 19th century artist and craftsman William Morris, drawn by university students from Ponce adorns the entrance to the main exhibit. The mural, fruit of another fascinating collaboration with Casa del Libro, in Old San Juan, is accompanied by a loan of illustrated books by Morris.
Reactions to the exhibits were enthusiastic. As Aurimar Cristín, one of the young volunteers that helped create the mural, exited the exhibition, she paused to look at
John Everett Millais's 1857 painting
The Escape of a Heretic.
"I love this painting; it's about a sacrifice for love," she stated, while studying it closely. "Now I understand it better." Despite over 150 years that separated her from the painting, the exhibition helped her appreciate its message.
After being open for only an hour, The Art of the Empire had attracted people of all ages and from different nations. Such was the case with Cristina Menéndez, a Mexican tourist who decided to attend the opening, where she saw one of the emblematic paintings of the museum's collection:
Flaming June,
by Frederic Lord Leighton.
"There are artists I didn't even know existed, like this one," she said aiming at the painting, while gazing in fascination. "It's wonderful."
The exhibit ends with a gallery dedicated to the monumental painting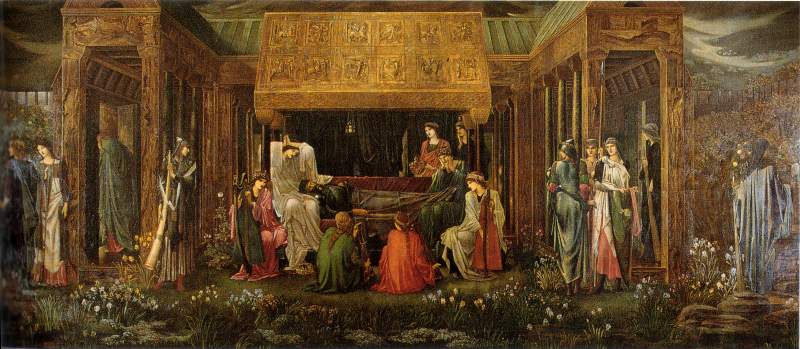 The Sleep of King Arthur in Avalon
(1881) by Sir Edward Coley Burne-Jones. This large-scale piece, another of Museo de Arte de Ponce's crown jewels, is presented alongside all the sketches and studies done by the artist, who spent the last 20 years of his life obsessed with this masterpiece. The gallery gives viewers unprecedented access to the artist's creative mind and his painstaking reconstruction of the medieval legend of King Arthur.
More images: