The 1930s: The Making of "The New Man"
at the National Gallery of Canada 06 Jun 2008 - 07 Sep 2008.
In the history of the modern world, the decade between the Wall Street stock market crash of October 1929 and the outbreak of World War II in September 1939, stands out for its political tensions and contradictions in both Europe and North America. This troubling and complex period is reflected in its art, where tradition and modernity frequently clashed. Politically, the decade was marked by the rise of totalitarianism in Europe. In Italy, Germany and Soviet Russia leaders appeared whose agendas—constructed on a pseudo-scientific foundation and claiming to lead the masses towards a brighter day by creating a kind of homogenous, ideal individual—were skilfully disseminated by ideological propaganda about the "New Man." On the artistic front, painters, sculptors, photographers and filmmakers were fascinated with biology, the science of life; intense work was done using biomorphic forms, the primordial egg and the cell, in an attempt to revitalize the values and norms of representation. Revisiting the pre-WWII years by focusing on the interest generated by biology allows us to compare two areas on which it had an impact: the arts, where the idea of metamorphosis produced an aesthetic revival; and politics, where the struggle to bring about a eugenic and racist renewal had unprecedented consequences for society.
Catalogue
Images From The Exhibit:


Salvador Dalí , Geopoliticus Child Watching the Birth of the New Man, 1943
Salvador Dalí Museum, St. Petersburg, Florida © Salvador Dalí, Fundació Gala-Salvador Dalí / SODRAC (2008)




Salvador Dalí , Soft Construction with Boiled Beans (Premonition of Civil War), 1936
Philadelphia Museum of Art: The Louise and Walter Arensberg Collection, 1950 © Salvador Dalí, Fundació Gala-Salvador Dalí / SODRAC (2008)




Max Ernst , The Fireside Angel, 1937
Private Collection, © Estate of Max Ernst / SODRAC (2008)




Alberto Giacometti , Woman with Her Throat Cut, 1932
Scottish National Gallery of Modern Art, © Estate of Alberto Giacometti / SODRAC (2008)




Joan Miró . Flame in Space and Nude Woman, 1932
Property of the Fundació Joan Miró, © Successió Miró / SODRAC (2008)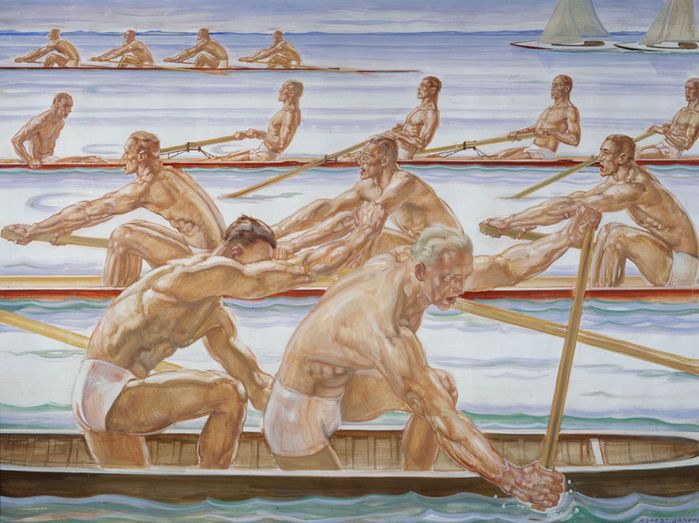 Albert Janesh , Water Sport, 1936
Deutches Historisches Museum




Bernard Fleetwood-Walker , Amity, 1933
Walker Art Museum, © Estate of Mrs. Peggy Fleetwood-Walker




Christian Schad , Portrait of Dr. Haustein, 1928
Museo Thyssen-Bornemisza, Madrid, © Estate of Christian Schad / SODRAC (2008)




Rudolf Schlichter , Blind Power, 1937
Berlinische Galerie – Landesmuseum Für Moderne Kunst, Fotografie und Architektur




Thomas Hart Benton . The Sowers, from Year of Peril, 1941–42
The State Historical Society of Missouri, © T.H. Benton and R.P. Benton Testamentary Trusts / UMB Bank Trustee / VAGA (New York) / SODART (Montreal) 2008




John Heartfield , Hurrah, die Butter ist alle! [Hurray, the butter is finished!], 1935
George Eastman House, © Estate of John Heartfield / SODRAC (2008)




Grant Wood, Spring in the Country, 1941
Cedar Rapids Museum of Art, Iowa, Purchase © Estate of Grant Wood / VAGA (New York) / SODART (Montreal) 2008




Alexander Rodchenko, Dynamo Soccer Club, Red Square, 1935
National Gallery of Canada © Estate of Alexander Rodchenko / SODRAC (2008)