The Presentation "
Monet to Picasso: The Batliner Collection
", 14 September 2007 through 6 April 2008, at the
ALBERTINA, Museum, Vienna, Austria
; offered an informative overview of one of the most exciting chapters in the history of art: the turn from figural to abstract art. Through approximately 250 works, the continual progression from Impressionism to Modernism could be clearly appreciated. The fortunate combination of the Batliner Collection and the Forberg Collection with works from the Albertina has brought together work groups by pioneering artists, making it possible to provide an overview of the many "isms" of the modern era. At the centre of this presentation was the Batliner Collection, which was transferred to the Albertina by the Herbert and Rita Batliner Foundation in May 2007.
The point of departure was French Impressionism, with exceptional late works by Monet ("Water Lily Pond") and Degas ("Two Dancers") and Post-Impressionism, primarily represented by artists such as Toulouse-Lautrec and Cézanne, the latter with his favourite themes such as the Arc Valley and the Sainte-Victoire Mountains or the bathers.
The show continued with the Nabis group with Bonnard and Vuillard, whose predilection for ornamental composition in surfaces is manifested most of all in lithographs. The "wild", intensely colourful works by Matisse, Vlaminck and Derain exemplify the Fauvist movement, while the Signac's Pointillist approach represents Neo-Impressionism.
Orphism was presented in key works by Delaunay and Kupka, followed by the German artists of Der Blaue Reiter, Marc, Macke and the early Kandinsky, who were decisively influenced by this "ism".
An important step on the path to abstraction was represented by Cubism, which was brilliantly represented by Braque and Picasso. Picasso's late work, which played a uniquely significant role in shaping the art of the 20th century, formed a further highpoint of the exhibition.
Alienation and mystification were reflected in the Surrealist paintings of Miró, Klee, Arp, Magritte and Delvaux. An independent chapter of no small significance was represented by the Russian avant-garde with Lissitzky and Malevich. The show concluded with impressive examples of Abstract Expressionism, including Appel, Rothko and Newman, and the New Realism of Yves Klein.

Pierre-Auguste Renoir
Portrait of a young girl (Elisabeth Maître), 1879
Pastel on pape
Albertina, Vienna - Batliner Collection.




Claude Monet
The water lily pond, around 1917-1919
Oil on canvas
Albertina, Vienna - Batliner Collection.




Kasimir Malewitsch
Man in a suprematist Landscape, c. 1930/31
Oil on canvas
Albertina, Vienna - Batliner Collection. Photo: © Fotostudio Heinz Preute, Vaduz




Marc Chagall
The Kite, 1926
Gouache on paper
Albertina, Vienna - Batliner Collection © VBK, Wien 2011. Photo: © Fotostudio Heinz Preute, Vaduz




Edvard Munch
Winter Landscape, 1915
Oil on canvas

Albertina, Vienna - Batliner Collection © Edvard Munch_ The Munch Museum / The Munch Ellingsen Group / VBK, Wien 2009. Photo: © Fotostudio Heinz Preute, Vaduz




René Magritte
The Enchanted Spot, 1953
Oil on canvas
© Albertina, Wien - Sammlung Batliner




Henri Matisse
The Striped Dress, 1938
Oil on canvas
© Henri Matisse: Succession Matisse/VBK
Vienna, 2007
Albertina, Vienna
On permanent loan from the Batliner Collection




Edgar Degas
Two Dancers, c. 1905
Pastel on card
Albertina, Vienna
On permanent loan from the Batliner Collection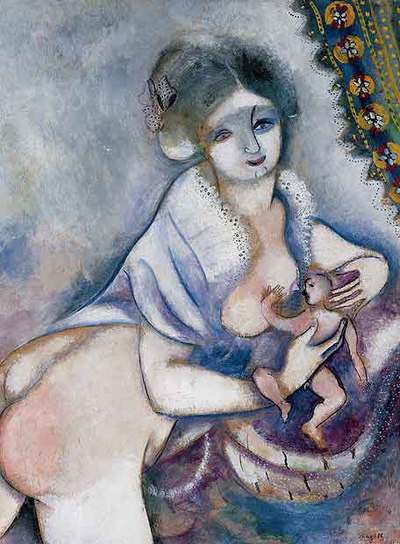 Marc Chagall
Motherhood, 1914
Oil on canvas
© VBK Vienna, 2007, Albertina, Vienna
On permanent loan from the Batliner Collection




Amedeo Modigliani
Young Woman in a Chemise, 1918
Oil on canvas
Albertina, Vienna
On permanent loan from the Batliner Collection




Paul Klee
Spellbound Lightning, 1927
Watercolour and gouache on paper, mounted on
coloured card
© VBK Vienna, 2007, Albertina, Vienna
On permanent loan from the Batliner Collection




Pablo Picasso
Nude Woman with Bird and Flute Player, 1967
Oil on canvas
© Succession Picasso/VBK Vienna, 2007
Albertina, Vienna
On permanent loan from the Batliner Collection




Pablo Picasso
Woman with a Green Hat, 1947
Oil on canvas
© Succession Picasso/VBK Vienna, 2007
Albertina, Vienna
On permanent loan from the Batliner Collection





Mark Rothko
Saffron, 1957
Oil on canvas
© VBK Vienna, 2007, Albertina, Vienna
On permanent loan from the Batliner Collection




Francis Bacon
Seated Figure, 1960
Oil on canvas
© Francis Bacon: Estate of Francis Bacon/
VBK Vienna, 2007, Albertina, Vienna
On permanent loan from the Batliner Collection




Kasimir Malevich
Man in a suprematist Landscape, c. 1930/31
Oil on canvas
Albertina, Vienna
On permanent loan from the Batliner Collection




René Magritte
The Enchanted Domain, 1953
Oil on canvas
© VBK Vienna, 2007
Albertina, Vienna
On permanent loan from the Batliner Collection